By edhat staff
Esteemed dictionaries have revealed their top words of the year for 2019 and some have caused quite the conversation.
"They"
The Merriam-Webster Dictionary has named "they" as their Word of the Year. "It reflects a surprising fact: even a basic term—a personal pronoun—can rise to the top of our data. Although our lookups are often driven by events in the news, the dictionary is also a primary resource for information about language itself, and the shifting use of they has been the subject of increasing study and commentary in recent years. Lookups for they increased by 313% in 2019 over the previous year," the dictionary stated.
The English language does not have a gender-neutral singular pronoun and "they" has most recently been used to refer to one person whose gender identity is nonbinary. The American Psychological Association's blog officially recommended that singular they be preferred in professional writing over "he or she" when the reference is to a person whose gender is unknown or to a person who prefers they.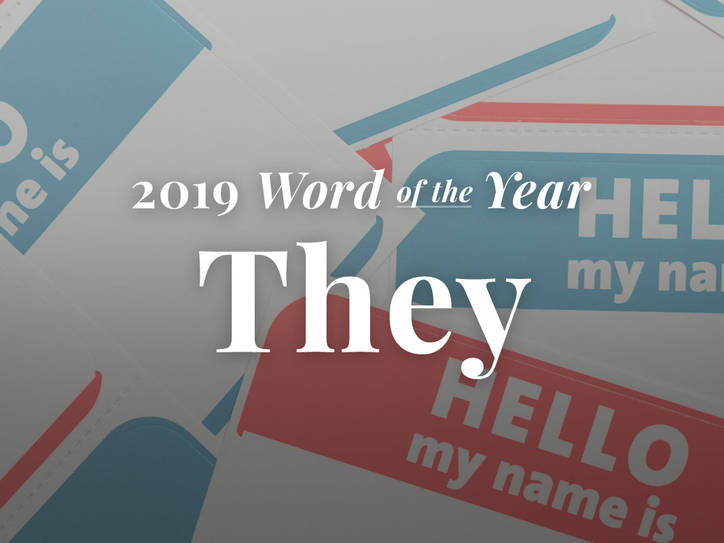 "Climate Emergency"
The Oxford Dictionary named "climate emergency" as their 2019 Word of the Year. Climate emergency is defined as 'a situation in which urgent action is required to reduce or halt climate change and avoid potentially irreversible environmental damage resulting from it.'
This year there has been more awareness and discussion of climate science in what the UN Secretary-General has called 'the defining issue of our time'. Oxford states their research reveals a demonstrable escalation in the language people are using to articulate information and ideas concerning the climate. This is most clearly encapsulated by the rise of climate emergency in 2019.
"Existential"
Dictionary.com announced "existential" as their word of the year. "It captures a sense of grappling with the survival—literally and figuratively—of our planet, our loved ones, our ways of life," the website states.
The word is broken into two definitions. The first is "of or relating to existence." Entering English in the late 1600s, this existential is often used when the fact of someone or something's being—its very existence—is at stake. An existential threat to a species, for example, puts its continued existence in real, concrete peril. The second sense of existential is "concerned with the nature of human existence as determined by the individual's freely made choices." First recorded by the early 1900s, this existential is related to existentialism, a philosophy that affirms our individual agency in making meaningful, authentic choices about our lives.
"Upcycling"
Cambridge Dictionary chose "upcycling" as the 2019 word of the year and is defined as the activity of making new furniture, objects, etc. out of old or used things or waste material.
The number of times upcycling has been looked up on the Cambridge Dictionary website has risen by 181 percent since December of 2011, when it was first added to the online dictionary, and searches have doubled in the last year alone.