2023 March Edness Winners Announced!
By the edhat staff
After an edhat players matched wits for a full month, the top three players of this year's photo hunt challenge have been announced. 
Our annual photo hunting game is fun and highly competitive and questions how well you know your local area. Or how well you notice and remember details about your surroundings. Or... how good you are at Google Map street views and internet sleuthing. (One more) Or... how good you are at picking your team. Whatever your strategy, after 20 days and numerous hours of searching, our dedicated edhat players are now being named. 
At the end of the 20 days we were left with a three-way tie between kcottrell, mfitch54, and SBsurferlife who all received a perfect score. On Saturday morning, April Fool's Day, the players were challenged to answer five questions. The player who submitted the most correct answers, wins first place. Although if everyone has the correct answers, then it comes down to who submitted their answers the fastest. 
Below are the tie-breaker questions and their answers:
Question 1: Where is the location in this photo?
Answer: This is the corner of State and Anapamu Streets where Old Navy currently resides at 1137 State Street. This is also part of the San Marcos Building that was rebuilt in Spanish Colonial Revival style after the 1925 earthquake. Read more about its history here.
Question 2: Where is the location in this photo?
Answer: This Saint Barbara dedication is located above the Pacific Premier Bank ATM machine at 1035 State Street.
Question 3: What famous heir donated money to the construction of the Santa Barbara Harbor and Stearns Wharf?
The answer is Max Fleischmann, the American "Yeast King" and philanthropist who moved to Santa Barbara after World War I. In the late 1920s, Fleischmann financed the construction of the Santa Barbara breakwater with a $250,000 gift to the city. The story goes that Max was the proud owner of a fleet of yachts and needed somewhere to park them.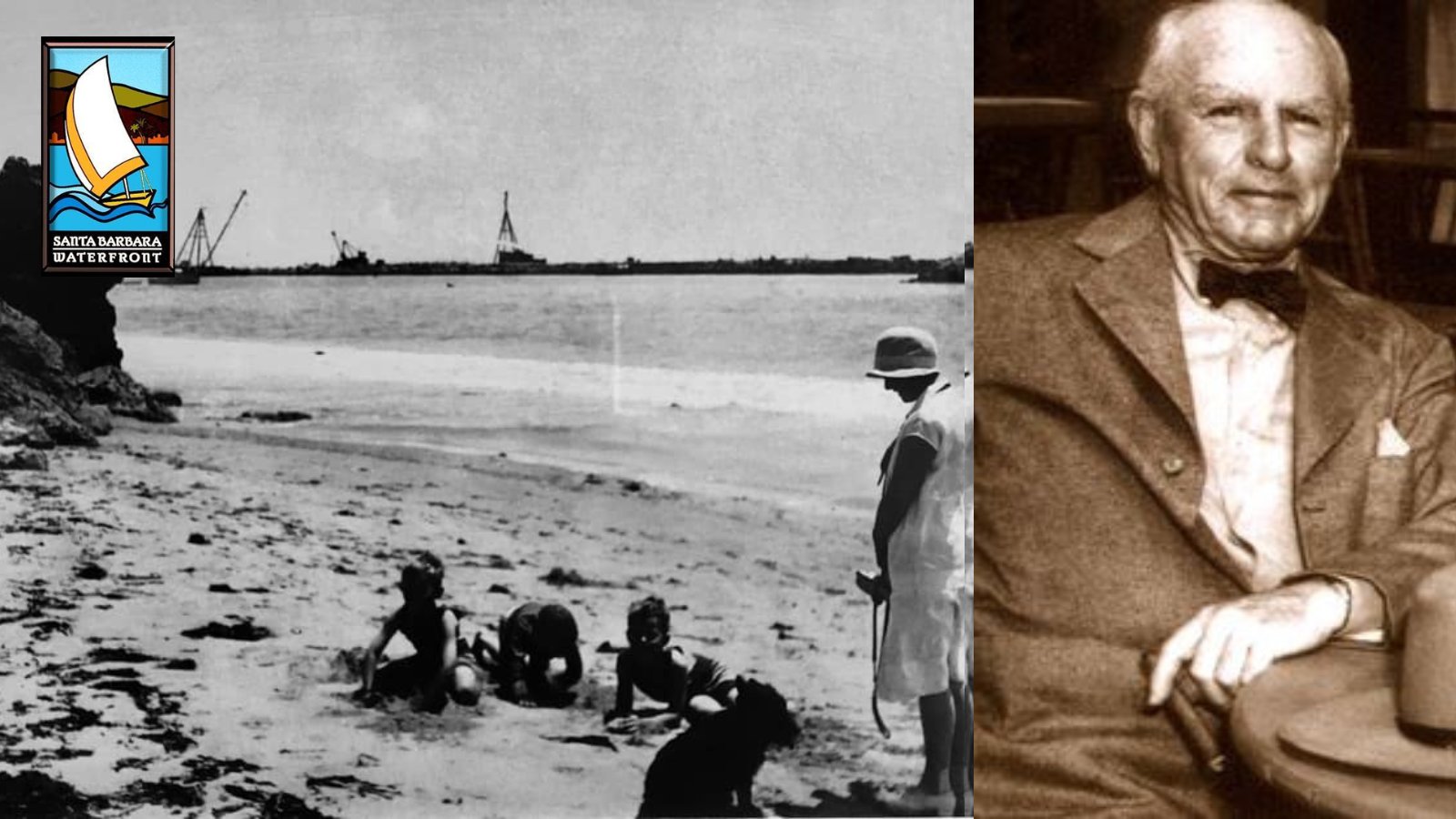 Photo: SB Waterfront / City of Santa Barbara
Question 4: Where was the first phone in Goleta located?
Answer: Thanks to Tom Modugno of Goleta History, the first phone in Goleta was at the Pettis General Store on Patterson Avenue. Read more about this and other local history at Goletahistory.com
Question 5: Finish this Santa Barbara inspired limerick.
There once was a website called Edhat,
With Santa Barbara news for one to react,
There's locals galore,
And the comments do roar,
A go-to source, that's a ____.
Answer: fact! (We accepted any variation of words that ended in fact. For example: true fact, real fact, good fact, etc.)
Another fun fact, it took the edhat staff much too long to create that limerick.
Now to the Winners...
The fastest player was mfitch54 who submitted their answers first, just an hour or so after the questions were posted! However, they submitted the incorrect answer for Question #2. Not too far behind, kcottrell submitted all the correct answers to the questions, and SBsurferlife followed but missed Questions #2 and #4. 
For the 2023 March Edness game, our first-place prize goes to kcottrell! Second place goes to mfitch54 and third place goes to SBsurferlife.
Congratulations to our top three players. You will all receive your trophies and prize bags at edhat's 20th anniversary party on April 19th at Carr Winery. More details here!
Honorable Mentions
Five players have tied for fourth place only missing one day this year! Camster, HDB, holazola, Penelope805, and Sacjon receive honorable mentions!
Cones, mncnc, mtn.driver, and macpuzl all received scores of 40 or more, very impressive!
The final standings for all players is available below:
Don't forget to celebrate at our Edhat Party
Congratulations to all our players. Come celebrate with us in a few weeks!