Police Arrest Suspected Golden State Killer, 6 Murdered in Local Area
FBI sketch of the Golden State Killer (left) and the current mugshot of the suspected man responsible for the crimes, Joseph James DeAngelo, 72 (Sacramento Sheriff's Dept)
Update by edhat staff
2:00 p.m., April 25, 2018
A press conference held in Sacramento released more information about the alleged Golden State Killer, 72-year-old Joseph James DeAngelo.
Investigators stated they were able to identify DeAngelo through "innovative" DNA technology and "dogged determination by detectives." They also confirmed that DeAngelo was never a previous suspect before the DNA match.
Police stated they were able to surveil DeAngelo and his routines. They waited for him to come out of his residence and swiftly took him into custody without incident stating he was "very surprised."
Composite sketches of the Golden State Killer suspect (FBI)
It was confirmed that DeAngelo was a police officer with two different agencies. He was an officer with the Exeter Police Department near Visalia, California from 1973 - 1976 during the "Visalia Ransacker" cases that were later linked to the Golden State Killer. He was also an Auburn City Police Officer, near Sacramento, from 1976 to 1979 where he was subsequently fired after being caught stealing dog repellent and a hammer from a local store. Investigators assume he was committing crimes while employed as a police officer in both cities. 
It was also revealed that DeAngelo does have a family with adult children and some family members are shocked but cooperative. No further information was given about his family.
A reporter asked if Michelle McNamara's book "I'll be Gone in the Dark" provided any new leads. The Sacramento Sheriff stated there was no new information in the book but it did keep the public's interest which led to more tips coming into the department.
The Ventura County District Attorney was present at the press conference and announced capital murder charges against DeAngelo for allegedly killing Charlene Smith, 33, and Lyman Smith, 43, in 1980. DNA evidence was a major factor in prosecuting DeAngleo. 
Santa Barbara County District Attorney Joyce Dudley, who has been working for years across the state with multiple jurisdictions on this case, credits Sacramento County District Attorney, Anne Marie Schubert, for her unwavering leadership.
DA Dudley went on to state, "Cold crime cases never grow 'cold' for the victim's loved ones who are fraught with overwhelming sadness, frustration and anger. Hopefully, Tuesday's arrest will bring them some sense of justice. None of us in law enforcement throughout the State of California have ever lost sight of our responsibility to seek an arrest in this case. Last night, I spoke with several members of the Santa Barbara County Sheriff's Office who have remained, and will continue to remain engaged in bringing justice and closure to the loved ones of our local victims. Given the present state of the investigation, I will limit my office's statements until further action is taken in Santa Barbara County."
Just after 5:00 p.m. last night, April 24, 2018, the Santa Barbara Sheriff's Cold Case Unit was notified that the Sacramento County Sheriff's Office had made an arrest in the case. Sheriff's detectives, including Cold Case investigator Gary Kitzmann, immediately traveled to Sacramento to further the investigation of the cases from Santa Barbara County linked to the Original Night Stalker.
Detective Kitzmann who personally investigated hundreds of tips and investigated thousands of persons of interests in this case said, "I am incredibly relieved as we all are here at the SherifOffice ice that the suspect has been identified, arrested and that he will be brought to justice."
Santa Barbara County Sheriff Bill Brown said, "We know this is an emotional day for all of those who were impacted by this suspect's reign of terror, but it is a great day in the annals of criminal investigation. This case is a great example as to how fortunate we are to have DNA technology advancements, which can help solve crimes even as long as forty years later. Justice may have been delayed in this case, but it will ultimately be served."
The Sheriff's Office recently participated in a five-episode special called "Unmasking a Killer" which aired on CNN and, another multi-part special on ID Discovery entitled "Golden State Killer, It's Not Over". 
If you have any information about the suspect, Joseph James DeAngelo and his travels to Goleta and Santa Barbara, you are asked to please call the Sheriff's Criminal Investigations Division at 805-681-4150. To leave an anonymous tip, please call 805-681-4171 or go to https://www.sbsheriff.org/home/anonymous-tip/.
Investigators from Sacramento stated the case is still active and they cannot answer specific questions, but they assured the public that all the information will come out in due time.
---
By edhat staff
11:00 a.m., April 25, 2018
FBI announced the man they believe to be the Golden State Killer, also known as the original Night Stalker and East Area Rapist, is now in custody after more than 40 years.
The alleged suspect, 72-year-old Joseph James DeAngelo, was arrested on two counts of murder early Wednesday morning, according to the Sacramento County Sheriff's Department.
The Golden State Killer is believed to be responsible for 12 homicides, 50 rapes, and 120 home invasions throughout California, including Santa Barbara and Ventura Counties, in the 1970's and 80's. 
A press conference is scheduled for noon today where the FBI and Sacramento Sheriff's Department will release more information on their arrest and investigation.
The first reported rape deemed to be the work of the Golden State Killer was on June 18, 1976 near Sacramento. The victim, Jane, was dozing in bed with her 3-year-old son after her husband left for work. She awoke to a masked man standing in the bedroom doorway, holding a large butcher knife and shining a flashlight on her face. He bound Jane and her son with shoelaces then blindfolded and gagged them with torn sheets. After moving her son off the bed, he unbound Jane's ankles and raped her.
He committed 50 known rapes in the California counties of Sacramento, Contra Costa, Stanislaus, San Joaquin, Alameda, Santa Clara and Yolo. DNA evidence conclusively links him to eight murders in Goleta, Ventura, Dana Point and Irvine, with two other murders in Goleta linked by modus operandi, or distinctive features, but not DNA. Many investigators also suspect the same killer in three other murders—two in Rancho Cordova and one in Visalia.
It's been more than 40 years since his first recorded attacks. No one was caught or significantly identified in the case, although there were suspects. Police only had minor details about his looks, along with a sketch from an almost-victim. Although in recent years, there has been renewed interest in the case with multiple television programs and podcasts dedicated to discovering new evidence. The most significant information was detailed by the late-author Michelle McNamara's book "I'll be Gone in the Dark."
McNamara extensively worked with investigators but died before the book could be published. It was finished by her husband, comedian and actor Patton Oswalt, and researcher Paul Haynes. On Wednesday morning, Oswalt posted a video on Instagram stating, "Think you got him, Michelle."
FBI Flyer
Suspected Local Connections to Golden State Killer
According to author Larry Crompton's book "Sudden Terror," an intruder broke in and tied up a Goleta couple on October 1, 1979. The attacker allegedly was chanting "I'll kill 'em" to himself and when he left the room, the man and then the woman made attempts to escape during which the woman screamed. The intruder then fled on a bicycle when a neighbor, who was an FBI agent, responded to the noise and pursued. The suspect abandoned the bike and his knife and fled on foot through local backyards.
A few months later on December 30, 1979, Dr. Robert Offerman, 44, and Dr. Debra Alexandra Manning, 35, were found shot dead at Offerman's condominium on Avenida Pequena in Goleta. The bindings on Offerman were untied, indicating he had apparently lunged at the attacker. Neighbors heard the gunshots but failed to respond to them, attributing them to innocuous causes. According to news reports, prints from a large dog were found at the scene, leading to speculation that the killer may have brought it with him. There is evidence that he fed the dog some leftover Christmas turkey from the fridge. The killer also broke into the adjoining residence, to the west of the crime scene, which was vacant at the time, and stole a bicycle from a third residence in the same complex. The bicycle was later found abandoned on a street to the north of the crime scene.
Dr. Robert Offerman and Dr. Debra Alexandra Manning
The October 1 attack in Goleta was later linked physically to the Offerman-Manning murders by shoeprints and the same roll of twine being used to bind the victims.
On March 13, 1980, Charlene Smith, 33, and Lyman Smith, 43, who was about to be appointed as a Judge, were found murdered in their home in Ventura. According to news reports, Charlene Smith had also been raped. A log from the fireplace was used to bludgeon both the victims to death. Their wrists and ankles had been bound with a drapery cord. in an unusual Chinese knot, known as the diamond knot. The same knot had been noted in the East Area Rapist attacks in Sacramento, with at least one confirmed case publicly known.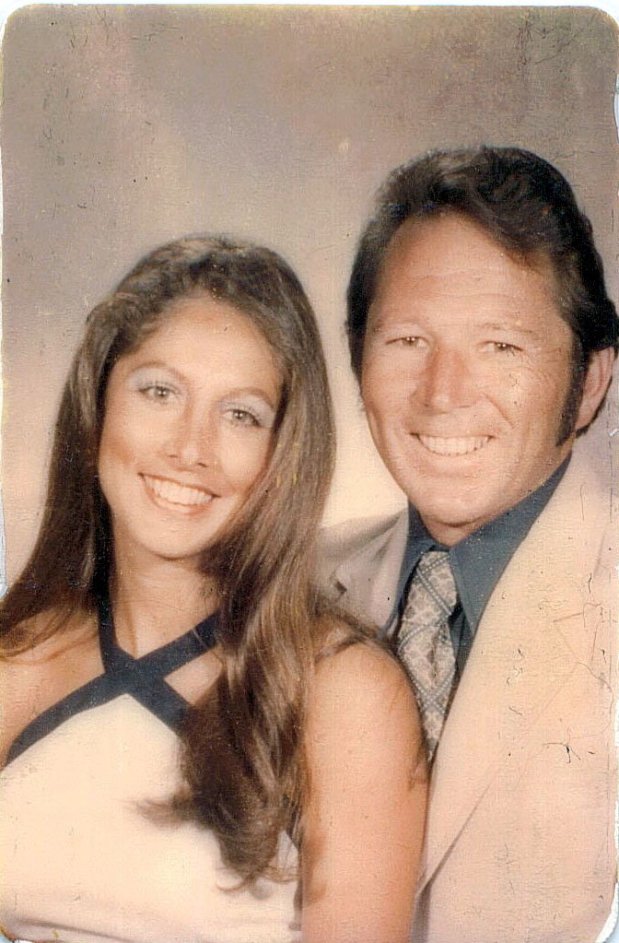 Charlene and Lyman Smith
On July 27, 1981, Cheri Domingo, 35, and Gregory Sanchez, 27, became the 10th and 11th murder victims of the Original Night Stalker. Both were attacked in Domingo's house on Toltec Way in Goleta, several blocks south of the Offerman–Manning crime scene. Their murder has been linked to the Original Night Stalker by DNA left at the scene. According to news reports, he is believed to have broken into the home in Goleta, which was up for sale at the time of the attack. Law enforcement believe the attacker may have worked as a painter or related role in the Calle Real Shopping Center.
Cheri Domingo and Gregory Sanchez
"It is unknown how the Original Night Stalker selected Domingo and Sanchez as victims. Domingo's daughter Debbi (who was 15 at the time) was staying with friends on the night of the attack. Her son was out of state with other family members. The home in Goleta belonged to Domingo's family and she was staying there temporarily. The offender had entered the property via a small window in the bathroom. Sanchez had not been tied, he had been shot in the cheek, although not fatally. He was then bludgeoned to death with a garden tool taken from the property. Some believe Sanchez may have realized he was dealing with the man responsible for the murder of Offerman and Manning, and made a desperate attempt to tackle the killer rather than be tied up. As in the Offerman–Manning case, no neighbors responded to the sound of the gunshot. Sanchez's head was covered with clothes pulled from the closet. Bruises on Domingo's wrists and ankles indicated she had been tied, although the restraints were missing. She had been raped and bludgeoned. A single piece of shipping twine was found near the bed. Fibers of an unknown source were scattered over her body," according to Wikipedia.
Local investigators involved in the murders in Goleta and Ventura did not initially believe they were connected to murders in Dana Point and Irvine. According to Crompton, one Sacramento detective strongly believed the East Area Rapist was responsible for the Goleta attacks, but at first, the Santa Barbara County Sheriff's Department attributed them to a local career criminal who had himself subsequently been murdered. Investigating the crimes that did not occur in Goleta caused local police to follow false leads related to men who had been close to the female victims. One suspect, later acknowledged to be innocent, was charged with two murders. Linking all of the cases together was achieved mostly by DNA testing, which was not done until numerous years later.
The Arrest of DeAngelo
Law enforcement were outside of DeAngelo's home Wednesday morning in the Sacramento area, in a part of town called Citrus Heights, according to The Sacramento Bee. The suspect was identified after a "renewed push" on the investigation by the sheriff's department and district attorney, The Bee said.
Jail records show that DeAngelo fits the FBI profile of the killer: 5'11" and now between the ages of 60 and 75 years old. Public records show that he lived, at various times, in the Sacramento area, Whittier, and Long Beach. The Golden State Killer was, according to the FBI, thought to have an "interest in the military, or had some military training, leaving him familiar and proficient with firearms."
DeAngelo was at one point a policeman in Auburn, outside of Sacramento, who was reportedly fired after he was accused of shoplifting a can of dog repellent and a hammer at a drug store in Sacramento in 1979. He was terminated after he "failed to answer any of the city's investigations and did not request an administrative hearing," the city manager said at the time, according to The Daily Beast.
His last known crime, the only one after 1981, took place in 1986. Several suspects were cleared through DNA, alibi, or other investigative means and methods. On June 15, 2016, the FBI and local law enforcement agencies held a news conference to announce a nationwide effort and a $50,000 reward for his capture.
The serial killer was known to take small, personal items from his victims' homes, including mementos and wedding rings. He sometimes called to torment them afterward.
In 2001, he allegedly called a woman he'd attacked 24 years earlier, according to McNamara's book. He whispered: "Remember when we played?"
The press conference can be viewed below: