Overturned Oil Tanker Leaks Crude Oil in Cuyama River
Photos: Santa Barbara County Fire Department
Update by edhat staff
As of 3:00 p.m., Santa Barbara Count firefighters were able to halt the forward progession of the oil spill toward the Twitchell Dam.
Crews remain on scene to remove the oil from the Cuyama River.
@ 3:00pm 166 inc update: SBCo Fire was able to stop all forward progress of the oil spill in the riverbed near USFS Pine Canyon Fire Sta. Resources on scene are currently working to remove the oil from the river. Check the newsline for updates. pic.twitter.com/NAME4hlYeq

— Daniel Bertucelli (@SBCFireInfo) March 21, 2020
As of 5:00 p.m., crews completed the second underflow dam providing for a secondary containment for the oil spill. Santa Barbara County Fire construction crews and a hazmat team worked hard to complete the containment measures before Sunday's rain event.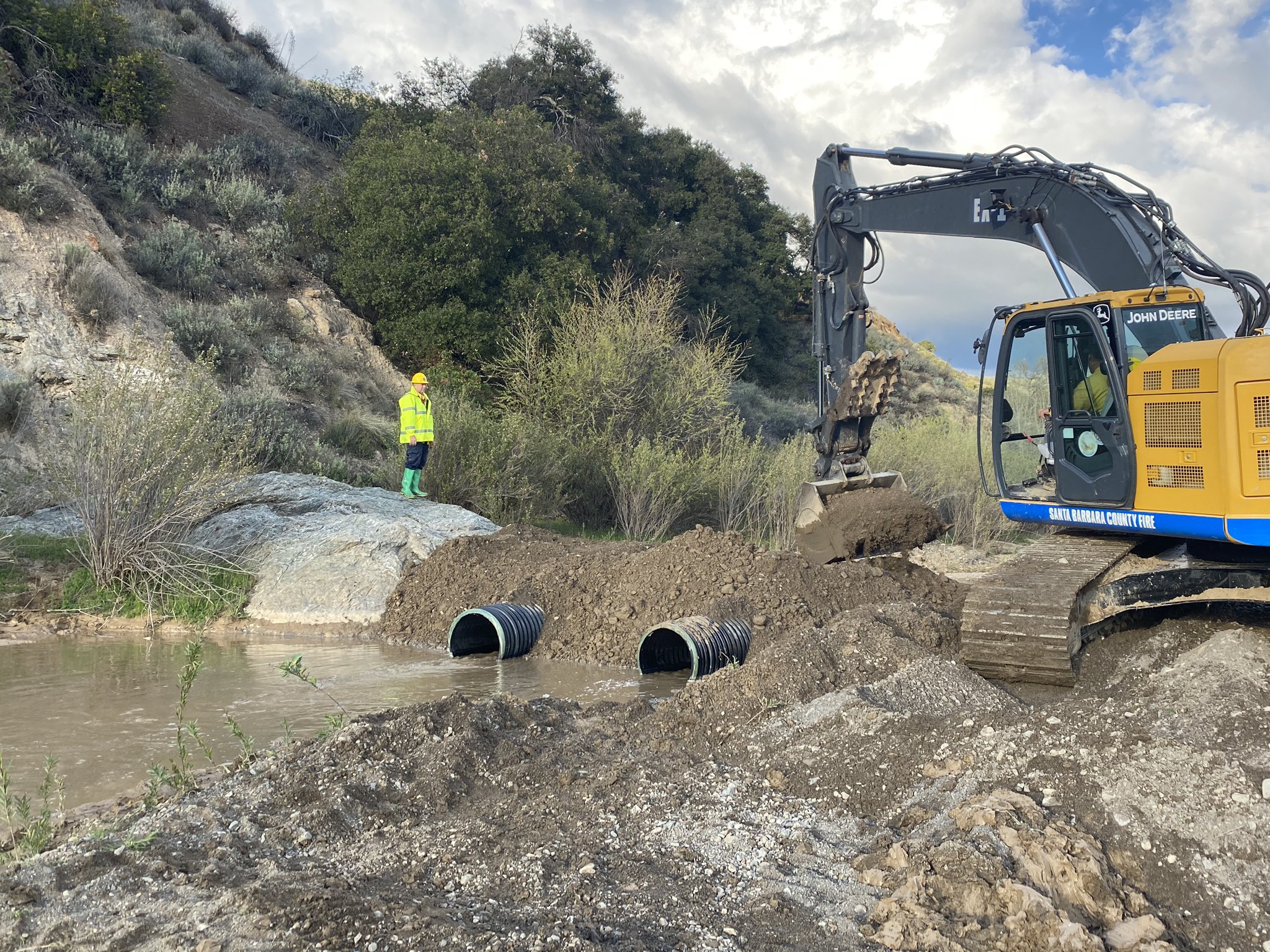 Update on #HWY166inc UPDATE. SBC Fire and Fish and Wildlife worked through the night to build 2 underflow dams to contain approximately 4200 barrels of oil spilled into Cuyama River. Vacuum trucks are working to skim oil in containment areas. Good progress being made. pic.twitter.com/l0cks8GiSH

— Daniel Bertucelli (@SBCFireInfo) March 22, 2020
---
By edhat staff
Local agencies are responding to an overturned oil tanker in the Cuyama river off Highway 166 carrying 6,000 gallons of crude oil.
At 6:04 a.m., Santa Barbara County firefighters responded to a vehicle collision involving a semi-truck carrying crude oil. The accident took place on Highway 166, twenty-miles from Highway 101, where the oil tanker rolled off the roadway and landed in the Cuyama River.
The driver was uninjured but the tanker has been slowly leaking oil into the river as it moves towards the Twitchell Dam. 
An oil spill containment trailer, hazmat teams, California Highway Patrol, Caltrans, and the Department of Fish & Wildlife are on scene assisting with mitigation and cleanup. 
As of noon, crews deployed three lines of defense to clean up the oil spill. The first line is a yellow boom just below the spill. The second line is a dirt berm to allow the flow of water to continue, and the third line are 2 x 2 sized absorbent pads to collect the oil. 
Rain is expected for Sunday and crews are working to mitigate the spill as much as possible before the rain comes in.