Op-Ed: Setting the Record Straight About the Modoc Multi-Use Path
By Kira Pusch
***Update: On Tuesday, November 1, the Santa Barbara Board of Supervisors voted unanimously to approve the revised Mitigated Negative Declaration and authorize public works to move forward with the Modoc Multi-Use Path negotiations and planning. 53 people spoke during the public comment portion of the meeting, with a majority voicing support for Alignment B. The board supervisors likewise spoke favorably of Alignment B; Noozhawk spoke with Supervisor Gregg Hart after the meeting and quote him as saying "I'm confident that we can find a solution that protects the existing palm trees and allows a safe multi-use path for all to enjoy."
For more information, a succinct summary of the Board of Supervisors meeting can be found on the MOVE SB County blog here.
---
The long-planned construction of a 0.75 mile-long multi-use path in Santa Barbara, California has recently spurred an ongoing, months-long debate amongst locals. Several media outlets have published articles about the controversy, often featuring quotes from protestors of the path. In response to these and to the oft-cited "Save the Modoc Road Trees" petition currently making its rounds on social media, the below information is provided with the aim of stemming misinformation and grounding discourse about the Modoc MUP in facts.
Overview:
*Note that all the information provided in this section can be found on Santa Barbara County's dedicated website for the Modoc Multi-Use Path (MUP) project here, specifically in the most recent Mitigated Negative Declaration (MND) here.
The proposed Modoc MUP is a 10ft-wide paved path, with maximally 2 ft-wide unpaved shoulders. It would connect two other existing multi-use paths (the Obern Trail and Modoc/Positas Path), resulting in a total of 14.5 miles of linked multi-use paths across Santa Barbara county. The specified goal of the project is to provide safe, enjoyable, and equitable access for all, especially along Modoc Road where there are currently discontinuous sidewalks, inadequate crosswalks and narrow unprotected bike lanes next to 45 mph traffic.
It is anticipated that construction work would be initiated in 2023 and require about four months to complete. The project is estimated to cost $8 million, $5.54 million of which is provided by an Active Transportation grant given to the county by the state of California in 2018. This includes funding for the installation of a signalized crosswalk toward the eastern end of the proposed MUP.
Alignment B:
Of the two proposed Modoc MUP locations, that titled "Alignment B" is not only staff-preferred, but also widely preferred by proponents of the path as it would physically separate the path from the adjacent 35-45+mph traffic on Modoc road, remove fewer trees than the alternative, be compliant with the Americans with Disabilities Act (ADA), and reduce the need for retaining walls. Alignment B would run along the interior edge of the Modoc Land Preserve on Modoc road, necessitate removal of 21 trees, 86% of which are non-native and all of which would be replaced with native oaks, ultimately leaving the preserve with more trees than it started with. Alignment B also involves construction of two retaining walls; two segments totaling 650 linear feet would be visible from Modoc Road, with an average height of less than four feet.
A diagram of the path to be taken by Alignment B is shown below, along with a table detailing the number and type of trees to be removed.
Table of tree removal for Alignment B
Breakdown of claims made by detractors of the Proposed Modoc MUP:
The "Save the Modoc Trees" petition mentioned above makes the following statements/claims (shown in blue):
"These 29 iconic Canary Island Date palms are threatened!"
    This statement is inaccurate. As indicated in the above table, Alignment B does not require removal of any Canary Island Date Palms. While the alternative alignment (Alignment A) would require removal of 29 Canary Date Palms, the county's MND repeatedly states that Alignment B is the "preferred alignment."
"The so-called Plan B is on the protected Modoc Preserve property...it does not conform to the provisions in [the Deed of Conservation Easement Agreement signed in 1999]"
    This statement is also inaccurate. Alignment B conforms to the provisions of the Conservation Easement as it permits alterations under certain specific conditions, including the construction of designated paths, fences, gates, grading, moving of water courses, installation of bridges, removal of non-native plants including trees, and restoration plantings with appropriate plants, so long as these actions are approved by the Land Trust for SB County, in collaboration with the La Cumbre Water Company for purposes such as recreation, resource management and enhancement, education, and scientific research.
Further, and as stated in the MND, "the proposed land use (multi-use trail) would not conflict with the allowed uses under the conservation easement, and would not generate significant noise, traffic, dust, artificial lighting or crowds that could impair the attributes of the Preserve."
"It would also put equestrians, and their horses, right next to 25mph e-bikes whizzing by!"
This statement is misleading. As stated in the MND's description of Alignment B, "A 300-foot long segment of the existing equestrian trail would be realigned by providing a three-foot-wide earthen equestrian trail with a buffer from south of the proposed multi-use path." The concern about 25 mph e-bikes also raises the question of how said horses fare when walking adjacent to Modoc Road where cars often "whiz by" at 45 mph.
"We understand that Canary Island palms and Eucalyptus trees are non-native to California … however, they do provide very important habitat and shade canopy to many species of birds, mammals, and other organisms that dwell in the Modoc Preserve. Embracing biodiversity is a more sensible approach. Leaving well established, drought tolerant, non-natives to co-exist with natives...especially, in semi-rural to urban areas makes much more sense…"
Again, the Canary Island Palms will be unaffected by Alignment B.
There is a lot to break down here, as the issue is admittedly complicated. It is certainly true that minimizing pointless gratuitous destruction of the environment is of extreme importance; the studies comprising the MND were conducted for this precise reason, and Alignment B is a revised and greatly improved version of an earlier plan which dictated removal of a much greater number of trees.
The MND also states that while Alignment B "would result in the loss of about 1.3 acres of wildlife habitat," said habitat is "located along Modoc Road, subject to vehicle noise, dust and exhaust emissions and not considered high value or essential habitat for any wildlife species'' according to the impact assessment guidelines outlined in the MND.
Critically, the funding provided for the Modoc MUP includes the opportunity to perform native plant restoration along the path. Per the MND, "The loss of three protected coast live oak trees (at least six inches in diameter) would be mitigated by planting coast live oaks at a mitigation ratio of 10:1 for one-gallon container plants or 5:1 with fifteen-gallon container plants. Therefore, a total of 30 one-gallon plants or 15 fifteen-gallon plants would be planted." Opponents of the path have frequently stated that they are concerned about the loss of a greenbelt as a result of the Modoc MUP's construction, but the mitigation performed during construction will in fact leave the preserve with more trees than it started with.
Additionally, several of the eucalyptus trees identified for removal for Alignment B are actively afflicted with shelf fungus (see photo below). Shelf fungi are a major wood rotting group. Once a tree is infected, the fungus cannot be killed and the tree is at risk of falling and spreading spores to nearby trees. Removing infected trees during construction of the path therefore makes room for the MUP while also achieving preventative maintenance.
Conservation and forestry experts approve of Alignment B, and removal of non-native trees is an explicit goal of the Modoc Preserve Conservation Easement. In addition to fire risk, non-native trees like eucalyptus can use so much groundwater that they dry out wetlands, kill and crowd out other trees and plants, and require constant maintenance. Accordingly, the eucalyptus trees removed would be replaced with oak trees, which are quick-growing, and both native and fire resistant. Coast live oaks are the more sustainable long-term choice given climate change and hotter, windier conditions.
Lastly, regarding animal species in the Modoc Preserve, the MND states: "Impacts to active native bird nests shall be minimized by conducting all project-related vegetation removal prior to construction and outside of the nesting season (February 1 to August 31), if feasible." The MND document goes into comprehensive detail of its study and approach to other species as well.
Safety:
Conspicuously absent from the above points is any acknowledgement by detractors of the safety improvements to be gained by constructing the Modoc MUP.
Data published by the National Traffic Safety Board shows that a collision between a pedestrian and a car at 40 mph is 80% likely to be fatal. As previously mentioned, there are no sidewalks along the stretch of Modoc Rd the MUP would span. And traffic on Modoc reaches upwards of 45 mph.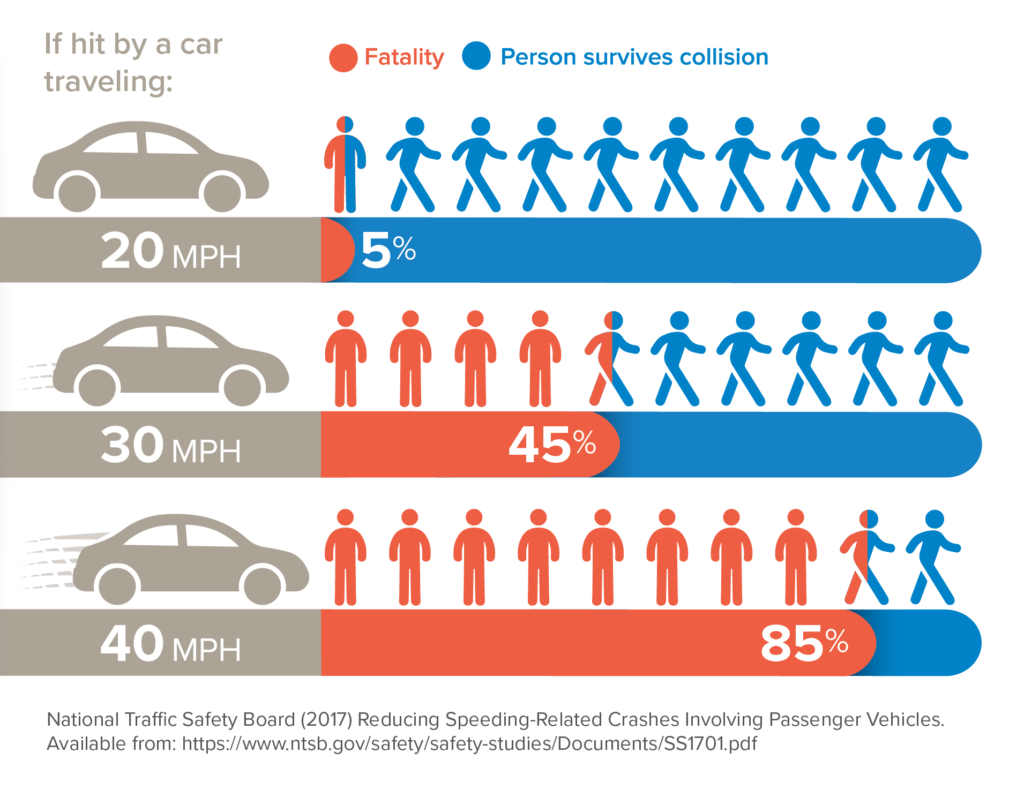 Source: https://smartgrowthamerica.org/what-are-complete-streets/
Left to make their way along the shoulder, cyclists are likewise at risk on Modoc Rd. There have been 9 crashes involving cars and bicyclists on Modoc Rd in the last 11 years. These are avoidable with a protected, separated bike path like the proposed MUP.
Myriad case studies demonstrate the public safety advantages of separated bike lanes. For instance, following the installation of new protected bike lanes on Pennsylvania avenue in Washington DC, 90% of users say they feel safer. This makes sense, especially considering the research conducted by the American Federal Highway Administration in 2021, which found that separated bike lanes can reduce crashes up to 30% for total crashes on urban 2-lane undivided collectors and local roads. Similarly, In 2019 a 13-year study of a dozen cities found that protected bike lanes led to a drastic decline in fatalities for all users of the road. The researchers who conducted the study found that cities with protected and separated bike lanes had 44 percent fewer deaths and 50 percent fewer injuries than the average city.
The bigger picture:
Veiling an aversion to change with a seemingly environmentally-driven argument (a.k.a. the "NOT A SINGLE TREE!" stance) is a regrettably uncompromising approach. The Modoc MUP was designed and provided funding solely with good intentions; enabling non-car-based travel from Goleta to downtown SB on a protected path is not only safer for path users, but also for the environment.
In California, 40% of emissions come from transportation, and automobile dependency is a major factor in California's climate goal shortcomings. Conversely, cyclists have 84% lower carbon emissions from all daily travel compared to non-cyclists, and studies find that swapping the car for walking, cycling and e-biking even just one day a week makes a significant impact on personal carbon emissions. Other cities that have added safe, separated bike paths have demonstrably reduced car trips. For instance, in the city of Davis, which extended separated bike paths from its UC campus to the rest of the city, fully 20% of commutes are made by bike. Another example: 38% of people biking on Sherbourne Street in Toronto switched to biking after Sherbourne got a protected bike lane. Of those, 24% switched from driving. A third statistic for good measure: according to a study that analyzed protected bike lanes in five cities across the US, the average protected bike lane sees bike counts increase 75% in its first year alone.
Approximately 600 individual round trip bicycle rides along the 0.75 mile proposed Modoc MUP would save the carbon emissions equivalent to the 21 trees cut down to create it. So, if just one person were to use the Modoc MUP five times per week for six months (for instance to commute to a job or to school), the carbon emissions saved by that single person biking instead of driving in a compact car along just that 0.75 mile-long stretch of Modoc would be equivalent to the amount of carbon sequestered annually by 21 trees. In essence, the Modoc MUP would likely pay off the cost of trees required to build it faster than the construction itself. This is especially true if, as studies have shown, traffic along the path increases bicycle trips via induced demand.
The Modoc MUP is ultimately one of many steps being taken by the county to reduce carbon emissions and improve quality of life in order to achieve the Vision Zero goals adopted by Santa Barbara in 2018. The San Jose Creek path, the Cliff Drive path, and the Hollister interim striping project are all walkability improvement projects in Santa Barbara that have been passed unanimously within the last month. A remaining and vital missing piece in our cycling/pedestrian infrastructure is the Modoc MUP.
Fighting walkability improvements within Santa Barbara is arguably far more harmful to the environment than removal of 21 trees could ever be. Opponents and proponents of the Modoc MUP are united in their desire for a shared natural space. However, there is more to the forest than just its trees; let's not lose this opportunity to build a more sustainable future.
Please consider signing the petition in support of the Modoc MUP here, and leaving a public comment in favor of Alignment B here.
---
Op-Ed's are written by community members and local organizations. The views and opinions expressed in Op-Ed articles are those of the authors and do not necessarily reflect those of edhat.
Do you have an opinion on something local? Share it with us at info@edhat.com.