Forward Progress Stopped in Brush Fire Near Los Alamos
Update by edhat staff
5:00 p.m., July 31, 2020
The forward progress of the fire has been held to 10 acres. There are no injuries or damaged structures.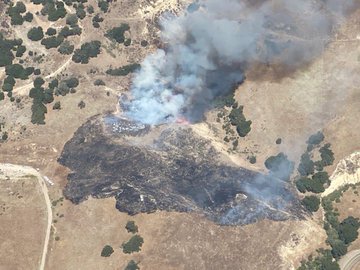 ---
Reported by edhat staff
3:00 p.m., July 31, 2020
County firefighters and aircraft are responding to a brush fire in the 6000 block of Cat Canyon east of Los Alamos.
Around 2:50 p.m. Friday, fire crews arrived on scene with air tankers and helicopters for a growing brush fire. There are currently two separate fires totaling two acres, but incident command reports the fire has the potential to grow to 100 acres.
Crews are laying hoses to create a line around the fire as aircraft make water drops.
There are currently no injuries reported and the cause is under investigation. 
---
Reported by Roger the Scanner Guy
2:42 p.m., July 31, 2020
Brush fire in the 6000 Block of Cat Canyon. The SB County Fire Department is responding and then some.