Families Confirm Identities of Conception Fire Victims
Montecito resident Crystal Iverson leaves 34 red roses for the victims of the Conception dive boat fire at a growing memorial in Santa Barbara.‬ (Photo: John Palminteri)
---
By edhat staff
Families and loved ones are confirming the identities of victims who died in the Conception diving boat fire on Monday.
The Santa Barbara County Sheriff's Office reported Wednesday morning that 33 bodies of the 34 victims have been recovered. Many families have traveled to the Santa Barbara area to wait for information on victim identification using a Rapid DNA Analysis Tool. 
The Sheriff's Office has yet to confirm the identities of those on board, but below are reports from family members.
Conception Victims
Kristy Finstad
Photo: Facebook
Described as a free spirit who's in touch with nature, Finstad was one of the first reported to be onboard as her company, Worldwide Diving Adventures chartered Conception for Labor Day weekend. Finstad was a Marine Biologist and skilled diver who received her Bachelor's Degree from UC Santa Barbara.
She was 41 years old from Santa Cruz, CA. Read more from our previous report here.
Allie Kurtz
Photo: GoFundMe
Allie Kurtz was the only crew member of Conception who did not survive. She was sleeping below deck with the other passengers when the fire broke out. The five other crew members were in a different area of the boat and survived.
"Allie had a heart of gold, and lived her life on her terms. She left the movie industry to follow her love of boating and scuba diving. The only sense of comfort right now is knowing she passed doing what she loved," said her father Rob Kurtz in an online post. 
Kurtz graduated from Cincinnati's School for Creative and Performing Arts before moving to Los Angeles to work for Paramount Pictures. She then moved to Santa Barbara to pursue her love of diving.
She was 26 years old.
Neal Baltz and Patricia Beitzinger
(Photo: Facebook)
An Arizona couple was confirmed to be on board by a family member. Neal Baltz and his longtime girlfriend Patricia Beitzinger lived in the Ahwatukee Foothills. They were described as being adventurous and had taken many diving trips together around the world including the Gulf of Mexico and the Caribbean. 
Baltz was is a Founder of the Southwest Wine Center at Yavapai College and sponsored a VEN Scholarship for students. He was described as having the best dry humor. Beitzinger was described as a ray of sunshine.
Neal was 42 and Patricia was 48.
Scott and Kendra Chan
Scott and Kendra Chan (Facebook) 
Scott and his daughter Kendra bonded over diving. He was a Silicon Valley engineer turned physics high school teacher in Fremont, she was a UC Davis alumna and biologist with the U.S. Fish and Wildlife Service in Ventura.
The duo was passionate about diving and took at least two dive trips to the Channel Islands per year and had previously traveled on Conception.
"Kendra's fascination with marine ecology will continue to inspire everyone she touched," wrote Chancellor Gary S. May of UC Davis.
"Mr. Chan was a beloved teacher at AHS among students and colleagues," American High School representatives said in the statement. "His students knew him to be an innovative and inspiring teacher who developed a passion for physics among his students. His loss is a tremendous tragedy for our school district."
Scott was 59 from Los Altos, Kendra was 26 and lived in Oxnard.
Steve Salika, Tia Salika, Diana Adamic, and Berenice Felipe
Steve Salika took his daughter Tia Salika and his wife Diana Adamic aboard Conception to celebrate Tia's 17th birthday. 
Tia brought along her friend and classmate Berenice Felipe. Both were students at Pacific Collegiate School in Santa Cruz. They both enjoyed volunteering at the Santa Cruz County Animal Shelter where Diana worked as a volunteer and contract Humane Educator.
"Diana was kind and insightful, somehow both intense and humble, and above all authentic," wrote Jen Walker of the Santa Cruz County Animal Shelter.
Steve and Diana were both employees of Apple, according to a statement from the company.
"Steve was a 30-year Apple veteran whose energy and enthusiasm touched so many people across our company throughout his career," said Deirdre O'Brien, a senior vice president of retail and people at Apple.
Tia was 17. Steve was 55. Carol was 60.
Dan Garcia and Yulia Krashennaya
Apple confirmed another one of their employees, Dan Garcia, was on the Conception as well with his wife Yulia Krashennaya.
Dan was described as being "as passionate about his job at Apple as he was about his love of diving," said Apple in a statement.
Friends described them as having a love for life and diving.
Dan was 46. Yulia was 40.
Lisa Fielder
Michigan native, hobby photographer, and hairstylist for 20 years, Lisa Fielder, was described as a kind person who loved nature.
An experienced diver, she had previously booked a trip with Worldwide Diving Adventures last year in Cozumel, Mexico. "Petting an Octopus on a night dive was another highlight!
Wish I could stay here forever," she wrote of the trip on Facebook.
As an avid traveler, she'd also visited Holland, China, Tibet, and Guatemala.
She was 52 and lived in Mill Valley.
Chuck McIlvain 
Santa Monica local Charles "Chuck" McIlvain worked as a visual effects designer for Sony Pictures Imageworks in Culver City, where he had worked for 15 years. He was known for his work on such movies as "Watchmen," Spider-Man" and "Green Lantern."
His wife, Jasmine, is also an avid diver but she was working in Miami while he was diving off Conception with their friend Marybeth Guiney.
Chuck's friends wrote that he was one of "the kindest, funniest people you'll ever meet," and "anyone who knew [him] would know how full of life he was, how contagious his laugh and his smile was and what a warm soul he had." 
Chuck was 44.
Marybeth Guiney
A friend and Santa Monica neighbor of Chuck McIlvain, Marybeth was a sales director and ocean enthusiast. She was passionate about protecting sea life, especially sharks, and is described by friends as energetic and optimistic.
"You were hysterical. You were real. I will always think about you and smile," wrote a friend on Facebook.
She was 51.
Michael Quitasol, Fernisa Sison, Angela Rose Quitasol, Nicole Quitasol, Evan Quitasol
This family of five was celebrating a birthday. Sisters Angela, Nicole, and Evan Quitasol joined their father, Michael, and their stepmother, Fernisa Sison to celebrate Michael's birthday.
"They were the most kind, most loving people I've ever met, and I'm not just saying that because they're family," said their stepfather, Chris Rosas. "The way they interacted with anyone they ever came across, they were wonderful."
Evan Quitasol was a nurse at St. Joseph's Medical Center of Stockton, where her father and step-mother had worked after attending nursing school at San Joaquin Delta College. Sison was a nurse practitioner at Kaiser Permanente Central Valley.
"We were extremely saddened to learn the tragic news that one of our nurses, Evan Quitasol, was on board the Conception.  Two former long-term staff members, Michael Quitasol (Evan's father) and Fernisa Sison, were also on board.  We held a prayer gathering in our Chapel this morning to offer comfort and support to our hospital family. Our hearts go out to all the families and loved ones of those on board the Conception. Out of immense respect for the family's privacy, we do not have any other words to share at this time," wrote St. Joseph's Medical Center in a statement.
Nicole Quitasol worked as a bartender in Coronado near San Diego and her sister, Angela Rose, was a science teacher at a middle school in Stockton. She had played roller derby with the Port City Roller Girls in Stockton, where she skated under the name Hermione Danger.
Angela was 28. Evan was 37. Nicole was 31. Michael was 62. Fernisa was 57.
Wei Tan
Wei Tan moved to the United States in 2012 where she graduated from the University of Michigan then earned her master's degree in engineering from UC Berkeley. She moved to Goleta in June to start a job as a data scientist at Evidation Health.
According to her sister, Wei comes from an avid family of divers. "She's the most active one in the family and insisted on going diving when she was 10. So we did an adventure dive together as a family at Tioman," said Cheerin Tan to Channel News Asia.
Cheerin confirmed they were texting the night before the accident. 
"She really enjoys outdoor sports so it's at least comforting to know that she was doing something she loved in the last few moments of her life... She's a very, very sweet girl who's like a little bright star amongst her friends. Bursting with energy and joy," said her sister.
Wei was 26.
Vaidehi Williams
Vaidehi, also known as Vai Campbell, was described as having enchanting energy and warmth.
"Vaidehi has touched so many people from so many walks of life. Anyone who has spent just a little time with her has been enchanted by her energy and felt the instant warmth of her friendship. She had a way of bringing people together, and seized every opportunity to live life to its fullest," according to an online memorial and fundraiser page.
She worked at the Soquel Creek Water District for 18 years and her coworkers stated she will be greatly missed. "Vai was a very special person, a valued member of our Soquel Creek Water District family, and a beautiful, kind soul," the company said in an online statement.
Her family said she died as she lived, on an adventure. "Always full of energy and light, Vaidehi was a world traveler who had dear friends on every piece of the globe she touched.  Her love of water, the ocean and sea life carried through all aspects of her life," wrote her family in an online statement.
Vaidehi was 41, two days shy of her 42nd birthday. She leaves behind her husband of 25 years and two children.
Justin Dignam
An avid scuba diver and water polo player, Justin Dignam was the founder and CEO of Big Fish Employer Services, a payroll management company.
"With a broken heart, I will lead us vigilantly as we await confirmation from the authorities," wrote Big Fish Employer Services president Jeff Hill. "We are honoring Justin with our actions by continuing to run the business that he built with honor and commitment."
USA Water Polo CEO Christopher Ramsey released a statement saying Justin was a passionate longtime member of the water polo community since playing in college and they're heartbroken to hear of his passing.
Justin was 58 from Anaheim, CA. He leaves behind his wife Christine and two children, Taylor and Chandler.
Caroline McLaughlin and Kristian Takvan
Caroline, also known as "Carrie" spoke multiple languages, including Portuguese and Japanese, and was a talented watercolorist.
She was a graduate of Palo Alto High School and UC San Diego and recently worked at Brilliant.com as a senior software engineer. 
Carrie was reportedly traveling with her friend and co-worker Kristian Takvam who was the vice president of engineering at Brilliant.com.
"The loss of Carrie and Kristian is deeply heartbreaking for all of us at Brilliant," chief executive Sue Khim said. "Carrie and Kristian were incredible friends and colleagues who brought immense passion, talent, leadership, and warmth, and they will be missed dearly. Our hearts are with their families and friends."
Takvam grew up in Austin, Texas and was described as down-to-earth, thoughtful, and loved to cave dive.
They were also friends with fellow passengers Daniel Garcia and Yulia Krashennaya.
Carrie was 35 from Oakland, CA. Takvam was 34 from San Francisco.
Dr. Sunil Singh Sandhu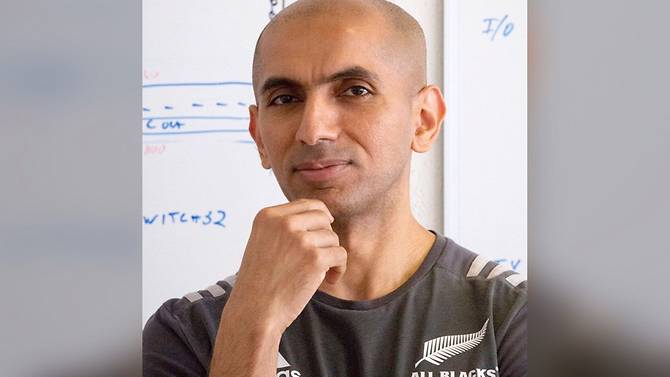 Originally from Singapore, Dr. Singh was a research scientist who had a PhD in electrical engineering from Stanford University. He lived in the United States for over 20 years.
According to The New Paper, he had picked up scuba diving only two months ago.
"My son had a beautiful character. He was always smiling and never short-tempered. That is how I will always remember him," said his father Sojit Singh.
He was 46.
Dr. Ted Strom
Dr. Ted Strom worked as a staff physician at the Memphis Veterans Affairs Medical Center and an associate professor at the University of Tennessee's health science center. 
"The leadership and staff of the Memphis Veterans Affairs Medical Center are deeply saddened by the loss of Dr. Ted Strom," the VA said in a statement. "His exceptional service to veterans as a staff physician is a testament to the type person that he was. Our thoughts and prayers remain with his family during this time. He will certainly be missed."
Strom was involved in hematopathology and transfusion medicine at the VA's pathology and laboratory medicine service. He also held a research fellowship at St. Jude Children's Research Hospital.
He was 62 from Germantown, TN.
Kaustubh Nirmal and Sanjeeri Deopujari
Married for just two and half years, Kaustubh Nirmal and Sanjeeri Deopujari lived outside the New York City area.
Nimral grew up in Jaipur and worked in finance and Deopujari grew up in Nagpur and was a dentist.
Nirmal's cousin, Rajul Sharma, described them as the perfect couple. "He found a soulmate in Sanjeeri... Their love for each other was apparent even without them speaking about it," reports the LA Times.
"God took them away from us untimely and unfairly, but even he didn't have the heart to separate them in death," he said.
Andrew Fritz and Adrian Dahood-Fritz
Married couple, Andrew Fritz and Adrian Dahood-Fritz, had just moved to California from Texas this past April.
Adrian was a marine biologist and Senior Environmental Scientist for Ocean Protection Council. She previously worked for the National Science Foundation and the National Oceanic and Atmospheric Administration. Adrian deeply cared about marine life and the ocean, especially penguins. Just two weeks ago her coworkers celebrated her 40th birthday.
"Adrian led the state's efforts to manage California's network of marine protected areas, and she cared deeply about the ocean and biodiversity. She embodied marine conservation and was a highly accomplished and respected scientific researcher. Adrian's passion and energy will be greatly missed," wrote Governor Gavin Newsom.
Andrew was an avid outdoorsman, photographer, and diver.
In 2014, Fritz joined Baker's photography company AzulOx Visuals. "He was brilliant. Never stopped learning, always seeking. Had just a ton of energy," said Baker to KCRA.
"He didn't want to be average, he wanted to be great... he was smart and she was smarter," said Baker. "She was fierce and brilliant and, you know, loved animals. A lot of their time was spent, you know, volunteering for animal shelters and caring for animals."
They were both 40.
Xiang Lin
Xiang was described as loving hiking, wind surfing, scuba diving and Fremont hiking spot Mission Peak. She was a partner at Acorn Summit Ventures where she focused on artificial intelligence and previously worked as an engineer and program manager at Apple, Microsoft and other Bay Area companies, reports Los Angeles Times.
Xiang grew up in Beijing and was the captain of the women's soccer team at her university. She then moved to the United States to attend Brown University, where she earned a master's degree in computer science.
"Her generosity and charisma made her many friends who remember and dearly miss her," her family said. "She was warm, loving, athletic, courageous, intelligent, funny; her curiosity and passion have impacted and inspired many whom she came into contact with throughout her life," reports Los Angeles Times.
She was 45 and lived in the San Francisco Bay area.
Juha Pekka Ahopelto
Juha was 50 from Sunnyvale.
Yuko Hatano
Yuko was a graduate of the University of Washington and worked as an engineer for Western Digital for nearly 10 years. 
She posted many photos on Facebook of scuba diving including a trip she took to the Galapagos Islands where she photographed stingrays and sharks underwater.
She was 39 from San Jose.
Fundraisers
Missing Divers Relief Fund
The world's largest online community of scuba divers, SCUBABOARD mourns for the missing divers, their families, friends and dive buddies everywhere. They've started a fundraiser to support the families of those missing. All funds raised will be equally divided among the families of the missing divers. Click here to donate.
CaliDivers Fund for Victims
CaliDivers SCUBA Diving Club is a 501(c)(7) not-for-profit recreational club. 100% of the money collected will go to the families of the victims of this tragic event. Click here to donate.
Love for Those Lost on Conception
This fund was created by local residents who hope to immediately help those affected. 100% of donations will go towards the victim's families. Click here to donate.
Love & Support for the Quitasol Family
A GoFundMe account has been set up to support the family of 5 who died in the Conception boat fire. The fundraiser has been set up to help with the funeral costs of all five relatives. Click here to donate
Family of Allie Kurtz
A GoFundMe account has been set up to support the family of Allie Kurtz. The funds are expected to go to her family to help pay for travel expenses to Santa Barbara to provide DNA to identify Allie and any other expenses related to bring her home. Click here to donate.
Vaidehi Williams Memorial Fund
A GofundMe page has been created for the family of Vaidehi Williams to help support her two children and husband with memorial costs.
California Strong
California Strong is proud to partner with the Southeast Ventura County YMCA, ensuring the all proceeds from every donation are given to families in need in California. By partnering with the YMCA, 100% of your donation is tax deductible. In addition, we will leverage our reach with YMCA's throughout the state to strengthen every community in California. Donate here.
A GoFundMe was created to provide contributions in support of crew members. "They generally rely on one season to provide them through the remainder of the year. This gofundme account is being directly gifted to the 15 crew members that are unable to work." Click here to donate.
Anyone with more information, stories, or photos to share of the victims please email us at [email protected]
RELATED ARTICLES