Bingeworthy Television Shows for 2021
By Lauren Bray
I've always been a fan of television. As my mother likes to say, "television is the glue that holds this family together." She got that quote from, you guessed it, a television show. I'm not sure which one because we watch so many.
When the pandemic hit and lockdowns were ordered, I really took a deep-dive into fictionalized content that depicted anything but 2020. In no particular order are some of my favorite shows that helped me laugh, cry, gasp, and Google "what did the ending mean?" so someone else could explain it to me.
Below are short comments, reviews, thoughts, and questions about some of the shows I enjoyed. 
Schitt's Creek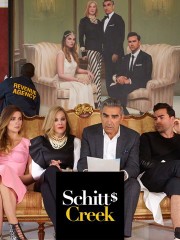 There's a reason this show and the cast won a ton of awards this year. It's hilarious, for a variety of reasons. I dare you to watch a season, any season, and not speak in one of the main character's voices at least once. Catherine O'Hara is the biggest standout for me. Her gestures, "accent," and wild costumes are comic gold. If you're starting from Season 1, give it a few episodes to get into the groove.
I'll Be Gone in the Dark
This is a documentary based on the nonfiction book of the same name written by the late Michelle McNamara, and it has a good amount of Santa Barbara clips. It follows the investigation of the Golden State Killer, Joseph DeAngelo, who was sentenced this year to life in prison for murdering thirteen people and raping nearly 100 women. DeAngelo murdered Dr. Robert Offerman and Debra Manning in Goleta in 1979, Cheri Domingo and Gregory Sanchez in Goleta in 1981, and Charlene and Lyman Smith in Ventura County in 1980. It's a well-crafted documentary that follows McNamara's life and work, and how she essentially single-handedly provided tips and collected documents helping detectives to narrow their search which led to an arrest. 
Queen's Gambit
There's a lot of talk about this show. Mostly because no one thought it would be a hit, but turns out great writing and acting can make anything interesting. Even chess. While some of the themes aren't executed to perfection, it's hard not to get wrapped up in the protagonist's story. I couldn't help but root for her and wonder what obstacle she's going to overcome, or not, next. Plus, I found the chess scenes pretty exciting. 
The Crown
I'm extremely late to this series and have only started Season 1 in the past few weeks. As an American, I've never understood the fascination with royal families and monarchies in general. Outside of a history course, I haven't understood their role or purpose and why countries are still funding this whole thing. For that reason, I never invested because I assumed I wouldn't care or be interested in their lives. I was wrong. Being only in Season 1, I'm completely fascinated and now have a lot of empathy for their complete lack of freedom and privacy. I've heard the series only gets better so I'll keep binging into 2021.
What We Do in the Shadows
This one snuck up on me. I started it on a whim late one evening when I couldn't sleep and I found myself laughing hysterically. It's based on a movie of the same name which was just ok, but the show is extremely better. It follows a group of vampires as roommates living in suburban America with their human assistant. The acting is great, the writing is clever and witty, and the story progresses pretty well for a short sitcom. Definitely worth the laughs. 
Pen15
I love this show, but I'm also aware it's not for everyone. Those who will love it most are the ones who were preteens/teens in the late 90s and early 00s, or parents who had children around those ages. The two actresses are also the creators and writers of the show and play themselves as 13-year-olds. They tackle a variety of awkward teen topics while the time period is a character of its own. AOL instant messenger, Bagel Bites, and BFF necklaces just to name a few. It's cringey, hilarious, and nostalgic. Season 1 is the highlight with the second season slightly waning. 
The Boys
I didn't think I'd enjoy this one but the concept is truly fascinating. What if superheroes were real and they were marketed and sold by a wealthy and corrupt organization? There are a lot of themes that relate to present-day issues and a lot of action, fighting, and blood. If you're squeamish, it might not be the show for you.
Sex Education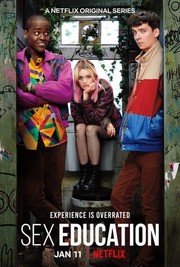 A quirky British dramedy with a unique cast of characters struggling with real-world issues. It follows the life of teenager Otis and his sex-psychologist mother, played by the stunning Gillian Anderson. Otis sets up a side hustle at school with his friends where he answers his peer's sex questions for cash. Shenanigans ensue. It's a light and enjoyable watch where viewers can easily relate to the teens as they can with the adults. 
Atypical
I absolutely love this show. It follows Sam, a teenager on the autism spectrum, as he navigates school, love, and his family. Not only is the show heartfelt but it's funny. The scrappy younger sister is just as quick to protect her brother as she is to tease him. It's easy to watch and get lost in this world without feeling a huge rollercoaster of emotions.
The Umbrella Academy
Based on a comic book series, the two seasons are highly engaging. Children born with unique powers and adopted by a millionaire scientist/inventor that end up on a mission to save the world. It's actually better than how I just described it. The sci-fi/fantasy elements aren't too out there to be distracting and the characters are unique. Outside of one or two cheesy graphic moments, it's still a fun watch.
The Outsider
This one was creeeeeepy, but it was good because it's based on a Stephen King novel. Shocker. Cynthia Erivo provides a standout performance as a detective who appears to be on the autism spectrum but is the best in her field. Like every other Stephen King project, the ending had me screaming and googling "what just happened?"
​Insecure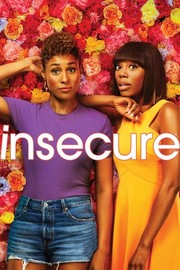 This is one of those rare shows where each season gets better and better. Creator, writer, and star Issa Rae is extraordinarily talented and authentically enjoyable. The entire cast is amazing but Rae and co-star Yvonne Orji are the standouts. It's funny, clever, and fun to watch. Plus it's based in Los Angeles so there are familiar'esque themes throughout.
Dead to Me
Christina Applegate and Linda Cardellini are a dynamic duo who can effortlessly switch between drama and comedy. The show should be dark and serious since its main conflicts are around murder, but somehow the writers are able to make the characters fun and relatable. I'm pretty sure I binged this within a day and a half.
Murder on Middle Beach
If you enjoy Dateline and Forensic Files, this documentary is extremely captivating. It follows Madison Hamburg as he tries to help solve the cold case of his mother's murder. The documentary took over 10 years to put together and constantly evolves as more details are revealed about his mother and his entire family. It's heartbreaking to watch Hamburg struggle with what he uncovers and relives, yet satisfying to see him mature and ease into a peaceful understanding of his mother's life. 
Fargo: Season 4
I haven't seen Season 1-3 and that's a-ok, they're not connected. I watched Season 4 because it stars Chris Rock as a gangster in the 50s and I was curious to see how he'd do. In my opinion, he was good but not great. His supporting cast was really good and the storyline kept me engaged. Plus the sets with clothing and cars and decor from the 50s is always fun to see. 
Love Fraud
Wow. This one really got me. I'm still upset about it. The documentary follows a group of women and private investigators who seek to track down this despicable human being who swindles women for their money, cars, homes, retirements, and basically anything he can cash out on before he skips town and does it all over again with another woman. I can't remember how many women he's done this to but it's well over 20, maybe close to 50? Most of these women went into debt, filed bankruptcy, and lost everything because of him. His name is Richard Scott Smith, but he goes by a lot of aliases, so ladies steer clear! 
Real Housewives of Potomac
Don't judge me. Or do, I don't care too much. I'm a proud bravoholic. A good section of my zone-out television watching is courtesy of Bravo TV and the creme de la creme this year has been Real Housewives of Potomac. Beautiful, wealthy women arguing with one another about their philandering pastor ex-husband, four legitimately earned degrees, and pet bird named T'Challa were exactly what I needed to get me through 2020. As a follow-up, Real Housewives of Salt Lake City is also noteworthy but other locations were mediocre at best.
The Haunting of Bly Manor
I'm still thinking about the outcome of this miniseries. It's spooky and gutwrenching and confusing and engaging all in one. Admittedly, the plot is not as seamless as I would have preferred and it bounces around too infrequently with the backstories not making a cohesive thread, but I was so engaged with the characters and their development that I let it slide. And the ending... good god, the ending. Still thinking about it.
Taste of the Nation with Padma Laksmi
For as much as I love to eat AND watch tv, you'd think that food-driven shows would be my jam. Au contraire, not so much. I usually get bored and am scrolling through emails 1/3 into the episode. This is not the case with Padma's new show. She mixes her interest in food with history, culture, and authenticity. Not only do you get to learn where the best burrito is, but you get to learn where burritos came to be and why they're important and how to appreciate them and the people who make them. It's a great show that made me want to travel the United States, even though we can't right now. And Padma is genuinely charming and charismatic, outside of her television personality you were able to see the real person who has an authentic affinity for food.
Outlander
Perhaps I saved the best for last since I'm currently in a DroughtLander. I discovered Outlander at the beginning of the pandemic and wow, oh wow, did it knock my socks off. It's heavily romantic and captivating with its rolling views of Scotland and gratuitous love scenes, but that's just what we need in today's state of the world. The "will they or won't they" really holds strong throughout the first three seasons as pretty accurate historical events move the plot forward. The series staggers a little through the middle seasons but at that point, I was too invested in the characters to care. The highlights are definitely in the early seasons and it's a much-needed escape from today's world to wrap yourself in a cozy blanket of mystery and romance.
Shows Still on my Watch List
Stranger Things: I know I know, everyone loves this and says it's great but I have yet to start it.

Ozark: Jason Bateman is apparently fantastic as is his supporting cast but I have yet to commit.

Death of 2020: Ask me in a few days, I've heard it's hilarious.

Yellowstone: My mom likes it so it tells me that there is enough drama and romance to keep a certain demographic interested.

Mrs. America: I've been wanting to start this but feel I need more brain cells and attention to give Cate Blanchett what she deserves.

Unorthodox: Another "omg you have to see this!" show that has escaped my brain.
Share your favorites and recommendations in the comment section below!