4th of July Celebration Events!
(Photo: Becky Davis Photography)
Although our annual summer holiday may be smack dab in the middle of the work week, it doesn't mean you can't have some fun! There are several free 4th of July events throughout Santa Barbara County, and many events where you can buy tickets. 
Below are highlights of some events and activities to keep you entertained:
55th Annual 4th of July Parade & Sunken Gardens Concert
Parade: 1:00 p.m. on State Street
Concert: 5:00 p.m. Santa Barbara Courthouse Sunken Gardens
FREE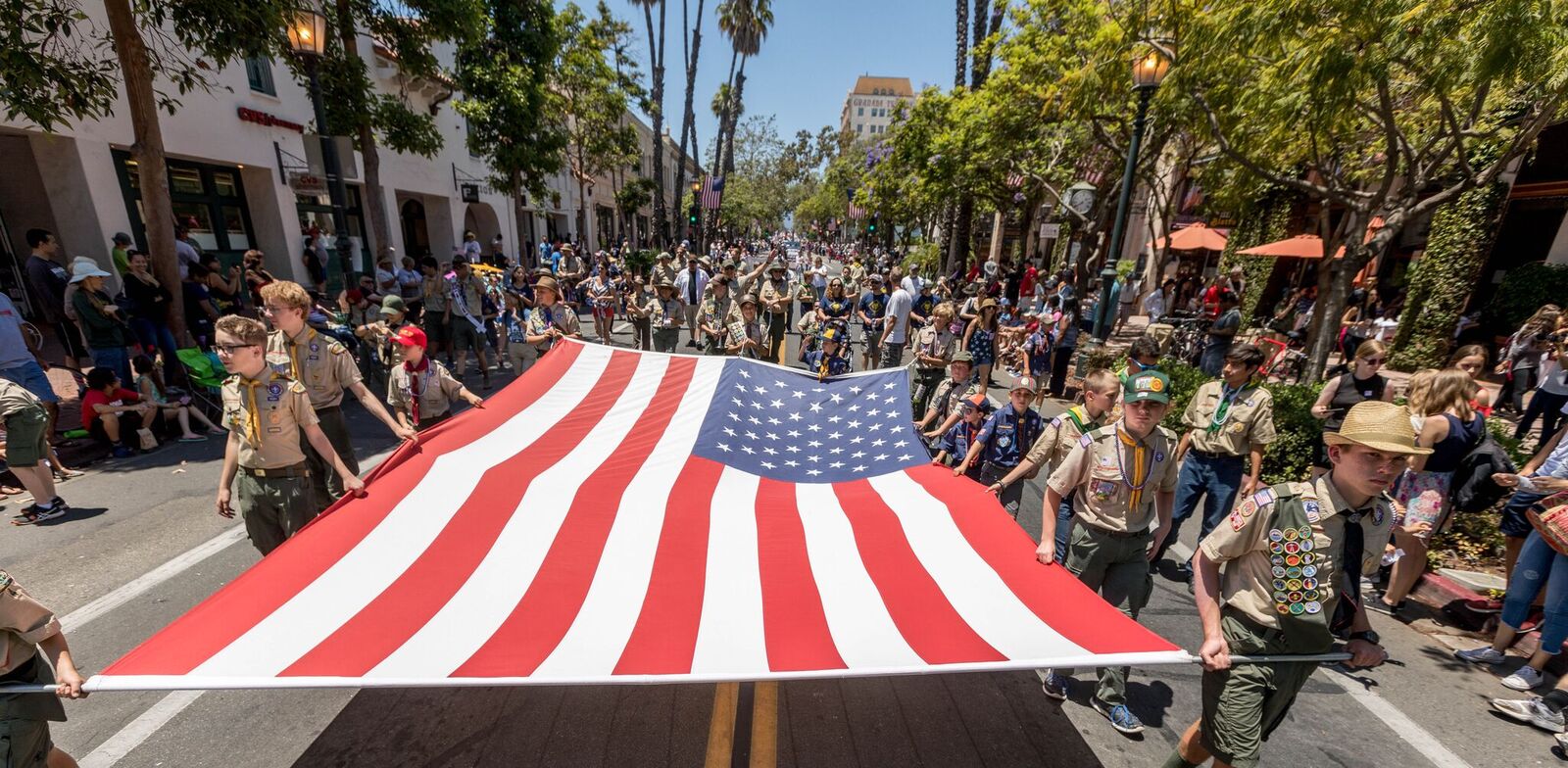 Pierre Claeyssens Veterans Foundation is again pleased to be hosting the 55th annual Fourth of July Parade along State Street and the free evening concert at the Santa Barbara Courthouse Sunken Gardens. The organization is responsible for many veteran-related and patriotic events throughout the year. They include the Veterans Day Ceremony and Parade, the Military Ball, and Memorial Day Ceremony, which honor all of those who have died in military service to our country, local veterans and active duty service members.
The parade begins at 1 PM. at the intersection of Micheltorena and State Streets and travels down State Street to Old Town Santa Barbara at Cota. More than 175 agencies are expected to participate. There will be military color guards, fires and law enforcement agency members, marching bands, Boy Scouts, dance troupes, Knights of Columbus, military vehicles, vintage cars decked out in red, white and blue and more. Floats and vehicles will be on public display after the parade on State between Cota and Haley.
West Beach Music & Fireworks
Music: Noon to 9:00 p.m., Fireworks: 9:00 p.m.
West Beach, Santa Barbara
FREE
On Wednesday, the City of Santa Barbara hosts its all-day Fourth of July festivities along the waterfront. Come for music, food, fun, and sun with an all-American celebration at West Beach. Working with its nonprofit partner, local musicians will bring fun summer sounds and patriotic music to a West Beach stage, and food vendors will stage along Cabrillo Boulevard from State to Castillo streets from noon to 9 p.m. 
The day of celebration ends with a bang during a 20-minute fireworks display, care of Garden State Fireworks and the City's Waterfront Department. Fireworks will launch from West Beach starting at approximately 9 p.m. and be simulcast on local radio station 92.9 FM KjEE and live streamed on KEYT.com. The City thanks KjEE and KEYT for their support of this community event. Visitors are encouraged to arrive early for the free fireworks display or tune in to KjEE to enjoy the choreographed production from anywhere in the city.
Stearn's Wharf Music
11:00 a.m. - 9:00 p.m.
Stearn's Wharf, Santa Barbara
FREE
Stearns Wharf is keeping its music line-up and family-friendly fun from 11 a.m. until the fireworks begin. The Wharf is also a prime spot to view the show!
Live music provided by Musicology's SeaCliff and Notes for Notes® Jazz Villains (11:00AM – 3:00 PM) and Tequila Mockingbird (From 4:00 PM – 8:00 PM), Face painting, Festive treats, Jewelry, art, crafts, gifts, and toys, Wine tasting, fishing, food, and more.
Girsh Park Fireworks
5:00 p.m.  - 10:00 p.m.
Girsh Park, Goleta
Tickets Needed
The Fireworks Festival is a charitable event sponsored by The Rotary Club of Goleta Noontime and The Rotary Club of Goleta. More activities for all ages featuring UCSB's climbing wall. Of course, we will have our traditional contests, sack races, face painting, mini Ferris wheel, games for kids over 10, including corn hole, and the ever popular hula hoop contest! http://goletafireworks.org/
SB Elks Free Family Fun Day Celebration
11:00 a.m. - 4:00 p.m.
150 North Kellogg St, Goleta
FREE
This year's 4th of July Family Fun Day Celebration will offer something for everyone. There will be a Children's Area set up with face painting, numerous games, crafts, coloring, and a Bounce House.
For the adults, there will be Bingo and music, along with silent and live auctions throughout the day with plenty of prizes for the lucky winners. Winners payouts will total $3,000 throughout the day.
Bake goods, hamburgers, hot dogs, BBQ chicken, ice cream, and beverages will be sold for a nominal fee between 11:00 AM - 4:00 PM.
SBCC Family-Friendly 4th of July Celebration
4:00 p.m. - 8:00 p.m.
Great Meadow on West Campus of Santa Barbara City College
FREE
The fun begins at 4:00 p.m. at the Great Meadow on West Campus and the Winslow Maxwell Overlook on East Campus (see link to campus map below). Food will be available from 4:00-8:00 p.m., with food trucks from Romanti-Ezer, Fernando's Churros and Pacific Cafe. You are welcome to bring your own food but please be advised that no alcoholic beverages are allowed on campus or in our parking lots. Campus rules regarding alcohol and smoking will be enforced.
Enjoy live music on the West Campus Lawn by local band Derinkuyu from 6:00-8:00 p.m. Derinkuyu is a Santa Barbara based band influenced by Afro-beat, Reggae, Hip Hop and Soul.
Click here for a map of the SBCC campus.
Arts Fund Community BBQ
11am - 3pm
Funk Zone, Santa Barbara
Tickets Needed
Head over to The Lark parking lot for a community 4th of July party with BBQ Brisket, Pork Ribs, Pasta Salad, Grilled Corn, Coleslaw, craft beer, wine and craft cocktails. A portion of House-made Ice cream sales will go to The Arts Fund. Be sure you stay for the "Sauce-Off" competition from each restaurant and join in on some cornhole toss fun! Wednesday, July 4, 11am to 3pm at The Lark (131 Anacapa Street). Come down and enjoy the BBQ before the fireworks! Streets close at 3pm.
Splash Bash
12:00 p.m. - 5:00 p.m.
Goodland Hotel, Goleta
Tickets Needed
Celebrate the Fourth of July poolside with The Goodland Hotel! We'll have gourmet hot dogs, great cocktails and ice-cold beer! Music by DJ Darla Bea. This event is free and open to the public. 12:00pm to 5pm. 
Rock the Rooftop
4:00 p.m. - 8:00 p.m.
Canary Hotel Rooftop, Santa Barbara
Tickets Needed
Finch & Fork and the Canary Hotel are celebrating the 4th of July with Rock the Rooftop, an open-air party full of bites, sips and views. Join in on the fun, and soak in the Santa Barbara views with sips - like boozy slushies - and bites - like a slider bar with beef, fried chicken and pork creations. DJ Proper will be onsite providing the beats. Rock the Rooftop will take place on Wednesday, July 4 from 4-8pm. Tickets are $30, which includes entry and access to the slider bar. Tickets can be purchased online at NightOut.com, or at the door.
Solvang Rotary Parade & BBQ
11:00 a.m. - 2:00 p.m.
Solvang Park in Solvang
FREE
This year's theme is "American Heroes". The parade features floats, cars, marching children, horses, motorcycles, and more. A free concert and barbecue follows the parade at noon.
Fireworks Spectacular in Lompoc
5:00 p.m. - 10:00 p.m.
Lompoc High School in Lompoc
FREE
Features family-friendly activities, onsite food and drinks, prize giveaways, and more. Presented by the City of Lompoc Recreation Division and community sponsors.
Fireworks Show and Street Faire in Santa Maria
5:30 p.m.
Sierra Vista Park, Santa Maria
FREE
Features live music from Nothing But Trouble. Picnicking is permitted, but no barbecuing, tailgating, glass containers, or tent canopies will be allowed. Refreshments will be for sale from local food trucks. Concludes with the Community Fireworks Show.