Seven Vehicle Crash Slows Down Highway 101 Traffic in Montecito
Update by the Montecito Fire Department
MULTI-VEHICLE CRASH: Highway 101 northbound is closed at Ortega Hill Rd. following a multi-vehicle traffic collision Saturday night.
7 vehicles and 1 motorcyclist involved. Montecito firefighters responded to the incident at approximately 5:20 p.m.
One patient being treated for moderate injuries, the rest are uninjured. Expect delays in the area as first responders clean up the scene & consider an alternate route.
Please slow down & drive cautiously during this busy holiday travel weekend!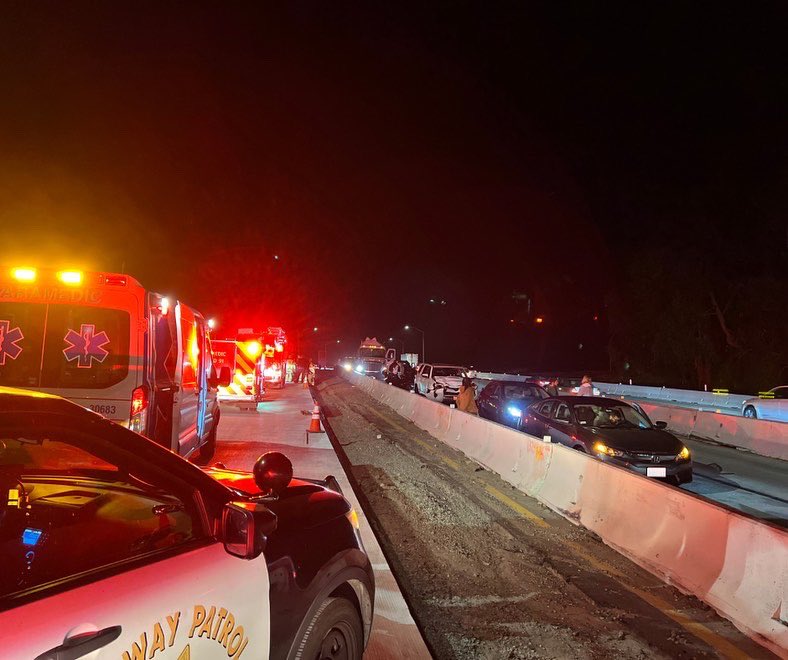 Photo: Montecito Fire Department
---
Update by an edhat reader
101 NB in Montecito accident - update
Description: Looks like it is a 3 car collision from what I was able to see. Everyone is now being exited on Sheffield and getting right back onto the freeway. Cars have not been moved. Owners of the vehicles still on site. Doesn't seem to be any injuries, but those could have been cleared away already. Curious why they haven't moved the cars yet. Possible fatality? Traffic is backed up pretty far. I sat in traffic for over an hour and it just started moving.
---
By an edhat reader
101 N is at a standstill near Sheffield Dr. exit due to what appears to be an accident blocking the entire road, as observed from our hill in Montecito. 101 S is very heavy from downtown to the accident site, with motorists coming to a near stop to look at whatever is on the opposite side.
Perhaps those of you with a scanner have more information? Needless to say, these areas should be avoided and may remain very congested for hours