Vehicle Crashes Over E. Camino Cielo Injuring Four
Photos: Mike Eliason / SBCFD
Update by edhat staff
2:00 p.m., August 31, 2019
A sedan crashed 50-feet off the roadway of E. Camino Cielo injuring four occupants, two with major injuries requiring helicopter transport, on Saturday afternoon.
At 12:12 p.m., Santa Barbara County firefighters responded to E. Camino Cielo near Gibraltar Road and found a small black Mazda sedan had gone off the roadway and landed on its side approximately 50 feet down.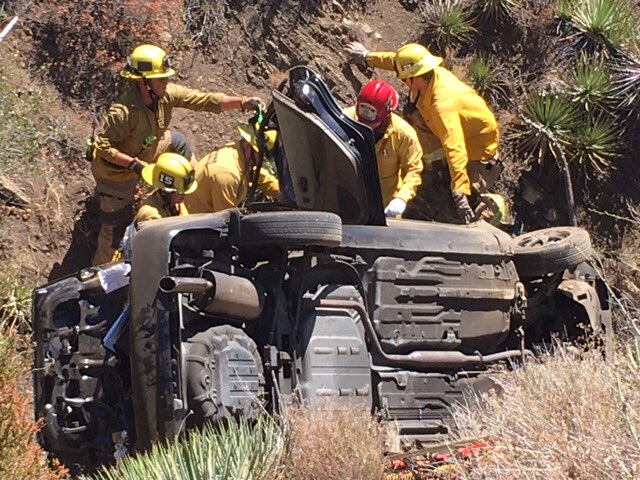 Firefighters made their way down to the vehicle and discovered four occupants that were assessed by paramedics, all requiring extrication from the vehicle. Two males, ages unknown, were brought up to the roadway with major injuries. One was flown to Santa Barbara Cottage Hospital via CalStar 7 helicopter while the other was driven to an Air Support Helicopter (SB County Copter 3) that landed on E. Camino Cielo who flew the patient to Cottage Hospital.
The remaining two occupants were also brought to the roadway with a moderate injury and a minor injury. Both were transported to Santa Barbara Cottage Hospital via ground ambulance. 
California Highway Patrol is investigating the collision. The Montecito Fire Department, Santa Barbara City Fire Department, Search & Rescue, Sheriff's Office, Los Padres National Forest Fire Department, and American Medical all responded to the scene.
Any further updates will be added to this article.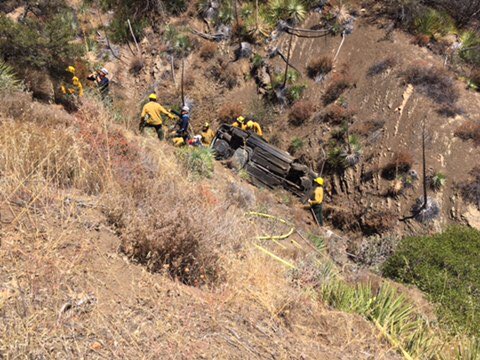 ---
Reported by Roger the Scanner Guy
12:12 p.m., August 31, 2019
East Camino Cielo at Gibraltar Road report of a Vehicle Accident County Command 4.