Two Killed in Goleta DUI Traffic Collision
Update by edhat staff
Two people have died following a traffic collision involving a DUI on Cathedral Oaks in Goleta Tuesday evening.
The Coroner's Bureau released the names of the victims involved as 40-year old Gilberto Arteaga-Gutierrez of Santa Barbara and 45-year old Silvia Velasco of Lompoc.
Around 7:30 p.m., Santa Barbara County Firefighters responded to Cathedral Oaks, west of Camino Cascada and discovered a four-vehicle collision between Kellogg and Cambridge. 
The Santa Barbara County Fire Department (SBCFD) reported two black tags (fatalities) with heavy extrication and one green tag (minor injury) being transported to the hospital. 
California Highway Patrol (CHP) reported a 31-year-old man was driving a 2016 Toyota 4-Runner eastbound on Cathedral Oaks at high speeds when the front end of the SUV struck the back of an eastbound 2002 Ford Mustang.
The Mustang spun around and struck two parked vehicles along the south curb of Cathedral Oaks. The occupants of the Mustang, Arteaga-Gutierrez and Velasco, were pronounced dead on the scene.
The driver of the 4-Runner, 31-year-old Andrew Raymond Burgher of Santa Barbara, was determined to be intoxicated at the time of the collision and sustained minor injuries. He was arrested and booked for murder and Driving Under the Influence (DUI) with a bail set at $2 million. 
A small dog was also found inside the 4-Runner but was ok and transported to County Animal Services. 
A fire hydrant was also damaged and the roadway was closed for a period of time.
CHP is asking that anyone with information related to this incident contact them at 805-967-1234.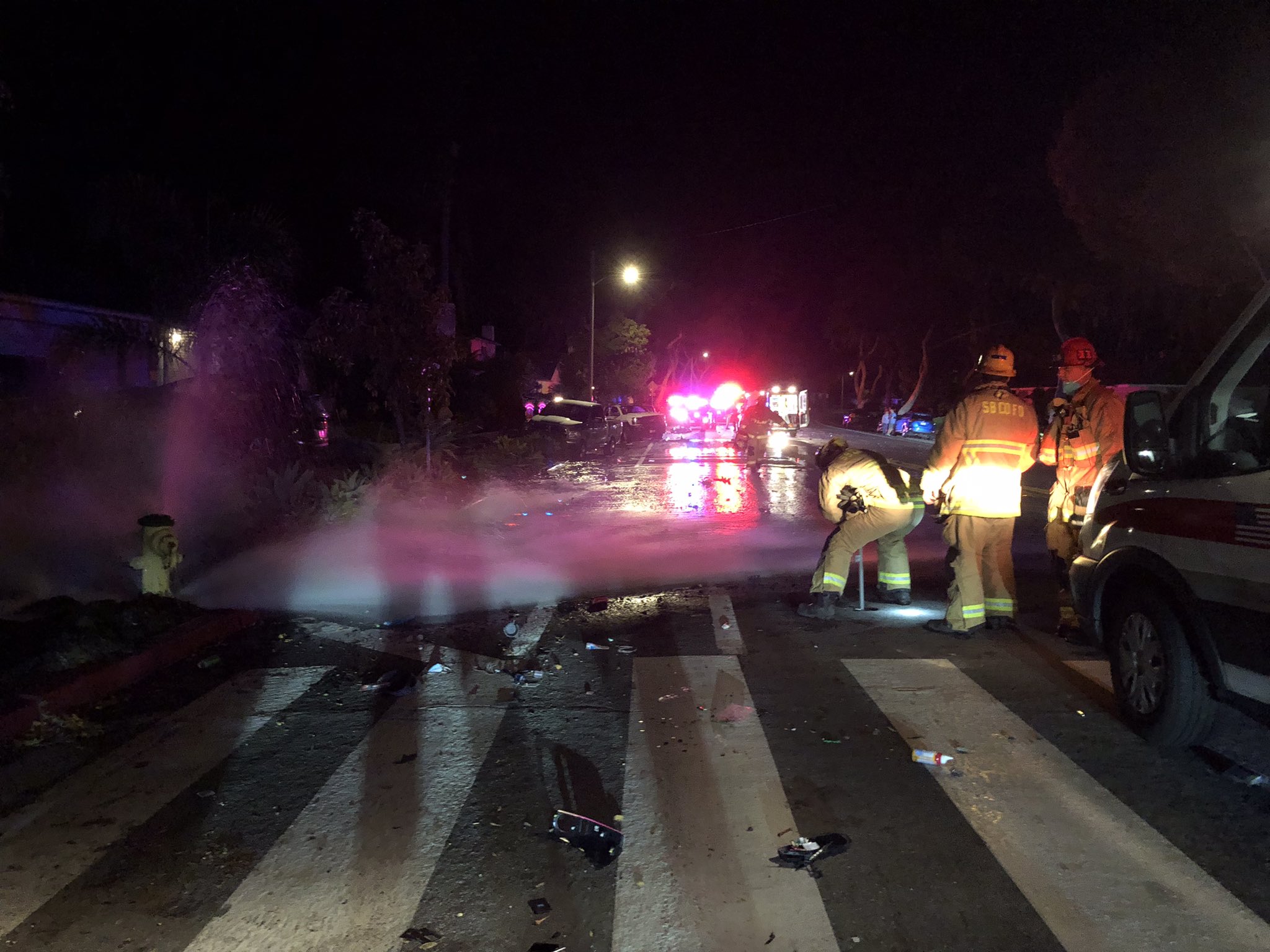 Photo: SBCFD

Photo by an edhat reader

Photo by an edhat reader
---
Reported by Scanner Andrew
7:38 p.m., October 27, 2021
A traffic collision occurred at Cathedral Oaks and Camino Cascada involving multiple vehicles and fatal injuries