Tsunami Watch Brings Out Surfers to Catch Waves
By edhat staff
A tsunami warning for southern California beaches Saturday morning brought out surfers to catch slightly larger waves.
The advisories were issued after an undersea volcano erupted Saturday near the nation of Tonga in the Pacific. A tsunami warning was in effect for all of the archipelago, according to the Tonga Meteorological Services, and 2.7 foot-waves were detected, Pacific Tsunami Warning Center data showed, according to The Associated Press.   
The National Tsunami Warning Center has issued a Tsunami Advisory for the Santa Barbara County coast. This notification is an ADVISORY ONLY – YOU DO NOT NEED TO EVACUATE.
A Tsunami Advisory means that a tsunami is expected or occurring and may produce strong currents or waves dangerous to those in or near the immediate coastline.
The National Weather Service said it's best to maintain situational awareness at beaches, harbors, marinas. Riptides are likely. This threat may continue for several hours after the arrival of the initial wave. Widespread flooding is not expected.
A tsunami is a series of successive surges of water that may be only a few feet in height yet still contain a massive amount of energy and can affect bays and inlets otherwise protected from ocean waves.
The National Weather Service also stated, "a -0.59 residual was recently recorded at Santa Barbara Harbor. These plots allow you to see the height of the #Tsunami wave (the residual) which is the difference between the predicted tide and the observed water level."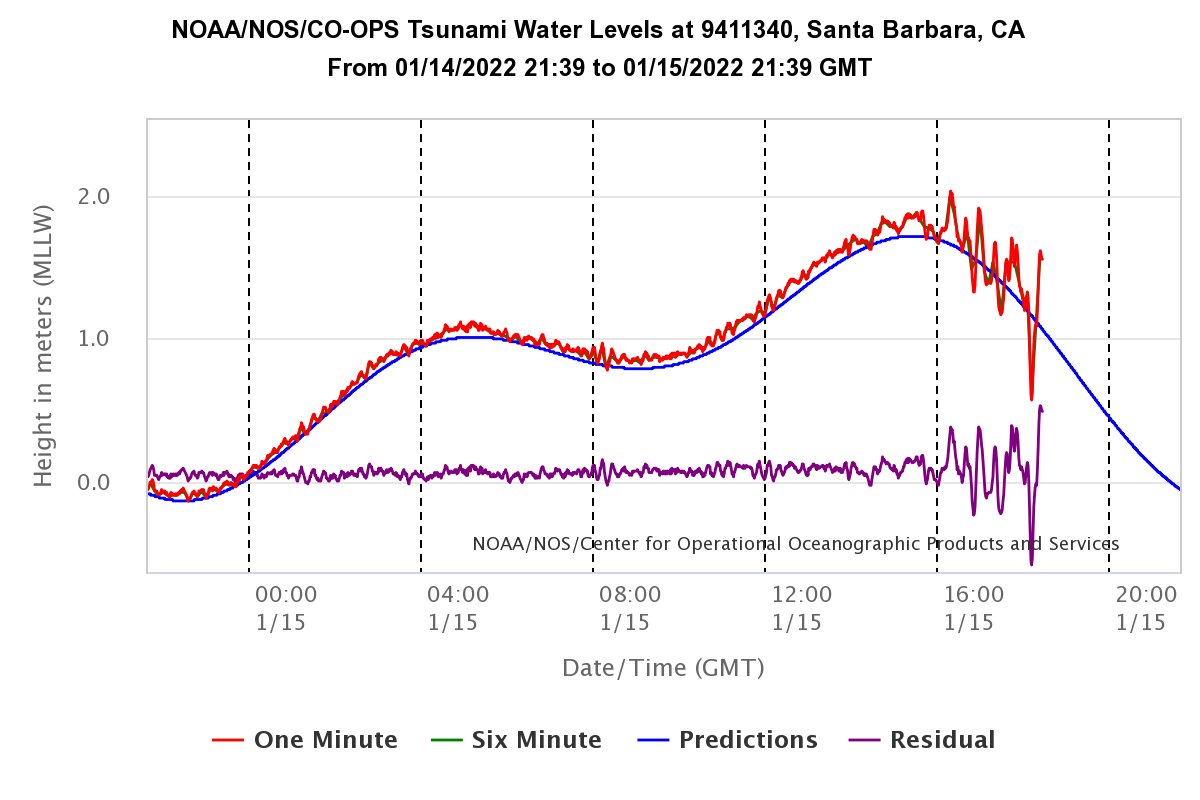 Tsunami Advisory is still in effect for Santa Barbara County and will remain so until at least 3 hours after tsunami surges subside. The Office of Emergency Management urges residents to avoid the beach and coastal areas as strong currents continue and damage to harbors and piers could occur.
In other parts of California, flooding was reported near the Santa Cruz Harbor, and some residents were evacuated. Officials also said over 100 people evacuated the Berkeley Marina, CBS SF Bay Area reports. 
The California Governor's Office of Emergency Services said tsunami heights were expected to be 1-2 feet, based on what was seen in Hawaii. 
A look at high tide at Butterfly Beach following Tsunami Advisory for CA Coast, including SB County South Coast. While there is no concern of significant inundation, please avoid beaches. High tide & strong rip may continue for several hours after the initial wave this morning. pic.twitter.com/I7Y8Knl7Ik

— Montecito Fire (@montecitofire) January 15, 2022