Thousands Attend Vigil for Conception Dive Boat Victims
Sheriff Bill Brown holds a memorial wreath surrounded by local and federal officials (Photo: Mike Eliason)
Update by edhat staff
The Santa Barbara community came together Friday at Chase Palm Park during a vigil for the 34 lives lost in the Conception dive boat tragedy.
Approximately 2,000 people gathered while Laurie Rasmussen played the harp on stage next to 34 diving tanks surrounded by candles representing the lives lost.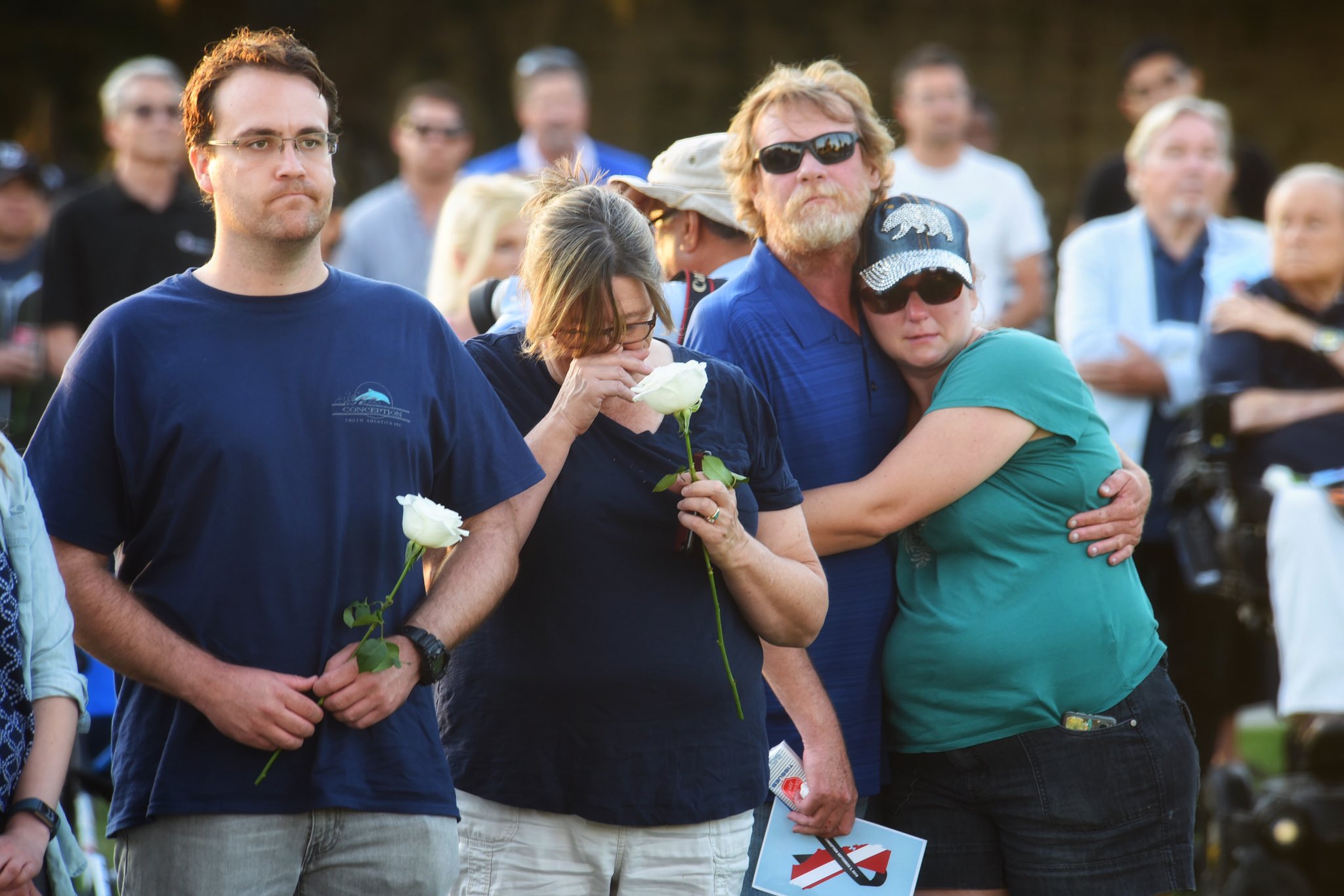 (Photo: Mike Eliason)
Suzanne Grimmesey with the County of Santa Barbara Behavioral Wellness welcomed everyone as family and loved ones of the victims sat near the front of the stage.
Santa Barbara Police Chaplain and Rabbi Daniel Brenners sounded the shofar, a ceremonial ram's horn, before a moment of silence. "It is the voice of emotions that can not be expressed in words," said Brenners.
Don Barthelmess, a dive instructor at Santa Barbara City College, spoke of the tragedy and how the culture of diving bonds people. Rev. Kate Wiebe of the Community Wellness Team also spoke of healing and reminded everyone that we're in this together as a community.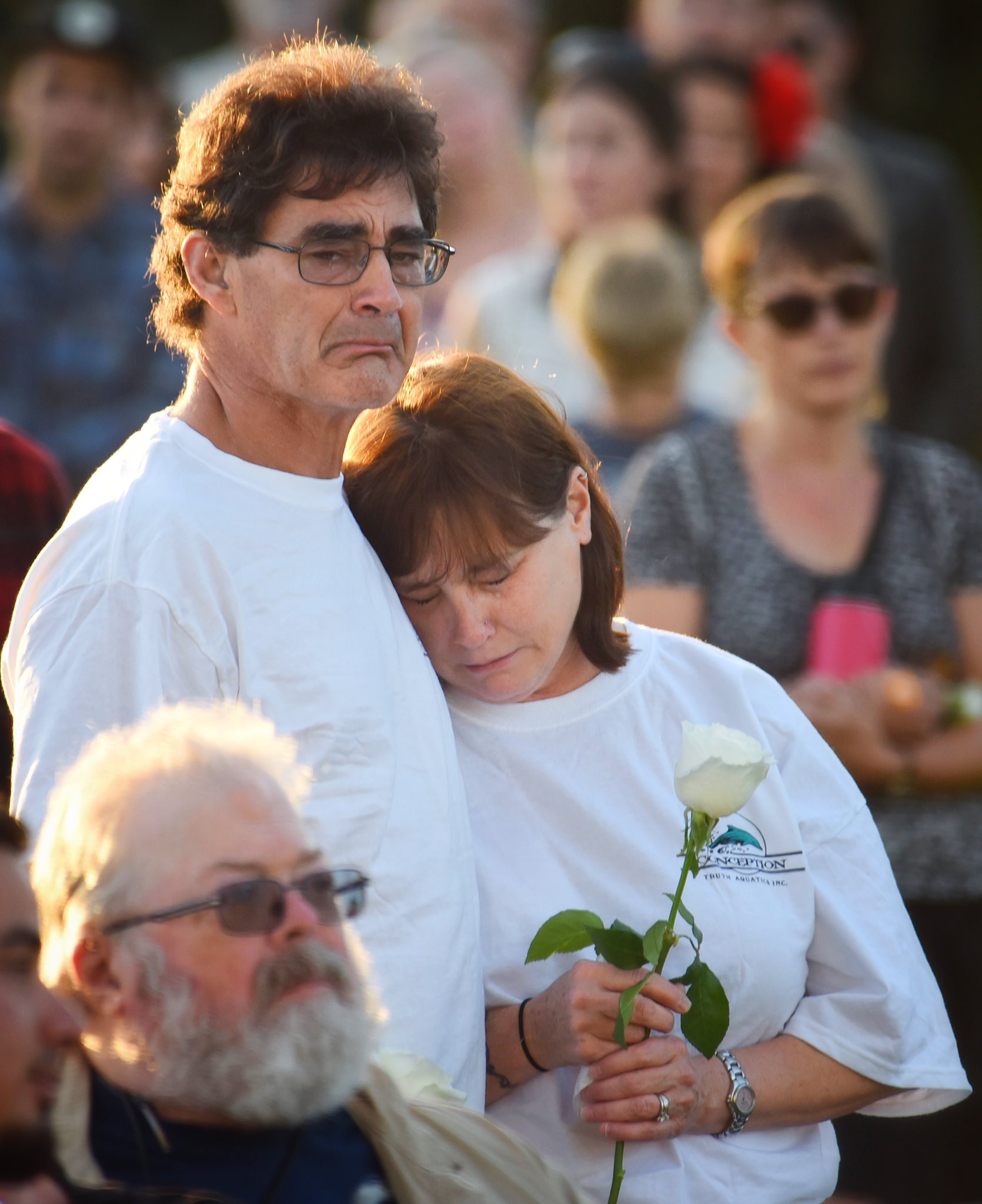 (Photo: Mike Eliason)
Sheriff Bill Brown, County Fire Chief Mark Hartwig, US Coast Guard Captain Monica Rochester and local officials presented a memorial wreath on stage.
As the sun began to set, it radiated the diving tanks surrounded by candles while community members walked to the front, one by one, placing flowers in a basket commemorating the victims. 
Local musician and American Idol contestant Jackson Gillies played emotional tributes of "Stand By Me" and "Amazing Grace."
34 diving tanks representing the victims (Photo: John Palminteri)
---
Source: County of Santa Barbara
Local organizations are coming together to host a vigil for the community to gather, grieve, show support and be in company with one another.
The vigil will take place from 6:30 to 7:30 p.m., Friday, Sept. 6, 2019 at Chase Palm Park (stage and lawn area), 323 E. Cabrillo Blvd., Santa Barbara, 93101. 
"We recognize this tragedy has affected so many from within the community and throughout the world," said Suzanne Grimmesey, chief quality care and strategy officer, County of Santa Barbara Behavioral Wellness Department. "This vigil is an important time for many to come together to grieve and heal."
Representatives from the Community Wellness Team, the dive community, and chaplains from the faith community will offer words of condolences and support.
Event organizers include the City of Santa Barbara, the County of Santa Barbara, the Institute for Collective Trauma and Growth, Community Wellness Team and others.
Parking is available on the street and in the Garden Street and Palm Park lots. Attendees are encouraged to bring blankets or chairs. 
---
Edhat encourages residents to send in stories, thoughts, wishes, condolences, and photos to ed@edhat.com to share with the community who cannot be present at the vigil.