Suspect Arrested in Santa Maria Homicide Memorial Weekend
Update by Santa Maria Police Department
June 9, 2021
The victim in this homicide has been identified as 38-year-old Rafael Santos Toribio, a Santa Maria resident.  
During the investigation, detectives gathered evidence that led to the identity of the alleged suspect, Fernando Cervantes Camarillo (photograph attached), an 18-year-old Santa Maria resident.  On Monday, June 7th, 2021, at about 2328 hours, Camarillo was arrested at his home for murder and subsequently booked into the Santa Barbara County Jail with bail set at $2,000,000.00.  
Based on the investigation thus far, it appears Camarillo, and others, physically assaulted the victim during a dispute.  It is alleged that during the altercation, Camarillo shot the victim which resulted in his death.  At this point, gang involvement has not been determined and it is still under investigation. 
Anyone with information about this investigation is encouraged to call the Santa Maria Police Department at (805)928-3781, ext. 2277 or the tip line at (805)928-3781, ext. COPS (2677).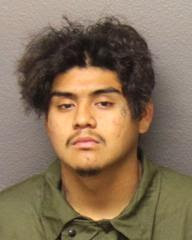 ---
Source: Santa Maria Police Department
May 31, 2021
On Sunday, May 30, 2021, at about 10:00 PM, Santa Maria Police Officers were dispatched to a reported shooting in the area of Boone and Curryer.  Upon arrival, officers located a male subject lying in the the street with an apparent gunshot wound.  Medical personnel arrived on scene and transported him to an area hospital where he was pronounced deceased.
The initial investigation revealed the subject engaged in an altercation with a group of people.  During the altercation, a subject produced a weapon and shot the victim.  At this time, there isn't any suspect information available.  
The victim's name is being withheld pending notification to the next of kin.  Anyone with information related to this investigation is urged to contact the Santa Maria Police Department at 805-928-3781 ext. 2277 or they can call our tip line at 805-928-3781, ext. COPS (2677).