Storm Recap: Evacuations Lifted & Road Closures Continue
Stranded vehicle on the Carrillo underpass (Photo: Anthony Wagner /SBPD)
By edhat staff
Updated at 9:00 a.m., February 3, 2019 
Santa Barbara County officials held a press conference at 4:00 p.m. Saturday to update the community on recent storm damage.
Evacuations
At 9:00 a.m. Sunday, Santa Barbara County Sheriff Bill Brown lifted the evacuation orders for those in debris flow risk areas.
On Saturday Brown extended the evacuation order through Sunday morning due to public safety risks. He stated the moderate rain forecasted for Saturday night through Sunday along with the status of the debris basin caused a recommendation to extend the evacuation orders. It will be re-evaluated Sunday morning. The evacuation map can be viewed here.
The Sheriff's Office statistics show the majority of people in evacuation areas knew of the order and 83% of residents safely evacuated with 17% deciding to remain in their homes.
While residents are away from their home, the Sheriff's Office has increased Deputy patrols in the area to safeguard property as well as specialized rescue and task force teams in armored vehicles in case they are needed. The National Guard is also on duty with 5 of their high water vehicles. 
Road Closures
California Highway Patrol Captain Cindy Pontes stated Highway 101 was shut down as soon as there was flooding to prevent anyone from being stranded. The southbound lanes were reopened around 4:00 p.m. and the northbound lanes reopened at 8:20 p.m.
Highway 154 has also been shut down from SR-192 to SR-246 while Caltrans deals with a culvert drainage issue near Lake Cachuma. It's expected to stay closed until 5:00 p.m. on Sunday.
Residents have road access but through traffic must use Highway 101.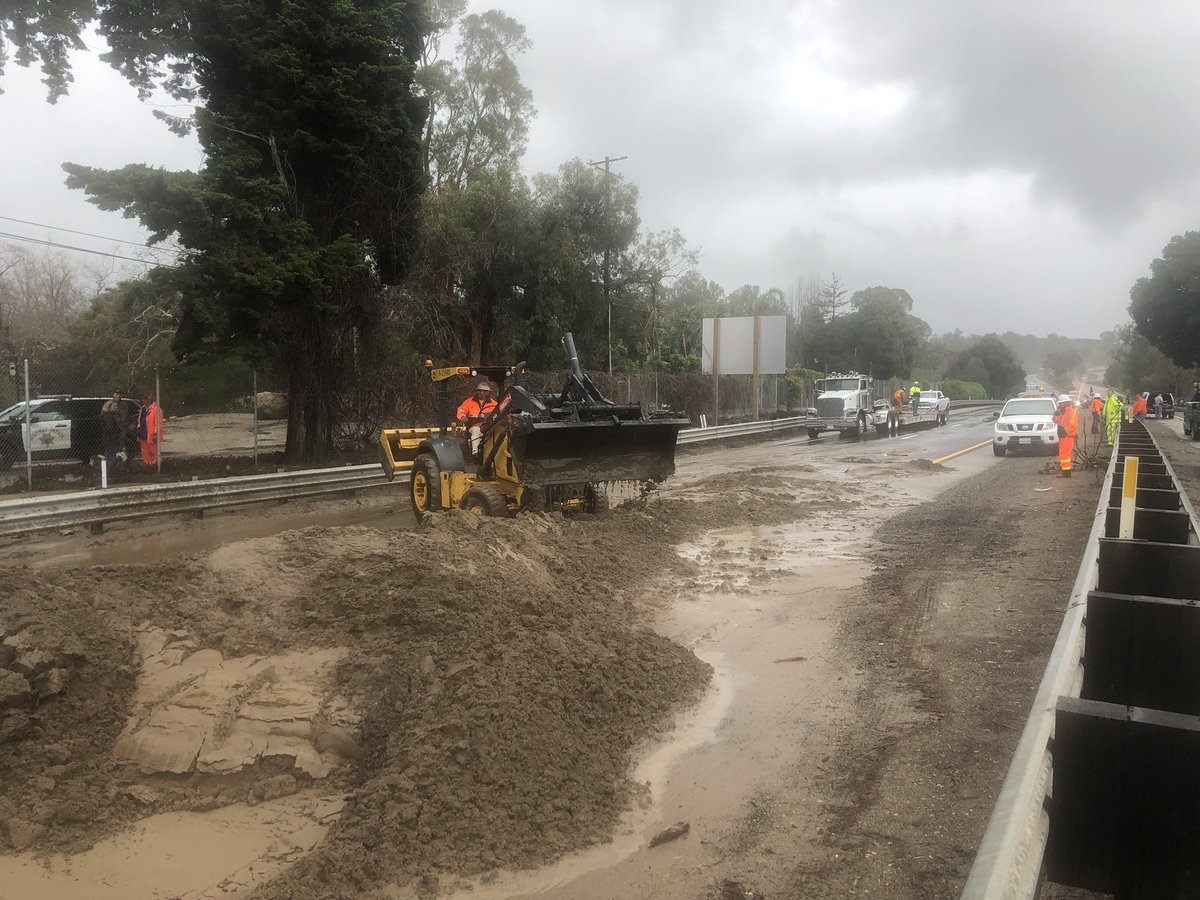 Heavy equipment works to clear US 101 in Montecito Saturday following heavy rains which produced runoff from Romero and San Ysidro Creeks (Photo: Mike Eliason / SBCFD)
Rainfall Rates
A representative from the National Weather Service stated the Saturday morning storm was most likely the strongest storm we'll see this season. Rainfall rates varied from 0.5 inch to over 4 inches in the foothills. Refugio Pass say 1.1 inches in 15 minutes at its peak intensity.
Ralph's underground parking lot on Carrillo (Photo: SBWoman)
Rescues
Winds were also dangerous as Gaviota saw gusts up to 84 mph. Rainfall is expected to reach Santa Barbara between 10:00 pm to midnight and is not expected to be as intense as this morning's storm. However, flash flood warnings are still in effect as some steady rain is expected.
A little after 5:00 a.m. Saturday, Montecito Fire Protection District received over 50 calls to service between the Montecito and Carpinteria area. Many were storm-related with downed power lines and trees, flooding, power outages, and stranded motorists.
Santa Barbara City Fire Chief Nickels reminded people to not cross emergency barriers and to not drive through standing water. He stated they barricaded the Mission Underpass due to it being flooded with deep water but motorists kept trying to cross it. As soon as firefighters would rescue one vehicle, another one would do the same thing and also get stuck. "If you see water, don't try to drive through it," he advised.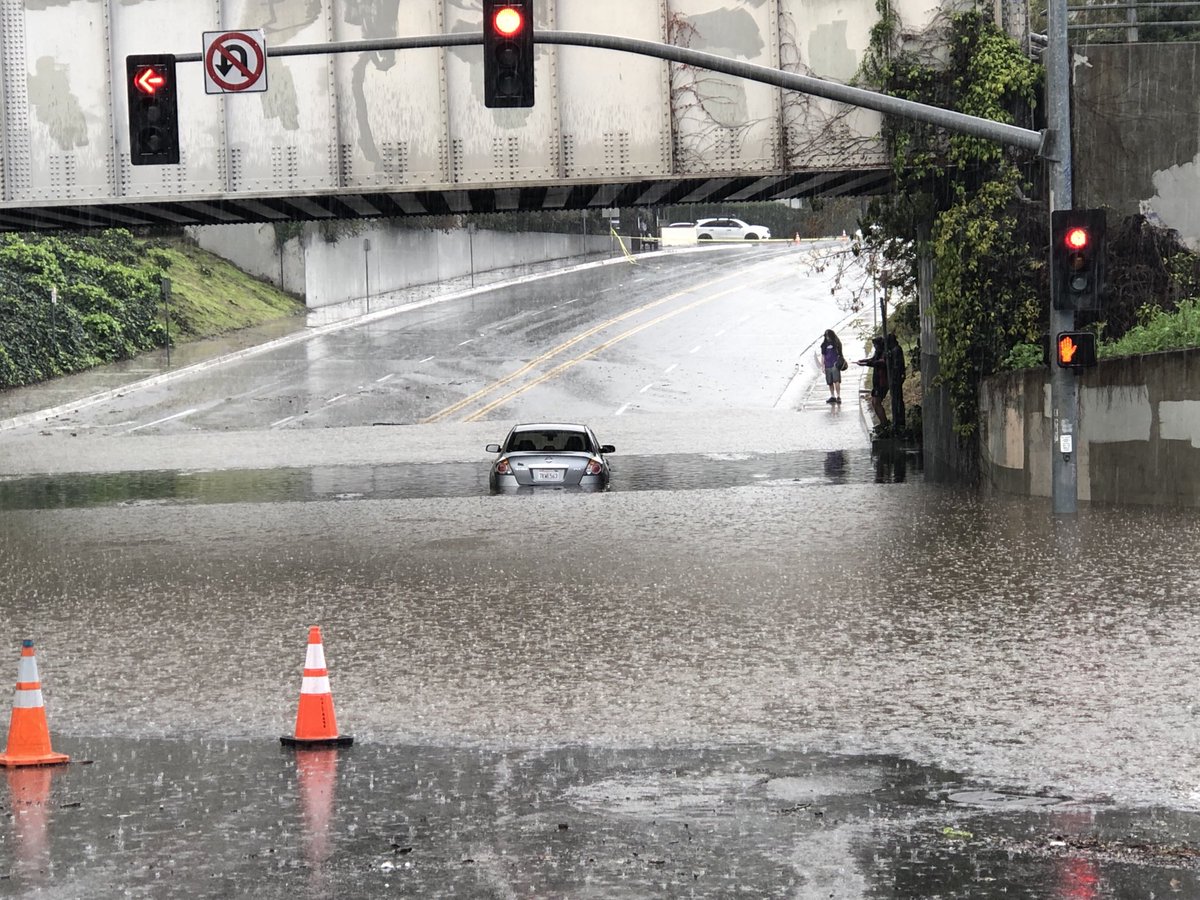 Photo: Anthony Wagner / SBPD
Watch the full press conference below: