(Photos: Mike Eliason / SBCFD)
By edhat staff
Santa Barbara County firefighters responded to the 1200 block of Ken Ave in Orcutt to assist with a storm-related issue at 9:22 a.m. Wednesday.
A resident's large covered patio had broken loose during the 40 mph winds and came to rest on the roof. Firefighters on scene safely removed the patio. There were no reported injuries.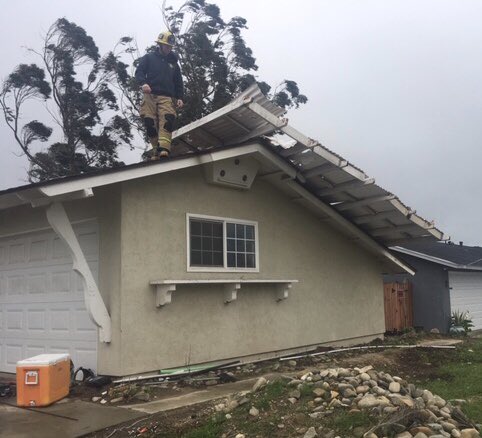 ---
Roger the Scanner Guy and edhat readers report local storm-related issues.
By Roger the Scanner Guy
On highway 166 a half mile East of highway 33 there are 3 power poles down with live wires blocking the road. 
By an edhat reader
Power is flickering near Sola and State Streets, anyone else?