SBPD Officers Rescue Man Trapped in Burning Home
Update by Santa Barbara Police Department
4:30 p.m., November 17, 2021
On November 17, 2021, around 9:50am, the Santa Barbara Police Combined Communications Center received multiple reports of a residential structure fire in the area of 700 Spring Street.
 
At the time calls were coming into the dispatch center, a Santa Barbara Police Officer, Officer A. Gutierrez, was patrolling on Milpas Street and observed a large plume of black smoke about a block away. Officer Gutierrez was the first responder on scene and immediately radioed dispatch that the residential structure was fully engulfed in flames, and he could hear loud screaming coming from inside the home. A local business owner also arrived on scene and assisted Officer Gutierrez.
 
Moments later, Officers C. Ortega and D. Valerio arrived to assist Officer Gutierrez. All three officers could see the man trapped in the house through a window. Officer Gutierrez used his baton to break the window in order to reach the trapped man. There were numerous items of furniture in front of the window obstructing the man's escape from the now fully engulfed structure. Officers Gutierrez and Valerio, as well as the local business owner, pulled the man out of the window and carried him to safety. Santa Barbara City Fire arrived on scene quickly after.
 
Due to the severity of the fire, officers immediately started evacuations on neighboring residences in the 700 block of Spring Street and several buildings located on North Milpas Street. The man in the house was transported to the hospital by paramedics and treated for minor injuries, and smoke inhalation. The three officers sustained minor cuts and smoke inhalation. One officer had to seek medical care. Santa Barbara City fire fighters were able to extinguish the flames and minimize further risk to the neighborhood.
 
Santa Barbara City Fire Department is the primary investigating agency for this incident.
---
Update by Santa Barbara Fire Department
2:00 p.m., November 17, 2021
On Wednesday morning at approximately 9:53 a.m., the Santa Barbara Police Department's Combined Communications Center received a series of 911 emergency calls for smoke inside a residential home in the 700 Block of Spring Street.
Santa Barbara City Fire Department responded with four engines, one ladder truck, HazMat/Air and Lighting vehicle and Battalion Chief in response to the incident.
 
The first arriving engine company found smoke and flames showing from a residential structure. A "working fire" was declared and additional firefighters were dispatched to the incident.
 
Officer Adrian Gutierrez, assisted by a business owner, safely removed one person from the structure before the arrival of the Fire Department. The victim sustained smoke inhalation and other injuries. All other occupants were safely evacuated from the home.
 
Firefighter assisted in evacuating a family of dogs, including puppies, from an adjacent structure as a safety precaution, due to the amount of smoke.
 
The fire was brought under control within minutes. The cause of the fire was determined to be electrical in nature by the Fire Investigators.
 
The Santa Barbara City Fire Department would like to remind everyone that working smoke detectors save lives, should be located in every room, checked frequently and placed in common areas in your residence.
 
In addition, make sure that a qualified electrician does all electrical work. Do not use extension cords across doorways or under carpets. Extension cords are intended for temporary use only. Have a qualified electrician add more receptacle outlets so you do not have to use extension cords. For more fire safety information, go to NFPA.org.
---
Update by edhat staff
11:20 a.m., November 17, 2021
Santa Barbara Firefighters responded to a structure fire near Spring and Ortega Streets on Santa Barbara's eastside Wednesday morning.
Around 9:53 a.m., crews arrived in the 700 block of Spring Street after reports of heavy smoke and active flames. They discovered a single-family structure fully engulfed in flames. 
One person was removed from the home with minor injuries and denied transport to the hospital. Three cats were also rescued without injury.
Crews were able to extinguish the fire almost an hour after arrival. The cause is under investigation.
---
Update by the Santa Barbara City Fire Department
11:00 a.m., November 17, 2021
Responding to reports of a structure fire that started before 10 AM. Please avoid the area of Spring St. De la Guerra and Ortega, first responders remain on the scene, cause of fire under investigation.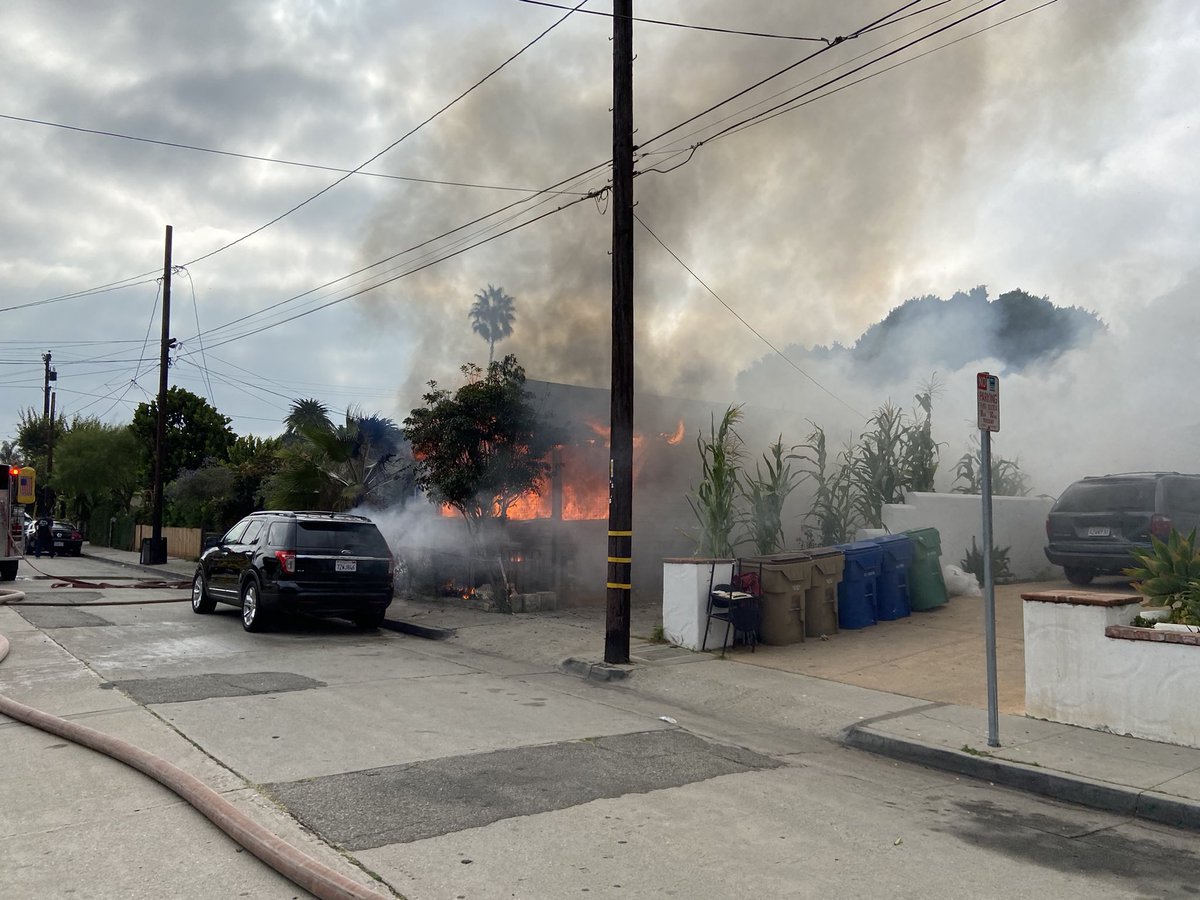 Photo: SBFD
---
By edhat readers
10:02 a.m., November 17, 2021
My mother-in-law just witnessed a house go up in flames near Milpas and Ortega about 20 minutes ago. She called 911. [Above is] a photo she took.

Fire on spring Street right behind Milpas street.

Smoke coming from Milpas, what's up?

I can see fire from the Riviera (photo below)