Santa Maria Police Arrest Armed Suspect Following Standoff
Source: Santa Maria Police Department
On Saturday, October 2, 2021 at about 11:00 pm, Santa Maria Police received a 911 call of a man threatening another man with a gun at a residence on the 500 block W Taft.  Officers began arriving on scene and approached the location when a shot was fired in their direction.  Officers saw a subject with a gun running from the location. 
 
As officers arrived additional gunshots were heard.  Officers quicky evacuated residences in the vicinity as they secured the area.  Additional resources were requested to assist in the search for the suspect.  SMPD officers utilized Santa Barbara County Sheriff's air support during the search.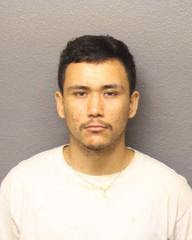 Additional information was developed which indicated the suspect was still armed within the area.  SMPD requested an emergency alert which was sent around midnight.  The alert was updated shortly after for the involved area.
 
SMPD SWAT team was activated to conduct the search along with K9 officers.  After a lengthy search, the suspect was located in a residence on the 500 block W Polk St. where he barricaded himself.  SMPD utilized their Crisis Negotiation Team and after several hours of negotiations, the suspect surrendered. 
 
The initial investigation revealed that the suspect shot during the dispute and hit the victim at least two times.  The victim's injuries were non-life threatening and he was treated and released from a local hospital.  Two firearms were recovered during the investigation which is ongoing and being investigated by the Detective Bureau.
 
The suspect who was identified as Jose Manuel Ramirez Magos, 20 years of age a resident of Santa Maria was arrested at about 7:45 am.  The emergency alert was cancelled shortly after.  SMPD would like to remind the community when receiving an emergency alert to only call 911 in case of an emergency. 
 
Jose Manuel Ramirez Magos will be booked into Santa Barbara County Jail upon completion of the initial investigation.