Santa Barbara Woman Identified in Fatal Traffic Collision
Photos: SBCFD
Update by edhat staff
8:00 a.m., February 19, 2020
California Highway Patrol has identified the 24-year-old Santa Barbara woman who died in the traffic collision on Highway 1 Friday evening as Selena Josefina Araiza. She was pronounced dead at the scene. 
Araiza was the passenger in a 2015 Nissan Sentra that was driven by Joseph Hernandez, age 27 of Santa Barbara. 
The Nissan was struck by a 2005 Honda S2000 driven by Michael Hanson, age 55 of Lompoc. CHP states Hanson crossed into oncoming traffic for unknown reasons and crashed into the Nissan. Both Hanson and Hernandez were seriously injured in the collision.
A GoFundMe donation page has been created to help Hernandez with medical expenses from the incident. 
Another  GoFundMe fundraising page has been set up to assist Araiza's family with funeral costs. A donation can be made here.
---
Update by edhat staff
12:00 p.m., February 16, 2020
The California Highway Patrol (CHP) has announced a 24-year-old Santa Barbara woman died in the traffic collision on Highway 1 Friday evening. Her name has not been released pending notification to next of kin.
Investigators state a 55-year-old male from Lompoc was driving a 2005 Honda northbound on Highway 1 when for unknown reasons, he veered off the road and careened back across traffic lanes, striking a Nissan Sentra in the southbound lane.
The Santa Barbara woman, a passenger in the Nissan, was killed due to the impact. The condition of the driver of the Nissan, a 27-year-old male from Santa Barbara, is unknown at this time.
The collision is still under investigation and the names of the people involved have yet to be released.
---
Update by edhat staff
8:00 p.m., February 13, 2020
One person died and two are injured following a traffic collision near Lompoc on Friday evening.
Santa Barbara County Firefighters responded to a vehicle collision on Highway 1 at Santa Rosa Road around 6:20 p.m. Upon arrival crews discovered a head-on collision with three patients. One person was pronounced dead, the second sustained a critical injury, and the third sustained moderate injuries. 
California Highway Patrol and CalStar helicopters also responded to the scene. Firefighters extracted the patients from their vehicles where the critically injured patient was transported to the Lompoc Airport and flown via CalStar to Santa Barbara Cottage Hospital. A second helicopter stayed in case the third patient's condition worsened. 
CHP shut down the southbound lanes of Highway 1 at State Route 246 and the northbound lanes at Jalama Road. They were reopened before 8:00 p.m.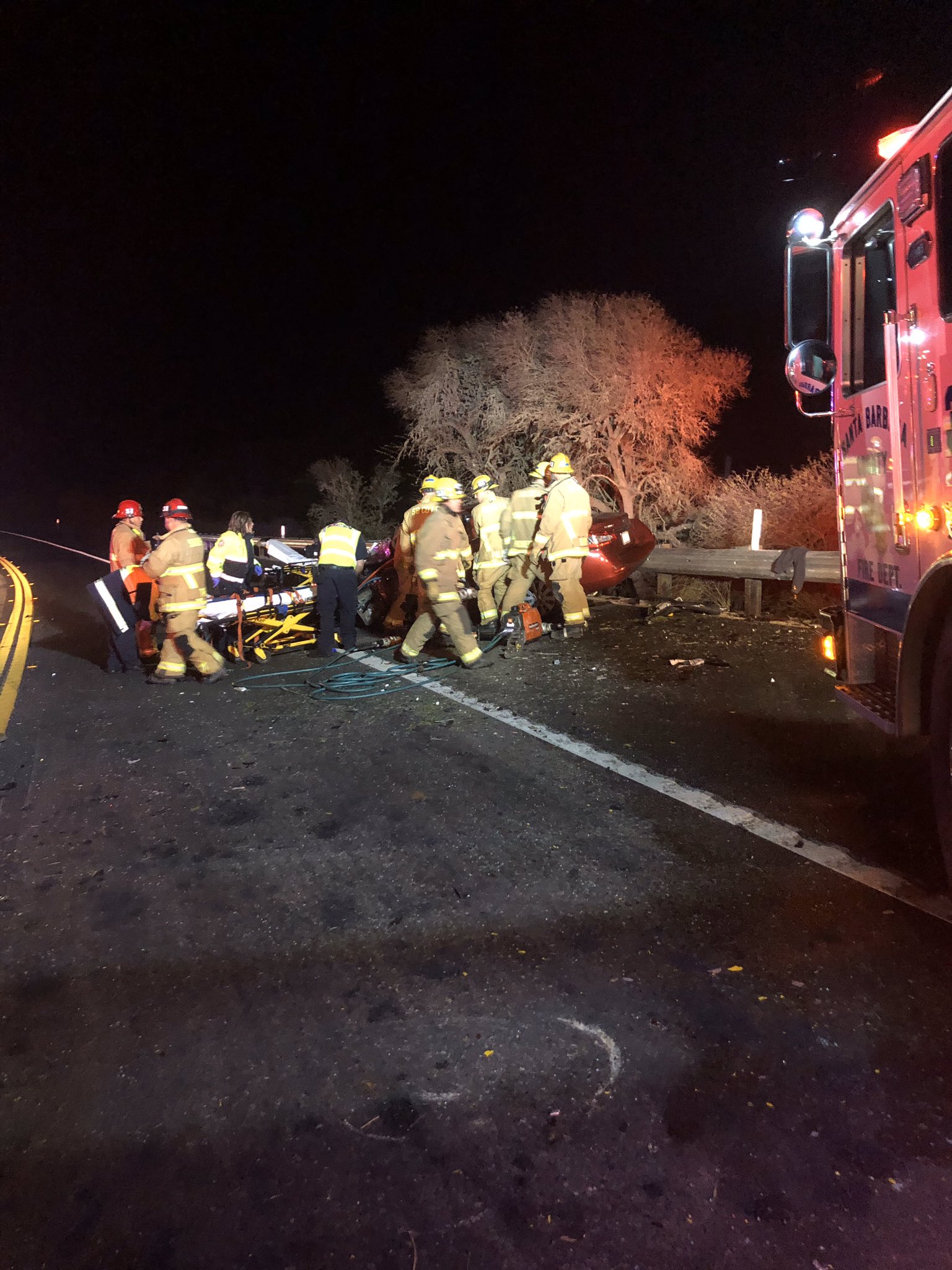 ---
Reported by Roger the Scanner Guy
6:30 p.m., February 14, 2020
Head-on traffic collision on Highway 1 at Santa Rosa Road.