Santa Barbara Honors Martin Luther King, Jr.
Martin Luther King, Jr. (World Telegram & Sun photo by Dick DeMarsico)
By edhat staff
Santa Barbara is honoring Martin Luther King during the free annual MLK Day events. His birthday was on January 15, he would have been 90 years old.
The Martin Luther King Jr Committee of Santa Barbara is hosting their annual MLK Day events on Monday, January 21. 
Beginning at 9:00 a.m., there will be a gathering at De La Guerra Plaza with speakers, elected officials, music, dance, and Chumash Family Singers. The annual Unity March will begin at De La Guerra Plaza to the Arlington Theatre at 10:00 a.m. From 11:00 a.m. to 12:30 p.m., a program will honor Dr. Martin Luther King, Jr. at the Arlington Theatre including a Gospel concert.
Learn more about Monday's events at https://www.mlksb.org/
MLK Celebration in De La Guerra Plaza in 2018 (Photo: MLKSB Day)
LOCAL HISTORY
 The Black Studies Department of UC Santa Barbara is rich in history with their fight to end racial segregation. In the fall of 1968, black students from UCSB joined the national civil rights movement to end the systematic exclusion of African American studies from the curriculum of major universities, the 
 website states.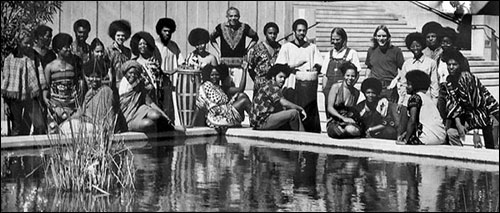 Founders of the Department of Black Studies (UCSB)
Students occupied North Hall and presented the UCSB administration with a set of demands to change the campus and be more inclusive of minorities. Their demands were accepted and the Department of Black Studies was created, as well as a Center for Black Studies that monitored, coordinated, supported, and encouraged research in the community.
The UCSB Department of Black Studies, which now includes nine ladder rank faculty, and four lecturers, has been ranked ninth in the nation. It assumes a matrix model, bringing together scholars from an array of disciplines concerned with the Black Diaspora (the United States and Caribbean), as well as Africa. The Department enrolls four thousand students each year and offers for its undergraduate majors an honors program that provides year-long engagement with original research. To achieve even greater impact, a doctoral program is envisioned.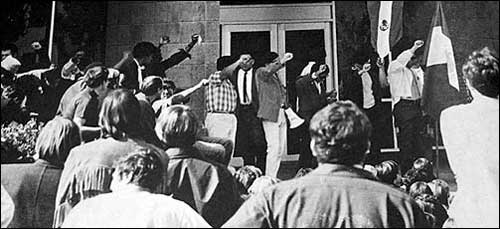 MLK DAY HISTORY
Martin Luther King Jr. Day is celebrated on the third Monday in January, near his January 15 birthday, to honor his legacy in battling for civil rights for all. 
King was assassinated in 1968, but it took decades of campaigning for King's civil rights legacy to be immortalized as a paid public holiday. In 1968, Congress was presented with a petition signed by more than 3 million people supporting demands for a holiday. Initially, President Reagan resisted plans to make King's birthday a public holiday, arguing it would lead to other groups and leaders to seek similar concessions. After 15 years since its first petition, the day wasn't officially signed into law until 1983 and first commemorated in 1986. 
Only three people have a national holiday in the United States observed in their honor: Christopher Columbus, George Washington, and Martin Luther King, Jr.
Even as King's work continues to inspire generations of leaders, the fight for universal recognition of the holiday in the US still isn't over. Certain states refused to accept it as a holiday, giving it different names and replacing it with other holidays. It wasn't until 2000 that South Carolina became the last state to officially accept it as a paid holiday.
Currently, in Alabama and Mississippi, the day is known as "Robert E. Lee / Martin Luther King Birthdays." The same was celebrated in Virginia until 2000 when their "Lee–Jackson-King Day" was moved to the Friday before Martin Luther King Jr. Day, establishing Martin Luther King Jr. Day as a holiday in its own right.  In Arkansas, it was known as "Dr. Martin Luther King, Jr.'s Birthday and 
" from 1985 to 2017. Legislation in March 2017 changed the name of the state holiday to "Dr. Martin Luther King, Jr.'s Birthday" and moved the commemoration of Lee to October.
Robert E. Lee and Thomas Jonathan "Stonewall" Jackson were leaders of the Armies of the Confederate States during America's Civil War in the fight for the freedom of slaves.
MLK QUOTES
"Freedom is never voluntarily given by the oppressor; it must be demanded by the oppressed". Letter from Birmingham City Jail, 1963
"Many white Americans of good will have never connected bigotry with economic exploitation. They have deplored prejudice but tolerated or ignored economic injustice". Why we can't wait, 1964
"A nation that continues year after year to spend more money on military defence than on programs of social uplift is approaching spiritual doom". Where Do We Go From Here: Chaos or Community? 1967
"Nothing in the world is more dangerous than sincere ignorance and conscientious stupidity". Love In Action from Strength to Love, 1963
"So we have been repeatedly faced with the cruel irony of watching Negro and white boys on TV screens as they kill and die together for a nation that has been unable to seat them together in the same schools". Beyond Vietnam, 1967
"We may all have come on different ships, but we're in the same boat now." Origin unknown
"Our lives begin to end the day we become silent about things that matter." I Have a Dream, 1963
"We must learn to live together as brothers or perish together as fools". St Louis, 1964
"Injustice anywhere is a threat to justice everywhere". Letter from Birmingham City Jail, 1963