The owners of a downtown restaurant are stating the City of Santa Barbara ordered them to remove their outdoor dining area within days.
The Daisy restaurant, located at 1221 State Street, has a handful of picnic tables and yellow umbrellas next to the large wooden structure for the Arigato sushi restaurant parklet.
A few months ago the Santa Barbara City Council voted on several changes to the State Street Promenade that included the addition of a central bike lane, and one lane of traffic in the 1200 block to allow for vehicle drop-offs in front of the Granada Theatre.
The owners of The Daisy, Dominic Shiach and Carmen "Daisy" DeForest, posted on social media that they received a notice on November 9 to completely remove their outdoor dining area by November 12.
If the restaurant did not comply, the city would charge the owners and remove their property for them.
"The City of Santa Barbara, in their great wisdom, concern and thoughtfulness for the small business, gave us notice at 4.30pm this afternoon that we have to entirely remove our street seating by Sunday," the owners posted on their Facebook page last week. "The preposterous and grossly unkind short notice aside, the City prefer to open the street to cars and traffic; they love big business pollutants!"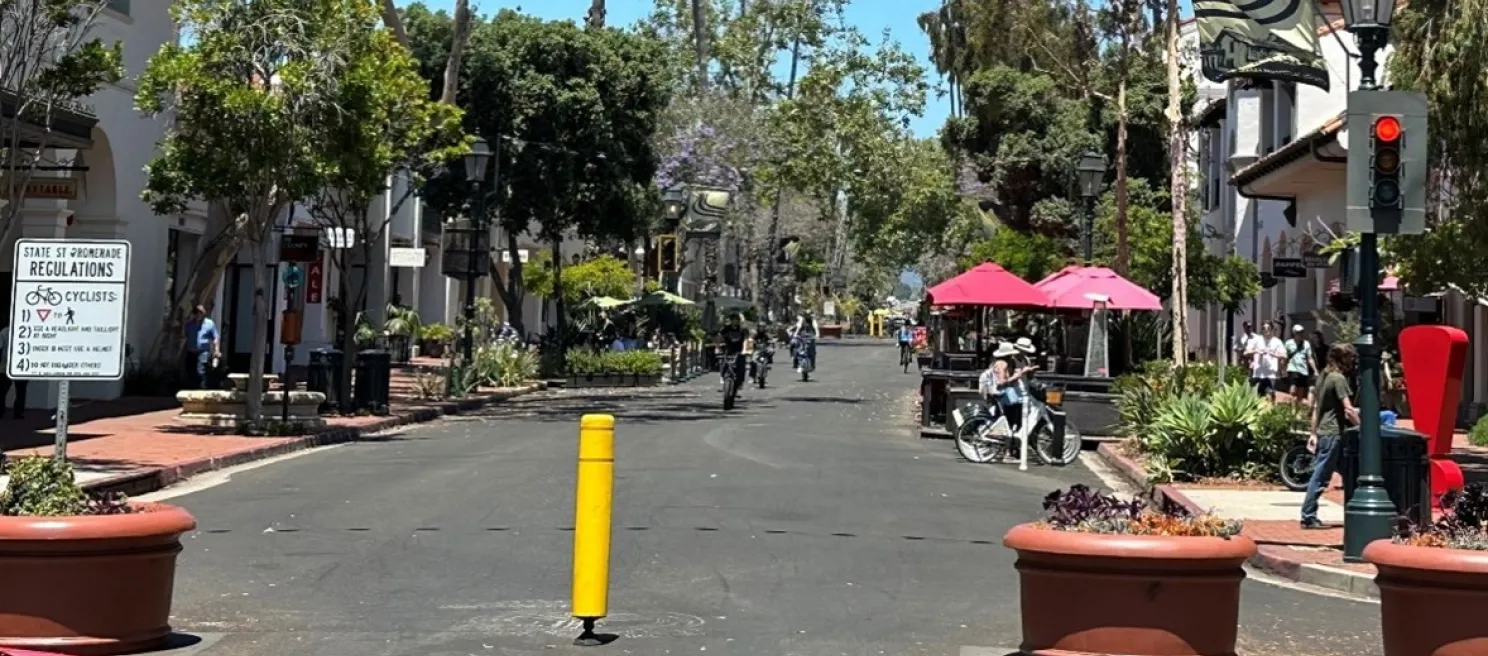 On Monday afternoon, the City issued a press release stating the State Street Promenade Bike Lanes and Crosswalks will be installed this week from Victoria to Haley Streets. Installation is scheduled to begin on Tuesday, November 14, in the 1200 block and will be completed over the next three week.
"The 1200 block will be opened to northbound vehicular traffic to facilitate passenger drop-off at the Granada Theatre," the city states.
The public statement goes on to say that State Street is a "City Council-designated High Priority Vision Zero Corridor" aimed to eliminate severe traffic-related injuries and fatalities.
To limit potential collisions between cyclists and pedestrians on the promenade, and with vehicles at intersections, the City Council requested this pilot project. High-visibility crosswalks will also be installed at mid-blocks and intersections.
Pilot projects are a way to experiment with different configurations downtown before significant investment into a permanent solution occurs, the city states.