Public Health Urges Caution as Wild Mushrooms Appear
(stock image)
Source: Public Health Department
Seasonal rains have arrived and the Santa Barbara County Public Health Department would like to remind residents of the potential dangers of ingesting wild mushrooms. These mushrooms may emerge in residential neighborhoods and public parks throughout Santa Barbara County and ingesting them can cause serious illness and even death for humans and animals.
Many types of wild mushrooms can be found in our county and while some are edible, several range from mildly or moderately toxic to very poisonous. Adults and children should be aware of the health risks associated with wild mushrooms and what to do if they are ingested.
According to the California Poison Control System (CPCS), eating poisonous mushrooms may cause abdominal pain, cramping, vomiting, diarrhea, liver damage, and death. For dog owners, be on the lookout for vomiting, diarrhea, abdominal pain, weakness, lethargy, excessive drooling, and seizures. Anyone who develops symptoms after eating wild mushrooms should seek immediate medical attention. People who develop these symptoms, or their treating health care providers, should immediately contact CPCS at (800) 222-1222.
The most serious illnesses and deaths have been linked primarily to wild mushrooms known to cause liver damage, including Amanita phalloides (shown below), also known as the "death cap" and Amanita ocreata, or "destroying angel." (shown below)
CPCS reports 695 cases of human ingestion of poisonous mushrooms from November 2017 through the end of October 2018 in California. Among those, 4 cases experienced a major health effect in which the symptoms were life-threatening or had a residual effect and 44 cases had a moderate effect in which the patient required some form of treatment. 366 of the total cases were children 5 years of age and younger.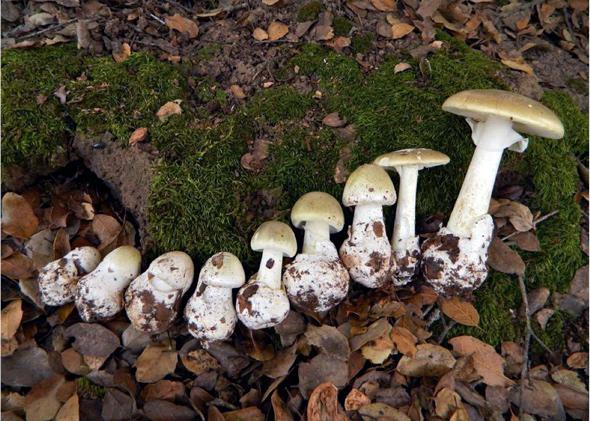 Amanita phalloides
Amanita ocreata