Police Pursuit and Carjacking in Santa Maria
By the Santa Maria Police Department
On the late evening of Monday, January 30, 2023, at around 11 PM, Santa Maria Police Department Officers responded to a report of a carjacking involving multiple suspects armed with a gun that had just occurred in the 300 block of E. Betteravia.
A short time later, Officers located the carjacked vehicle near Broadway/Stowell. Officers attempted to make a traffic stop and the driver fled. Due to the extremely dangerous driving behavior exhibited by the driver, the pursuit was terminated for public safety.
A very short time later, dispatchers began recieving calls of a prowler in the area of the last known location of the vehicle which was Pine/Fesler in the City of Santa Maria.
Officers went to that location and soon encountered a male juvenile hiding in a yard. He was later determined to be one of the people involved in the carjacking and the driver of the vehicle during the pursuit. He was not armed when contacted. Information provided by citizens suggested that there were possibly two more suspects in the area. In addition, the carjacked vehicle was located abandoned nearby.
Due to the high likelihood of two or more armed suspects in the area, a reverse 911 call and alert was generated to protect innocent residents in the area. A search ultimately led to the arrest of an adult male suspect identified as Saul Dolores Morelos, a 19-year-old resident of Santa Maria. Both he and the juvenile suspect were booked into detention facilities for carjacking, felony evading, and conspiracy to commit a felony crime. 
This investigation is ongoing.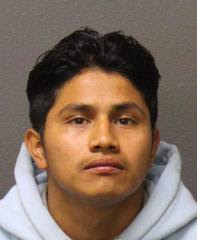 Saul Dolores Morelos