It's Day 6 of this year's March Edness! Can you guess the location of the photo? Enter your guess in the form below by 8:00 p.m. and be specific. (What's March Edness? Learn all about it here.)
Point Value: 2
---
ANSWER
Some of you thought this neon martini glass sign belonged to other restaurant/bars. We received answers such as Tee Off on Upper State Street or Mel's on Carrillo Street. Sadly, it is not. This is a hidden martini glass on the side of Joe's Cafe neon sign at 536 State Street.
Hailed as the oldest restaurant in the city, Joe's Cafe opened in 1929 during Prohibition. The original location was down the block at 512 State Street. When Americans are able to drink again, legally, owner Joe Ferrario became a distributor of Acme Beer and the cafe was known as a "drinking man's institution" by locals. According to the restaurant's history, Santa Barbara becomes a favorite spot for rum-running smugglers and rumors swirled that Joe's Cafe was one of the area's first "speakeasies"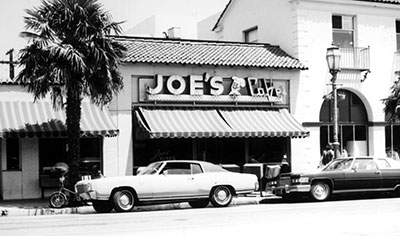 In 1985, Joe's Cafe moved to the former home of Maggie McFly's and it's current location at 536 State Street.
Day 6 Winners
Britt
Penelope805
mfitch54
Rone
holazola
macpuzl
Camster
cones
HerNameIsRio
kcottrell
HDB
LisaD
RexofSB
jsp047
may3591
tenoreleven
sacjon
Abomb
GregJ
geckogirl23
If you do not see your name listed, it's because we couldn't find a paid edhat subscription for your account. You must have a paid edhat subscription to be eligible to play and win prizes. It's just $5 for the month. Upgrade your account now to earn points!
Email [email protected] with any questions.