Lompoc Shed Explosion Caused by Hash Oil Lab
Photos: Santa Barbara County Fire Department
Update by Santa Barbara County Sheriff's Office
5:30 p.m., December 13, 2018
Sheriff's Detectives Investigate Hash Oil Lab Following Explosion at Lompoc Residence
At approximately 2:45 a.m. this morning, December 13, 2018, Sheriff's deputies, Santa Barbara County Fire and Lompoc City Fire personnel responded to the 3900 block of Marion Ct. for a reported explosion and fire. Upon their arrival, Sheriff's deputies noticed the residence shed was on fire and a 57-year-old male subject had been seriously burned. Fortunately, his spouse managed to escape without injury.
The investigation revealed that the fire and explosion were the result of a potential drug lab. Detectives with the Special Investigations Team, along with a County Arson Investigator, responded to conduct an investigation. It was quickly learned the injured subject was, or had been, extracting hash oil in a makeshift clandestine lab, inside a detached shed, which is a highly flammable and dangerous process. While doing this, an error occurred, which resulted in a large explosion that was felt throughout Vandenberg Village and resulted in the shed exploding, as well as damage to the residential structure, and a neighboring structure as well. Damage consisted of obvious structural damage from the blast and from the fire.
This afternoon, a search warrant was executed and detectives located a large amount of processed marijuana, hash oil and other forms of concentrated cannabis.
Due to the on-going investigation, the injured subject's identity is not being released at this time. He is hospitalized and his condition is unknown.
The Sheriff's Office wants to take this opportunity to remind community members that not only is the process of extracting oils from cannabis illegal it is also extremely dangerous. In this case, it put not only the people living inside the home at risk, but also the surrounding neighborhood and nearby elementary school.
We encourage community members to report any activities potentially involving marijuana cultivation or extraction in a residential area. Please provide tips by calling the Sheriff's Anonymous Tip-Line at 805-681-4171 or by going to our website at https://www.sbsheriff.org/home/anonymous-tip/.
---
By edhat staff
9:15 a.m., December 13, 2018
A shed exploded causing injuries to two nearby residents in Vandenberg Village early Thursday morning.
At 2:47 a.m., Santa Barbara County Firefighters responded to a report of a structure fire and explosion at 3999 Marion Ct in Lompoc. Upon arrival, crews found a shed outbuilding had actually exploded and caused damage to the nearby home on the same property and the home next door. Both homes are single story residences and suffered blown out windows and exterior damage, but the fire did not extend into the interior areas of the homes, said Public Information Officer Mike Eliason.
One male resident, age unknown, in the nearby home was taken to Lompoc Valley Medical Center with critical injuries. He was then stabilized and transported to Grossman Burn Center. Two other occupants in the nearby home were uninjured. A neighbor reportedly had difficulty breathing and was transported to Lompoc Valley Medical Center for care, reports Eliason.
An investigator is on scene working to determine the cause of this explosion.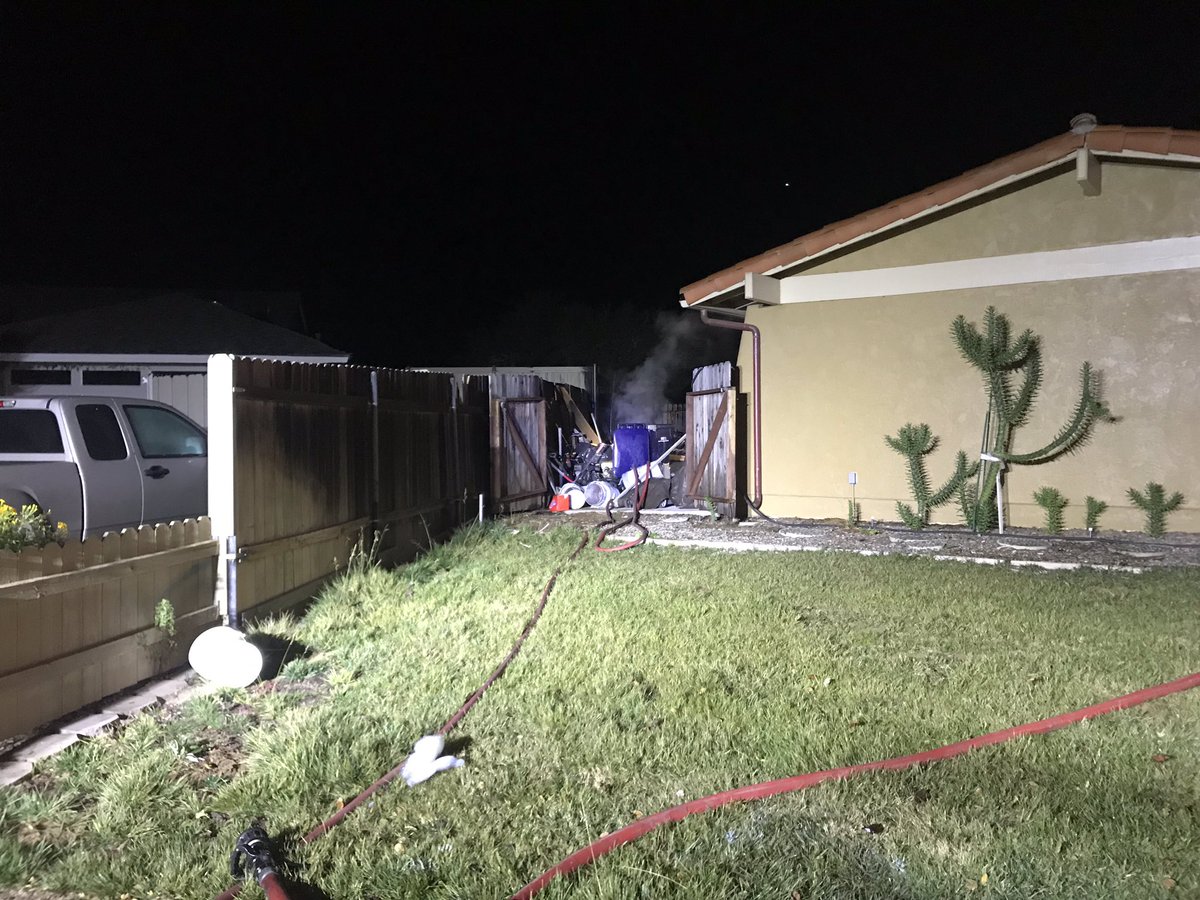 Photo: Santa Barbara County Fire Department