Lompoc Police Warn Against Tipster Scam
Source: Lompoc Police Department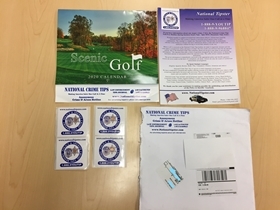 On 01/10/2020, owners of a local business came into the Lompoc Police Department to report fraud. The investigation revealed a national charity known as "National Tipster" contacted the business and requested a donation. The charity utilizes the website www.nationaltipster.com in their advertising materials and tell businesses and residents the organization sends crime tips to local law enforcement. Once the business owner said they would like to donate, the charity sent the business a package with that required cash on delivery in the amount of $250. The package included a letter, calendar, and set of stickers for company. The attached photo shows what the scammers sent the local business.
This organization is not connected to, working with or in any way associated with the Lompoc Police Department. A google search of the company showed a public alert that National City Police Department put out also advising similar circumstances with the same charity.
The Lompoc Police Department only works with legitimate non-profit organizations. These organizations will not solicit funds over the phone, pressure you to donate or ask for a credit card for a monthly or annual renewal.
If you receive a solicitation from any organization you believe is questionable please contact your local law enforcement and they will help you figure it out.
Do not give any personal or financial information over the phone to anyone.