Kristina Oline Finstad, died on Monday, September 2, 2019, while on the ocean doing what she loved, at the age of 41. Kristy was born Feb. 6, 1978 in Santa Cruz, CA to Bill Finstad and Rita Harmeling.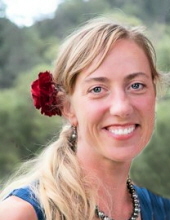 She graduated from Oostburg High School, WI and received the Kohler Foundation scholarship. She graduated from UC Santa Barbara, CA, in Aquatic Biology, where she met her amazing husband Dan Chua. She inspired passion for the ocean through her business, Worldwide Diving Adventures.
Kristy was a strong, smart, and talented woman who shared her beautiful spirit with others as a NAUI Dive Instructor and Yoga Instructor. Kristy authored a book Digging In: A Guide to Community-based Habitat Restoration, which the California Coastal Commission still distributes. She had recently returned from a four-year journey sailing across the Pacific Ocean and was putting down roots in Lake Tahoe, CA.
Kristy loved hiking in the Sierra Nevada mountains, the California Redwood Forests, smelling the wildflowers and long walks along the beaches of Lake Michigan and Baja California. She also celebrated life with surfing, skiing, writing, playing guitar, art projects, making bread and spending time with family.
Even in this fast-paced digital age, Kristy was the type of person who would send a handwritten birthday card through the mail or a post card from some far-flung destination and get it to the loved one on time. She was a thoughtful and compassionate person who could light up a room with her smile and energy.
She is survived by her husband, Dan Chua; parents, Rita (Al) Harmeling, and Bill (Megan) Finstad; siblings, Jessica (Jeffrey) Finstad-Galloway, Heather (Chris) Sawdon, Sarah Finstad, Brett (Lucia) Harmeling, and Andrew Harmeling; nieces and nephews, Sierra, Joseph, and Haley; aunts, Sally Harmeling, Kathy (Roger) Voskuil, and Aunt Liane Finstad, and many cousins.
Visitation will be held on Saturday, Sep. 21, 2019, from 12 pm until 3 pm, at Wenig Funeral Home in Oostburg, WI. A memorial reception will be held from 5 pm until 8 pm at Al and Rita's, N1421 Cottage Drive in Oostburg. Guests are welcome to bring a beverage, snack to share, and a chair if they wish. Beach attire suggested in memory of Kristy. Private inurnment will take place at Presbyterian Cemetery.
Memorial contributions can be made in her name.
For online condolences and additional information please visit www.wenigfh.com
The Wenig Funeral Home of Oostburg (920-564-2771) is serving the Finstad/Harmeling family with arrangements.
To send flowers to the family of Kristy Finstad, please visit Tribute Store.