Identities Released in Double Fatal Traffic Collision Near Orcutt
Update by Santa Barbara County Sheriff's Office
July 6, 2022
The Coroner's Bureau is releasing the name of the decedents from the vehicle accident on July 2, 2022, in the area of Hwy 1 and State Route 135 (South Y).
The decedents are from Santa Maria;18-year-old Melisa Michelle Gonzalez-Bautista and 41-year-old Hermilo Vasquez-Mendez.
---
Double Fatal Traffic Collision Near Orcutt
Update by edhat staff
July 3, 2022
Two people have died and several more were injured following separate multi-vehicle collisions in Santa Barbara's North County on Saturday evening.
At 10:17 p.m., Santa Barbara County Fire Department, California Highway Patrol (CHP), and Vandenberg Space Force Base emergency responders were dispatched to Highway 1, just north of Highway 135.
Upon arrival, two people were pronounced dead at the scene with another person suffering minor injuries. 
According to the CHP, a Honda Civic driven by a 41-year-old Santa Maria man was heading northbound on Highway 1 approaching the 135 interchange. The Honda struck the left rear of a Nissan Sentra car in front of it causing the Honda to roll into the median.
An 18-year-old woman sitting in the left rear of the Nissan was pronounced dead. The driver, a 19-year-old woman from Nipomo, sustained minor injuries.
The driver of the Honda self-extricated from the vehicle and walked into the southbound traffic lanes where he was struck and killed by a GMC Yukon. The driver of the GMC was uninjured.
The identities of those involved are being withheld pending notification of next of kin. The toxicology of the Honda driver is also pending, but the drivers of the Nissan and GMC were not under the influence, according to the CHP.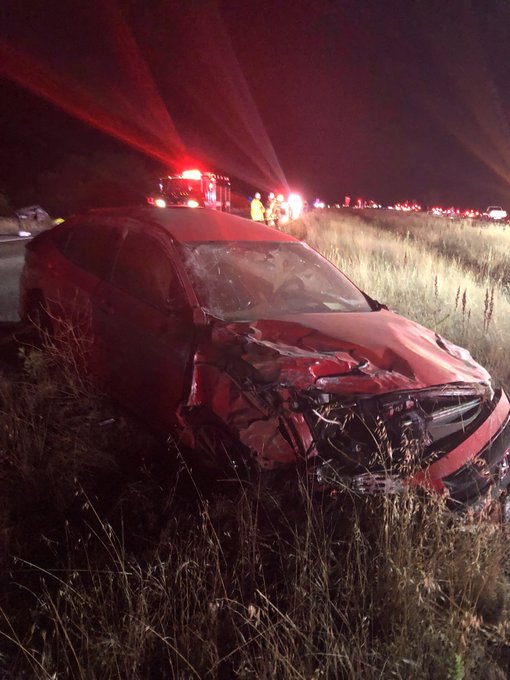 Double Fatal traffic collision at Highways 1 and 135 near Orcutt (Photo: SBCFD)
The second collision took place minutes later near the intersection of Orcutt Road and Union Valley Parkway.  Santa Barbara County and Santa Maria Firefighters responded to the two-vehicle collision and discovered two people were trapped.
A 2007 Honda and 1997 Nissan collided at the intersection, causing both occupants of the Nissan to become trapped. The Santa Maria man and woman, both 75 years of age, sustained serious injuries and were extricated by firefighters. 
They were transported by ground ambulance to Marian Regional Medical Center for treatment.
The 62-year-old Lompoc man driving the Honda was arrested for suspicion of being under the influence. He was uninjured. 
Both incidents are under investigation by the CHP.
---
By JB86
11:23 p.m., July 2, 2022
Two dead in North County Accident
At 10:14 CHP San Luis received a report of a vehicle accident on SB Hwy at 135, with a body reported in the road. When units arrived on-scene they reported two people had been killed. No further details at this time.