Hundreds of Birds Rescued from Montecito Chimney
Source: Montecito Fire Department
The Montecito Fire Department and Santa Barbara County Animal Services collaborated to help free hundreds of small birds that were trapped in a chimney.
Montecito Fire responded to a residence on the 100 block of Hermosillo Rd. Sunday at approximately 8 p.m. for a report of birds or bats trapped in the home's chimney. Upon arrival, firefighters and County Animal Services found about 1,000 small birds attempting to escape the chimney, blocked by the gate covering the fireplace.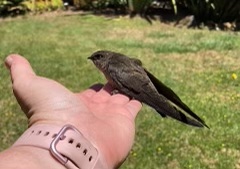 Sunday night, firefighters and County Animal Services made the determination to try to allow the birds to fly up and out of the flue on their own overnight.
At about 9 a.m. Monday, Montecito Fire and County Animal Services returned to the residence to check on the birds. They were still trapped at the base of the fireplace. Our partners at County Animal Services worked diligently throughout the day to design a chute system to funnel the birds out of the fireplace and release them through the home's back doors.
According to County Animal Services, the birds are known as "swifts."
We are grateful for the positive outcome to this unusual call and the opportunity to problem-solve with our partners at Santa Barbara County Animal Services.