Source: Santa Maria Police Department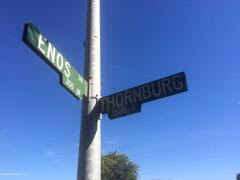 [Saturday] at about 1:22 am. Officers were sent to the area of Thornburg St. and Enos Dr. to the reports of shots heard in the area. In the 300 Block of W. Enos Dr. Officers found Adrian Alvarez, 18, of Santa Maria just off the roadway and discovered he had been shot. The Santa Maria Fire Department and AMR ambulance service responded to provide aid to Alvarez, but he did not survive.
Detectives were notified and began an investigation that is still ongoing. Search warrants have been served at a number of locations. We are not releasing suspect information at this time. The family of Adrian Alvarez has been notified of his passing.
Anyone with information about the individuals involved in this incident are encouraged to contact the Santa Maria Police Department Tip Line at (805) 928-3781 ext. 2677. This is the seventh homicide to occur in the City of Santa Maria during 2018.