Full Containment Expected Tuesday for El Capitan Brush Fire
Photo: CHP
Update by edhat staff
4:00 p.m., October 19, 2019
The Real Fire off Calle Real and Highway 101 near El Capitan State Beach is holding at 420 acres. Incident Command on the scene is planning for 80% containment by Saturday evening, 90% containment by Sunday at 6:00 p.m. and 100% containment by Monday at 6:00 a.m. Full control of the fire is expected by 6:00 a.m. Tuesday. 
---
Update by edhat staff
5:00 p.m., October 18, 2019
As of 5:00 p.m., Incident Command is reporting the Real Fire is still around 420 acres with 50% containment.
The evacuations have been lifted for El Capitan Canyon and Ocean Mesa RV Park. There are currently 155 firefighters assigned to the fire and full containment is anticipated on Monday.
---
Update by edhat staff
9:00 a.m., October 18, 2019
The Real Fire is estimated to be 420 acres with 20% containment. Santa Barbara County fire officials state the containment percentage is expected to increase today, but critical fire weather is expected this evening.
There are 105 firefighters on the scene today reinforcing the line and mopping up. 
The Santa Barbara County Fire Department reminds people to stay vigilant during critical fire weather conditions.
---
Update by edhat staff
9:40 p.m., October 17, 2019
The Real Fire has reached 443 acres with 20% containment. 
There are 250 firefighters on scene to be reinforced with 200 firefighters for tomorrow's day shift. All evacuations have been lifted except for El Capitan Canyon. No structures have been damaged and there are no injuries.
---
Update by edhat staff
8:00 p.m., October 17, 2019
The evacuation warning has been lifted for residents between Dos Pueblos Canyon and Winchester Canyon.
---
Update by edhat staff
7:15 p.m., October 17, 2019
Residents between Dos Pueblos and Winchester Canyons are under an evacuation warning as a fast-moving fire heads towards the El Capitan Campground.
The fire will approach the state beach shortly and is "rapidly unfolding" as crews attack it from the ground and air, said Santa Barbara County Fire Captain Daniel Bertucelli.
#Realinc 50 acres, 0% containment. Engines, dozers, crews and aircraft working to knock this fire out. Structure defense is currently underway as well as evacuations. Call newsline.@EliasonMike pic.twitter.com/bvOEiVboUG

— Daniel Bertucelli (@SBCFireInfo) October 18, 2019
Referred to as the "Real Incident," the fire is currently estimated at 50 acres and is actively burning in the canyon area. It's 0% contained and the cause is under investigation.
As of 7:15 p.m., Highway 101 southbound lanes have reopened and the number one northbound lane has reopened, according to CHP. Amtrak has also reopened the railroad lines.
Residents living between Dos Pueblos Canyon to Winchester Canyon are under an Evacuation Warning. While it is just a warning at this time, authorities urge that now is the time to be prepared in case you do need to evacuate. Stay aware as conditions can change quickly.
Fire crews will be on scene all night long and into the morning.
Fire near El Capitan before Highway 101 was shut down (photo: edhat reader Elizabeth)
---
Update by edhat staff
5:20 p.m., October 17, 2019
Santa Barbara County firefighters and air tankers are responding to a fast-moving, wind-driven fire near the El Capitan Campground.
Highway 101 is closed near the fire. The northbound lanes are closed at Las Varas and the southbound lanes are closed at Refugio. The California Highway Patrol is asking people to steer clear from the area.
Offshore winds are posing a threat currently gusting between 30-45 mph in the area.
Crews responded to the call at 4:32 p.m. Thursday and issued a 2nd Alarm. The nearby campground is being evacuated.
The fire is in the 12000 block of Calle Real on the Gaviota Coast burning east of the El Capitan Campground.
It's currently burning approximately 20 acres with 0% containment.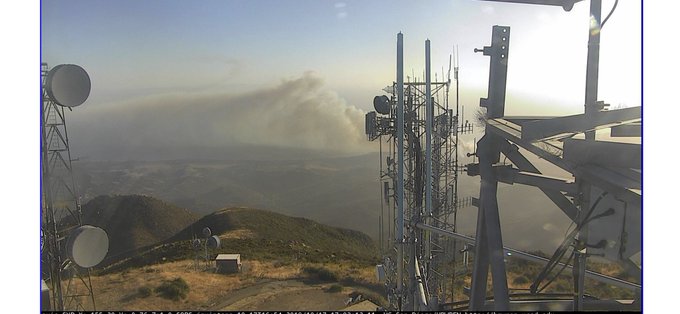 #Realinc fast moving brush fire impacting el cap canyon. Will impact 101 soon. Evacuations in progress. pic.twitter.com/p3MWtz1PZ4

— Daniel Bertucelli (@SBCFireInfo) October 18, 2019
---
Reported by Roger the Scanner Guy
4:33 p.m., October 17, 2019
Brush Fire off Highway 101 at El Capitan. A full SB County Fire Department Response.