Finders-Keepers Suspect Has Been Identified
UPDATE: Thanks to the public's help, the suspect and been identified and contacted by SBPD detectives; the investigation remains ongoing.
---
Source: Santa Barbara Police Department
On Monday, October 22, 2018 a patron ate lunch at Rusty's Pizza Parlor, located at 111 State St.  The patron, who was headed to the bank to make a deposit following the meal, began to count his money at the table.  The patron's wife scolded him and told him that he should not count his money in public.  He then placed the money back into his pocket.  As he left the establishment -- unbeknownst to him -- the sizable amount fell out of his pocket and on the floor.  The patron and his wife then left the restaurant.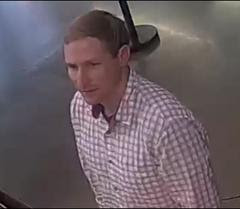 Within moments, a male subject (picture attached) wearing a red plaid button down shirt, who had just finished paying for a pizza, walks from the front counter to a booth near the fallen cash.  The subject places his cup on the table and then bends down and picks up the cash.  The subject nervously looked around as he sits down and examines what he has found.  Realizing what he has recovered, the subject then walks out of the restaurant, without getting his food and without his soda cup.
 
The victim walks back into the restaurant less than a minute after the subject to search the area for his missing money.  The male subject returns to the restaurant and observes the patron searching for his missing money.  The male subject does not make any effort to return the money.
 
The crime of misappropriation of found property (485 PC) reads as follows:
One who finds lost property under circumstances which give him knowledge of or means of inquiry as to the true owner, and who appropriates such property to his own use, or to the use of another person not entitled thereto, without first making reasonable and just efforts to find the owner and to restore the property to him, is guilty of theft.
 
In an effort to recover the misappropriated money, the Santa Barbara Police Department Property Crimes Unit has initiated an investigation into this case.  If you have any information as to the identity of the suspect in this case, please contact Detective Lowry at (805)897-2326, or by email at [email protected] 
 
As always you can make tips anonymously to the SBPD at (805) 897-2386.