Fall 2020 Restaurant Roundup
By edhat staff
The COVID-19 pandemic has been extremely hard on local businesses, especially the restaurant industry as people opt to stay in more and go out less. Eating establishments have been working hard to pivot and embrace the new normal of outdoor dining and takeout. 
Amidst all the uncertainty, several new restaurants and concepts have been popping up all over town. Here are some of the highlights.
Isla Vista Silvergreens Converts to Kyle's Kitchen
The fresh and healthy mainstay of Isla Vista, Silvergreens, closed at the beginning of the coronavirus pandemic due to COVID-19 related strains after 25 years. While this was a huge blow to college dining options, the Ferro family decided to switch things up and reopen another location of their popular Kyle's Kitchen chain.
 "In order to simplify our lives and streamline operations in the midst of this pandemic, we opted to transition Silvergreens into Kyle's IV," explains Jay Ferro, founder of Silvergreens and Kyle's Kitchen. 
Kyle's Isla Vista opened in early October featuring a selection of their most popular burgers and salads from Kyle's Kitchen. For guests who will miss Silvergreens salads, Kyle's IV still has the Seared Ahi Salad and the Thai Peanut Salad, both of which originated at Silvergreens and were brought over to Kyle's Kitchen due to their immense popularity. The menu also features Kyle's Kitchen favorites including Kyle's new Krispy Chicken Sandwich, the fan-favorite Klassic Kyle, and the award-winning Mountain Climber Burger.

Seared Ahi Salad (courtesy photo)
Kyle's IV continues the chain's charitable giving to the special needs community. The IV location will be a part of the Kyle's Kitchen Special Needs Giving Back Program which has been feeding local special needs families. Over the past 5+ years, they've partnered with 34 various local special needs organizations and donated over $200,000 to these non-profits who focus on helping families with special needs.
Now with four locations between Goleta and Santa Barbara, Kyle's IV is open daily from 11 am-9 pm for dine-in, online orders, delivery, curbside pickup, takeout, and via 3rd party delivery services. Visit www.kyleskitchen.com to learn more.
Paseo Nuevo Gets a New Coffee Option

Toast and coffee pairing (courtesy photo)
Hustle & Grind Coffee Company opened its doors inside the Paseo Nuevo Mall in downtown Santa Barbara at 11 W. De La Guerra Street, next to ParadICE Hawaiian Shave Ice & Ice Cream.
The new coffee spot will be serving locally roasted Cajé coffee and small eats owned/operated by local childhood friends Lee Jacobs and Marek Nold and managed by seasoned coffee aficionado, Dylan Tighe.
"Our menu is a blend of a classic Italian coffee selection, with unique speciality coffee drinks, such as our Lavender Molasses Latte, using house-made syrup made by reducing down real lavender flower. We also offer vegan options such as our delicious OG Avocado toast and alternative milks like house-made almond milk, which is lightly sweetened with dates," said Tighe.
The shop offers outdoor seating and free wifi for customers. They are open daily from 7:00 a.m. to 5:00 p.m. right across from the Paseo Nuevo Theatres. Additionally, Hustle & Grind is offering a free cup of coffee to anyone who signs up on their website.
New Pop-Up Coffee and Tea Bar Opens Downtown

Golden Line Coffee inside Villa Wine Bar (courtesy photo)
Golden Line Coffee opened last month as a pop-up inside Villa Wine Bar at 618 Anacapa Street every Saturday and Sunday between 7:30am-2:00pm.
The new pop-up shop offers coffee and espresso by Equator Coffees,  Japanese Tea & Matcha by kettl, Chai by Dona Chai, and pastries by Bree'Osh.
"Our goals are to provide modern, excellent coffees, teas & pastries, work toward supply chain equity & environmental sustainability and offer a unique and inspiring place for our community and for visitors to Santa Barbara," according to Golden Line Coffee's press release.
Golden Line Coffee says it will play its part in supply chain equity and sustainability. Most coffee farmers are forced to operate at very low margins, break-even, or in many cases at a loss, due to suppressed prices paid for green, unroasted coffee beans. The situation is further aggravated by climate change. Owner Chris Brocco aims to choose the best possible suppliers who pay higher prices, choose ethically oriented supply chain partners and reinvest in producers. 
More information can be found at https://www.goldenlinecoffee.com/.
A Tavern Opens at Zaca Creek

Outside The Tavern doors and a new lunch menu offering (courtesy photos)
A new dining concept, The Tavern at Zaca Creek, opened in Buellton this past August including several hospitality offerings.
The "new" eatery and tavern, which sits on a locally revered hospitality property with roots in the California Central Coast ranching community, is just one part of the Zaca Creek property – an expansive event venue, inn, and all-inclusive wine country destination resort which is continuing with a phased opening.
The Tavern offers a new lunch and Sunday brunch service in addition to their regularly offered dinner service. Their extensive dinner menu offers escargot, wagyu tartare, hand-cut steaks, roasted hen, and lobster, just to name a few. The lunch menu features a pared-down version of the restaurant's dinner menu and with the addition of more mid-day items such as a "Lobster Louie" salad, twists on pub classics such as fish and chips made with wild Pacific rockfish, and a mezcal shrimp cocktail. The Sunday brunch will include a caviar flight and oysters with a variety of crafted cocktails.
The Tavern at Zaca Creek is located at 1297 Jonata Park Road, just off of Highway 101. The restaurant and bar's current hours are Tuesday through Sunday, 11:30 AM to 3:30 PM (Sunday Brunch service begins at 10:30 AM), and 5:00 PM to 10:00 PM (kitchen closes at 9:30 PM; operating hours subject to change). Lunch and dinner reservations are preferred; walk-ins will be accommodated as space permits. To reach the restaurant directly and for reservations, please call 805.688.2412 or email [email protected]
New Oceanfront Restaurant Serving Thanksgiving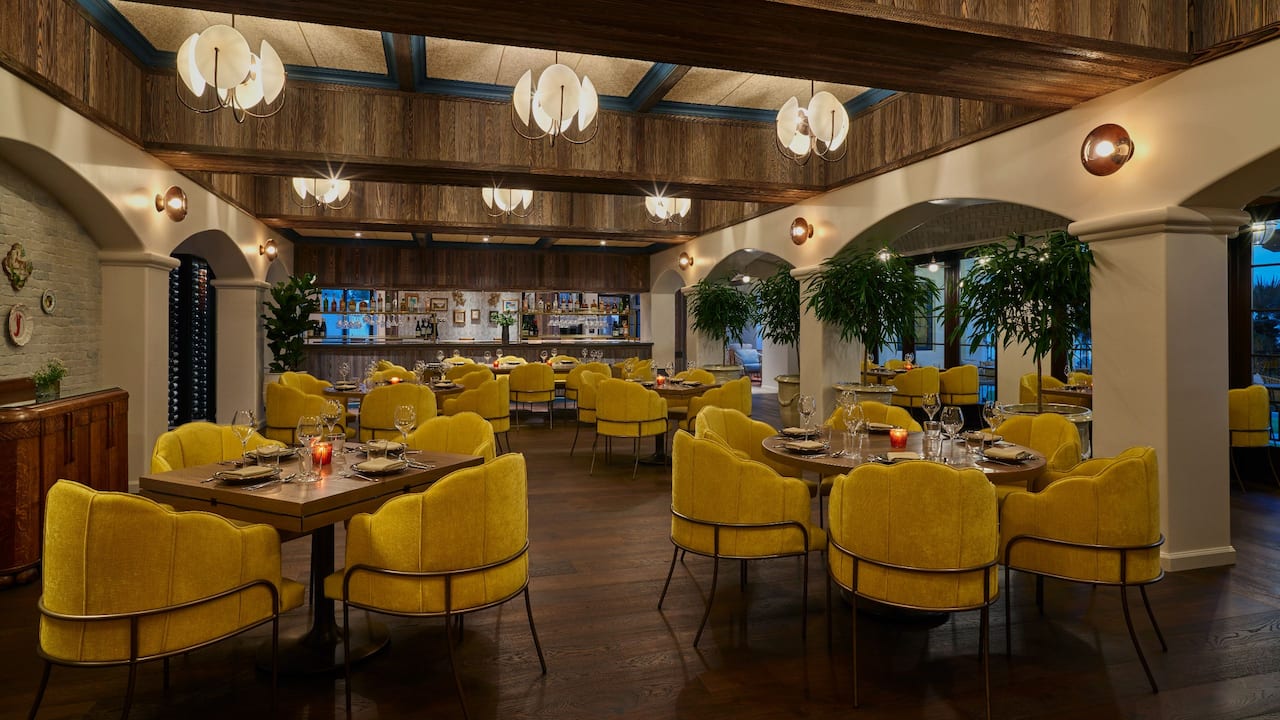 Costa Kitchen & Bar inside the Mar Monte Hotel (courtesy photo)
Mar Monte Hotel, formally named the Hyatt Centric, is still owned by Hyatt but recently received a stunning remodel including its restaurants. Right across from East Beach at 1111 E. Cabrillo Blvd in Santa Barbara, offers two new restaurants: Costa Kitchen & Bar and Café Lido.
Both restaurants recently opened with Costa Kitchen & Bar offering outdoor dining featuring a limited menu of bold coastal Italian cuisine, as well as a robust wine, spirits and classic craft cocktail menu. Café Lido offers light bites inspired by fresh Mediterranean flavors, paired with refreshing cocktails, locally sourced coffee and smoothies, with poolside dining and ocean views. A new outdoor happy hour special, Golden Hour, is available at Café Lido featuring $2 oysters, small plates such as Falafel Sliders and Lamb Flatbreads and great deals on Santa Barbara wines, local beers and frozen cocktails. This takes place 5pm-7pm, Sundays-Thursdays.
For the upcoming holiday, Executive Chef Nathan Lingle at Costa Kitchen & Bar will be serving a special menu on Thanksgiving Day. Dishes will include Blue Hubbard Squash Bisque with candied ginger and pumpkin seed tulie; Heritage Turkey with sage bread pudding, maroon carrot, pole bean, cranberry compote, and whipped potato; and Dark Chocolate and Fig Trifle with roasted figs, and aceto balsamico. The menu will be served alongside local Santa Ynez wines.
The menu is $89 and includes selection for three courses. Available from 1pm-7pm on Thanksgiving Day. A separate kids Thanksgiving menu will be available. Reservations are required and can be made by calling 805-882-1234. The Thanksgiving dinner menu for adults can children can be found here.