Drum Fire Caused by PG&E Power Line
By edhat staff
The Santa Barbara County Fire Department determined the nearly 700-acre brush fire in Drum Canyon was caused by a Pacific Gas & Electric (PG&E) power line.
The fire took place on June 14, 2020 at 12:53 p.m. near Drum Canyon Road and Highway 246. Dubbed the "Drum Fire," officials issued a mandatory evacuation for a community near Buellton due to high winds that were driving the fire.
Within just a few hours the fire grew from one acre to 696 acres before it was fully contained three days later on June 17. There were no damaged structures or injuries.
Investigators determined the specific origin area of the fire was located north of a PG&E utility pole. The examination team identified fulgurites and the east electrical conductor on the ground inside the origin area.
The fire was caused when the PG&E east electrical conductor located between two utility poles failed and contacted the ground. The energized electrical conductor arced to the ground igniting the surrounding vegetation causing the Drum Fire.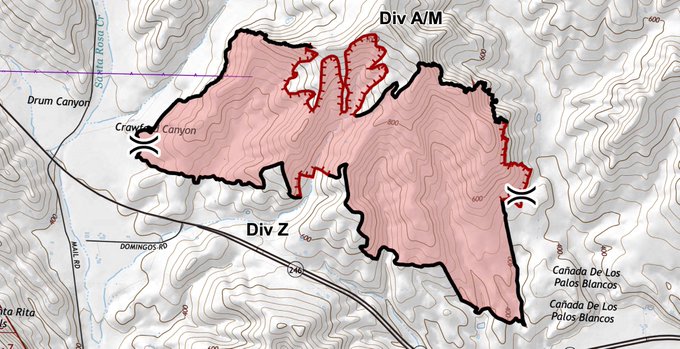 Burned area of the Drum Fire
Related Articles
 June 14, 2020: Large Brush Fire in Drum Canyon