Cox Communications Accused of Fixing Internet Speed Scores
(stock photo)
By edhat staff
Cox Communications is among the list of broadband companies accused of pushing the Federal Communications Commissions (FCC) to omit unflattering data on speed tests, the Wall Street Journal (WSJ) reports.
Measuring Broadband America is a nearly 10-year-old program for the U.S. government to gauge whether home internet-service providers are actually providing the speeds they advertise to their customers. Another WSJ article from August determined paying more for "faster internet speeds" is not worth it.  
"Companies wield tremendous influence over the study and often employ tactics to boost their scores, according to interviews with more than two dozen industry executives, engineers and government officials. As a result, the FCC's report likely gives consumers an unreliable measure of internet providers' performances by overstating speeds," the article states.
Broadband providers are informed by the FCC of the customers will be part of the speed tests which allows the company to provide better service during the test. They've also persuaded the FCC to remove unflattering data by blaming faulty equipment. Many representatives from the companies denied doing so, according to the article.
WSJ spoke with Goleta resident and Cox Communications customer Marcia Pearson who pays for 30 Mbps (megabits per second). She used Cox's online tool to test her internet speed and it only registered speeds of 3.6 Mbps.
"It is annoying that one has to pay for something that is falsely advertised," she said to WSJ who then followed up with Cox. The company stated it discovered outdated equipment in the network connecting to her home and fixed it, which Pearson said improved the speed.
Last year an FCC metric stated Cox's speed "consistency" was 37% of what it advertised. "Cox officials denied responsibility, arguing to the FCC that a congested link to an internet middleman had lowered scores for some of its Arizona customers," the article stated.
In an FCC report published in December 2018, the consistency of Cox's speed is omitted from a comparison chart and only added as a footnote where it stated the company's consistency score would have been 85% if the contested results were not counted.
Both Cox and the FCC stated most speed tests occurred over the congested internet link which carried less than 3% of Cox's web traffic.
A former executive of Charter stated internet providers can detect government speed-test data on their networks and essentially open more bandwidth for a customer for the duration of the test. Another telecom consultant stated it's a well-known practice and makes the FCC results almost meaningless.
A follow-up WSJ report shows Americans in low-income neighborhoods and rural areas get slower broadband speeds but pay similar monthly prices to those in wealthy and urban areas.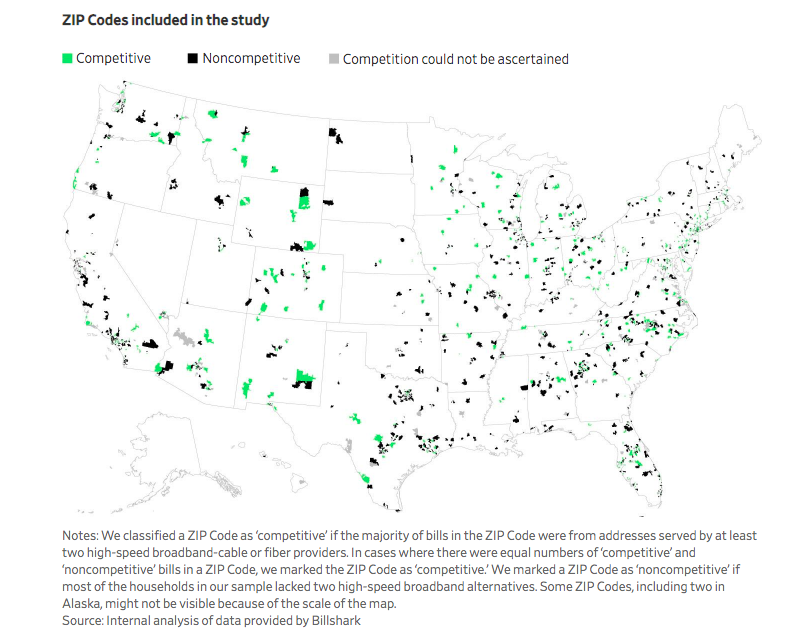 The authors analyzed address-level competition for more than 2,000 internet bills from across the country and found that 68% of the households don't have the option to switch to a second high-speed broadband provider (cable or fiber).
For households with stand-alone internet service, the median speed in our analysis was 100 megabits per second, or Mbps. The median monthly internet cost was $66, including internet-related fees.
The article states a Cox customer in a low-income area of Baton Rouge, La., pays $80 for a speed of 300 Mbps with an additional $10 internet-related fee while another household near a wealthier Laguna Beach, CA, pays $55 for the same speed from the same provider without a fee.
A spokesperson from Cox told WSJ the pricing differences were probably due to promotional offers or discounts and confirmed their standard pricing is now consistent across markets nationwide. 
For those living in Santa Barbara, the broadband options are largely limited to Cox and Frontier with Cox dominating the market giving consumers no other choice.