Coronavirus Cases Grow in Northern California
By edhat staff
Coronavirus appears to spread throughout Northern California, but Santa Barbara County remains clear as officials attempt to calm fears.
Coronavirus can cause coughing, shortness of breath and fever with approximately 80 percent of people developing mild or no symptoms at all. Globally, three to four out of every 100 people confirmed to have the illness have died.
The Santa Barbara County Public Health Department is currently monitoring the situation and is providing ongoing guidance and alerts to healthcare partners in coordination with the California Department of Public Health and the Centers for Disease Control and Prevention. Healthcare partners, including EMS providers, are participating in weekly teleconferences to assure that procedures are in place at each facility to safely screen patients and protect healthcare workers and the community.
Recent Cases in California
There are currently no cases of anyone who has tested positive for the COVID-19 within Santa Barbara County, however, cases are growing throughout Northern California.
Sonoma County has declared a local emergency after confirming a positive COVID-19 diagnosis from a patient who recently traveled to Mexico onboard a cruise ship. This is the county's second patient that tested positive.
Placer County reported its first case stating a health care worker who treated a COVID-19 patient at a Solano County hospital has been diagnosed with the respiratory illness.
San Mateo County reported a presumptive coronavirus-positive patient, awaiting official CDC testing, is in isolation. The source of exposure is currently unknown as the patient has had no known contact with recent travelers.
The Santa Clara County confirmed two more cases of COVID-19 bringing the official count to nine.
Currently, there have been 20 reported cases of positive COVID-19 in California where 18 of those remain active. The one case in Los Angeles County and one case in Orange County remain active.
National and Global Numbers
As of Monday, there are 91 cases in the United States. On Friday there were 62 reported cases, according to a map by Johns Hopkins University. The CDC reports 44 of the total cases belong to passengers from the Diamond Princess cruise ship. 
The current worldwide total is over 90,300 with approximately 80,000 in mainland China. South Korea has reportedly 4,300 cases while Italy reports over 2,000 and Iran states 1,500 cases.
Johns Hopkins reports 3,085 total deaths, with the majority located in the Hubei province of China. The United States has reported 6 deaths due to the coronavirus, five of them located in Washington State. 
Travel Restrictions
Four countries have been added to Level 3 Travel Restrictions List due to the spread of COVID-19. A Level 3 Warning is listed as avoiding nonessential travel. China, Italy, Iran, and South Korea are listed as Level 3 locations. Japan is listed as Level 2 and Hong Kong is listed as Level 1.
Warning - Level 3, Avoid Nonessential Travel—Widespread Community Transmission
Coronavirus Myths
Below are some facts and guidelines regarding COVID-19.
Common Coronavirus Misconceptions (source: World Health Organization):
Myth: Coronavirus can be transmitted via mail from China. Fact: WHO reports that the coronavirus cannot survive for long on objects in the mail and it is safe to handle packages and letters from China.

Myth: Surgical masks can prevent someone from getting coronavirus. Fact: According to WHO, surgical masks are not an effective prevention measure for the transmission of coronavirus and should not be used by healthy people at this time.

Myth: A vaccine or homeopathic cure can help prevent spread. Fact: There is currently no vaccine to prevent transmission of coronavirus, and WHO says the use of homeopathic substances to self-treat should be avoided.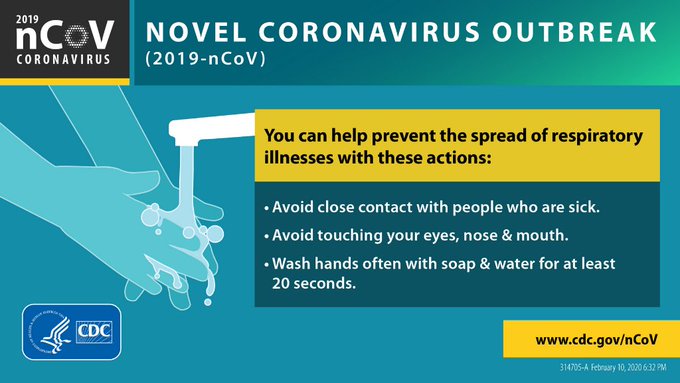 Prevention
Guidelines to Protect Yourself (source: Centers for Disease Control and Prevention):
Avoid close contact with people who are sick.
Avoid touching your eyes, nose and mouth.
If you're sick or don't feel well, stay home.
Cover your cough or sneeze with a tissue.
Clean and disinfect frequently-touched surfaces.
Facemasks are not necessary or helpful for healthy people and should only be used by those with coronavirus symptoms.
Frequently wash your hands with soap and water for at least 20 seconds, especially after going to the bathroom, before eating and after blowing your nose, coughing or sneezing.
If soap and water are not available, use an alcohol-based hand sanitizer with at least 60% alcohol.
RELATED ARTICLES
 February 28, 2020: Public Health Monitoring COVID-19 Transmissions in CA
 February 26, 2020: 
 February 24, 2020: 
 February 18, 2020: 
 February 3, 2020: