Beethoven Dreams: Memorable Musical Journey with The Santa Barbara Symphony
By Bonnie Carroll
The Santa Barbara Symphony's 70th Anniversary season delighted audiences with Beethoven Dreams, including an up close and personal pre-concert "Conversation with Nir Kabaretti" who conversed with Jonathan Fox, Inna Faliks and Howard Jay Smith, author of the novel Beethoven in Love; Opus 139.
The April 16 matinee was a beautiful collaboration with the West Coast premiere of The Eternal Stranger, a monodrama inspired by a Beethoven dream, directed by EnsembleTheatre Company's Jonothan Fox and also featured renowned Ukrainian-born American pianist Inna Faliks who performed Beethoven's Piao Concerto No. 4.
Conductor Nir Kabaretti curated a Beethoven-centric program, that renews the Symphony's enduring collaborative relationship with Ensemble Theatre Company's Artistic Director, Jonathan Fox, director of the West Coast premiere of Ella Milch-Sheriff's staged monodrama, The Eternal Stranger (based on a dream by Beethoven). Beethoven's poetic Piano Concerto No. 4 and the composer's brilliant Symphony No. 4 conclude the program.
"For me, Beethoven is the most innovative and revolutionary composer of all time, and an inspiration for so many composers after him," shared Kabaretti. "It's also a treat to welcome Ukrainian-born pianist Ina Faliks to share the stage with us. Adding to this special program is a new piece by a wonderful composer and friend, Ella Milch Sheriff, inspired by a dream of Beethoven's. This piece is theatrical and gives us an exciting opportunity to collaborate with our brilliant friend, and Artistic Director Jonathan Fox from Ensemble Theatre Company. We can't wait to share this performance with you all!"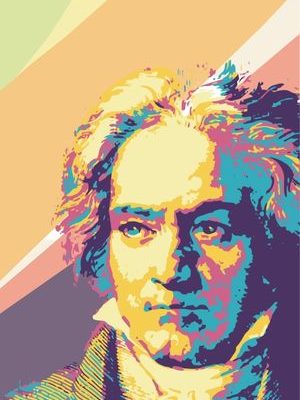 (courtesy image)
This is Fox's fifth wonderful project with the Santa Barbara Symphony. He collaborated on their Shakespeare and Valentine's Day concerts and directed their production of The Soldier's Tale.  He directed Opera Santa Barbara's 2019 production of Eugene Onegin and 2014 production of The Consul. Fox serves as Ensemble Theatre Company's artistic director and has been with the company since 2006. His ETC productions of American Son, The Invisible Hand, and Bad Jews traveled to Frankfurt. Other European productions include Who's Afraid of Virginia Woolf, A Streetcar Named Desire, Visiting Mr. Green, and Cat on a Hot Tin Roof at The English Theatre Frankfurt, and Old Wicked Songs, Crimes of the Heart, and Cat on a Hot Tin Roof at the Vienna English Theatre. Before joining ETC, Fox spent 12 years with Two River Theater Company in New Jersey, which he helped establish in 1994. He served as Managing Director of the company from 1994-99 and subsequently became its Artistic Director. His directing work has been seen in New York, Philadelphia, San Francisco, and Cologne, and has received critical acclaim in The New York Times, Variety, the LA Times, among other publications. He received his MFA from Columbia University and is a recipient of the prestigious Alexander von Humboldt Foundation Fellowship. He has served as an adjunct faculty member in theater departments at UCSB, Columbia University, University of Utah, and Monmouth University.
Considered one of the most significant and exciting composers in Israeli music, Ella Milch-Sheriff composes extraordinary works that delve deep into complicated and thrilling subjects.  Her monodrama for actor and orchestra titled The Eternal Stranger, inspired by a dream Beethoven had in which he imagined himself transplanted to Jerusalem, is one such example. The Granada Theatre audience seemed quite captivated by the monodrama presentation. She composed the piece to mark the 250th anniversary of Ludwig van Beethoven's birth, commissioned by the Gewandhausorchester Leipzig, Teatro Massimo Palermo in Sicily, and London's BBC Radio 3. ​​The inspiration comes from Beethoven's letter to his publisher, Tobias Haslinger, describing a strange dream he had, in which he took a very long journey, "as far even as Syria, as far even as India, back again, as far even as Arabia," coming finally to Jerusalem. The Eternal Stranger engages with Beethoven's legacy in a contemporary setting.
Ukrainian-born American pianist Inna Faliks gave an outstanding performance and has become renowned for her commanding performances of standard piano repertoire, as well genre-bending interdisciplinary projects, and inquisitive work with contemporary composers. After her acclaimed teenage debuts at the Gilmore Festival and with the Chicago Symphony Orchestra, she has appeared on many of the world's great stages in recitals and with many major orchestras and conductors. She is a professor and head of Piano Studies at UCLA, and in demand world-wide as a masterclass artist and adjudicator.   
The delightful afternoon highlights included: Ella Milch-Sheriff | The Eternal Stranger (based on a dream by Beethoven) – West Coast Premiere, Ludwig van Beethoven | Piano Concerto No. 4 in G major, Op. 58 and Ludwig van Beethoven | Symphony No. 4. Nir Kabaretti, conductor, Inna Faliks, piano, John Connolly, actor, Nitya Vidyasagar, actor, Jonathan Fox, director
Beethoven Dreams is generously supported by Principal Concert Sponsor, Todd & Allyson Aldrich; Artist Sponsor, Susan Aberle; and Selection Sponsors, Eve Bernstein, George Konstantinow & Helene Segal, Howard Jay Smith & Patricia Bivans Dixon, Dr. Bob Weinman.
---
About the Santa Barbara Symphony
Celebrating its 70th Anniversary, The Santa Barbara Symphony delivers artistic excellence, outstanding music education stewardship and programming, and community collaboration - all through symphonic music. Under the artistic leadership of Maestro Nir Kabaretti as Music & Artistic Director since 2006, The Symphony is one of the region's premier cultural institutions. Through his charismatic leadership, this globally admired conductor and Santa Barbara resident invigorates audiences and musicians alike through his passion, creativity, and vast experience. As the only music education program tied to a symphony orchestra in the region, The Symphony serves more than 10,000 students annually throughout Santa Barbara County. While The Symphony continues to evolve, its mission to bring joy, engagement, and connection remains steadfast and was evident in the organization's ability to thrive during the pandemic including the historic announcement that board chair Janet Garufis and President & CEO Kathryn R Martin join Music & Artistic Director Nir Kabaretti in making a five-year commitment to serve in their roles. For more information, visit TheSymphony.org.