Hazmat Responds to Spill from Traffic Collision
Photos: SBFD
Update by Santa Barbara City Fire Department
3:00 p.m., February 13, 2020
Area Road Closures Due to Accident -- Expect 3-4 Hr Closures
The Santa Barbara Police Department is working in conjunction with Santa Barbara City Fire, Cal Trans and other regional apparatus to safely mitigate a traffic accident and chemical spill (not considered to be a danger to the public) in the area of Foothill Road and North Ontare.
Hard road closures include:
Foot Hill from La Milpita Road to San Roque Road.
Ontare Road from Canyon Acres to Langlo Terrace 
Authorities expect closures and clean up to last well into the evening commute. Please avoid the area and seek alternative routes to your evening destinations.
---
Update by Santa Barbara City Fire Department
1:50 p.m., February 13, 2020
Crews are treating the injured driver, isolating the area and working to keep the chemical out of the nearby creek. HazMat Team attempting to identify all of the chemicals involved. Expect a multi-hour closure of the roads in the area. Avoid the Foothill Rd / N Ontare area.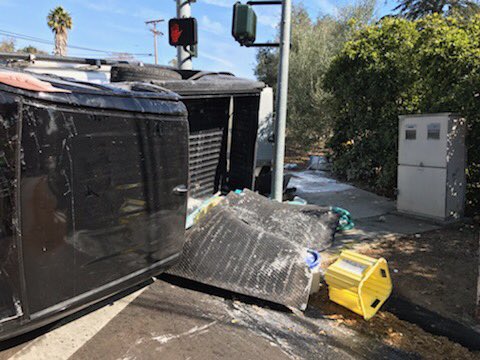 Update by Santa Barb
---
Reported by Roger the Scanner Guy
1:32 p.m., February 13, 2020
Rollover traffic accident at Ontare and Foothill Roads with a possible chemical spill from a pool cleaning truck. Acid possibly mixed with chlorine and gasoline are possibly involved.