Oil Tanker Crash Causes Brush Fire Near Sisquoc
By edhat staff
An oil tanker involved in a traffic collision sparked a brush fire in Sisquoc early Monday morning.
At 4:39 a.m., the Santa Barbara County Fire Department and one engine from the Santa Maria City Fire Department responded to Old Dominion and Orcutt Garey Roads for a reported traffic collision.
Upon arrival crews discovered one of the vehicles was an oil tanker fully loaded with crude oil. The tanker was on its side and in a ditch with the cab of the tanker fully involved in fire that spread to nearby trees and brush. The driver was able to self extricate and did not sustain any injuries.
Crews knocked down the cab fire and called in additional resources to attack the quarter-acre brush fire in a eucalyptus grove. The fire did not impact the oil in the trailer and the Santa Barbara County Fire Department reports.
Approximately a 1/2 gallon of leaked oil has been contained and heavy mop-up continues in the vegetation, reports SBCFD.
Crews are also preparing for the eventual transfer of 6,000 gallons of crude oil to a new truck.
The driver of the other vehicle sustained moderate injuries and was transported to a local hospital. 
The incident is under investigation.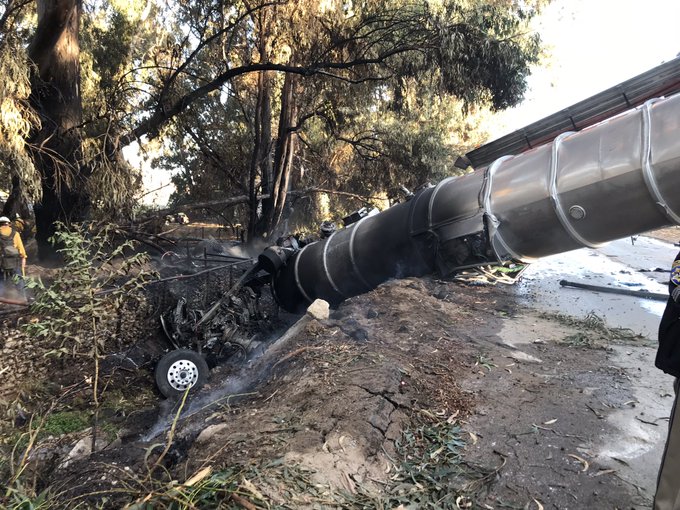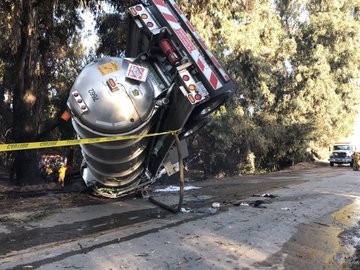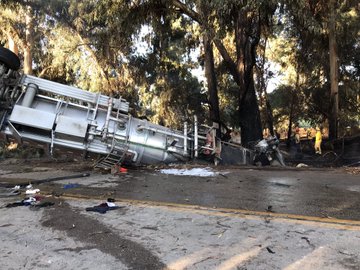 Photos: SBCFD