Highway 101 Brush Fire Near Buellton Stopped at Three Acres
Update by edhat staff
3:00 p.m., July 14, 2020
Santa Barbara County Firefighters have stopped the forward progress of a three-acre brush fire near Buellton.
At 1:20 p.m., firefighters along with an air response arrived two miles north of Buellton, in-between the 5800 and 6000 blocks of Highway 101 off the southbound lanes, for a brush fire. They found 1/8 acre of medium fuel burning at a slow rate of spread. 
Crews quickly put in a hose lay to surround the fire and with the support of a helicopter, successfully stopped the forward progress and knocked the fire down at three acres. 
There were no injuries and no structures threatened.
Caltrans closed the number two lane of southbound Highway 101 just north of Jonata Park Road. The number one southbound lane and both northbound lanes remained open. It's unknown when the second lane will be closed.
The cause of the fire is under investigation.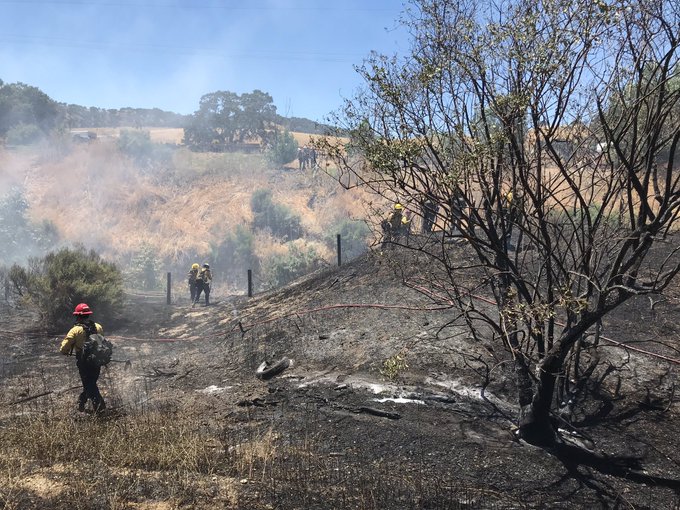 Photo: SBCFD
---
Reported by Roger the Scanner Guy
1:28 p.m., July 14, 2020
Brush fire near Highway 101 southbound at the 154 onramp in Buellton.
By an edhat reader
1:23 p.m., July 14, 2020
There appears to be a brush fire on the side of Highway 101 near Buellton, a little bit north of the city. There's smoke in the area and firefighters are on the scene.