Santa Barbara Man Arrested for DUI in Fatal Collision
Photos: SBCFD
Update by CHP
6:20 p.m., June 5, 2020
Driver: Oscar Pereya, 61-years-old male of Santa Barbara, driving a 2000 Toyota Tacoma
Driver: Michael Kai Liu, 31-year-old male from Arroyo Grande, driving a 2009 Hyundai Sonata
On 06/05/2020, at approximately 10:40 A.M., a fatal traffic collision occurred on State Route 154, west of East Camino Cielo.  The two vehicles involved were a 2000 Toyota Tacoma and a 2009 Hyundai Sonata.  The Toyota was traveling eastbound on SR-154, approaching East Camino Cielo at an undetermined speed.  The Hyundai was traveling westbound on SR-154, west of East Camino Cielo, approaching the Tacoma at a speed of approximately 40 miles per hour.
 
The sole occupant and driver of the Tacoma, Oscar Pereyra, allowed the truck to travel across the double yellow lines and into the #1 westbound lane, directly into the path of the Sonata. The vehicles collided within the #1 lane causing the Toyota to overturn onto its roof.  Both vehicles came to rest blocking westbound lanes of traffic.  The sole occupant and driver of the Sonata, a 31-year-old resident of Arroyo Grande, sustained major injuries as a result of the collision and succumbed to his injuries at the scene. 
 
The driver of the Toyota, Oscar Pereyra, sustained major injuries as a result of the collision and was transported to Santa Barbara Cottage Hospital for treatment.  Mr. Pereyra was suspected of driving under the influence and was arrested for Felony DUI. 
 
This collision is still under investigation.  If anyone has any information regarding this collision, or the events leading up to it, please contact Officer Shannan Sams at the CHP Santa Barbara Area office at (805) 967-1234.  
---
Update by edhat staff
11:40 a.m., June 5, 2020
Santa Barbara County firefighters responded to a fatal head-on traffic collision on Highway 154 Friday morning.
At 10:44 a.m., fire crews responded to the scene near E. Camino Cielo with a ground ambulance. Upon arrival, they found two vehicles on the roadway with extensive damage that appeared to collide head-on. 
There were two patients, one was pronounced dead on the scene, and the other sustained critical injuries. Heavy extrication was required to retrieve the patient with critical injuries. 
Highway 154 is temporarily closed at Cathedral Oaks and Paradise Road as CHP investigates the collision.
Additionally, another traffic collision took place around 10:00 a.m. Friday on Highway 154 near Painted Cave involving a motorcyclist. CHP reports minor injuries in this collision.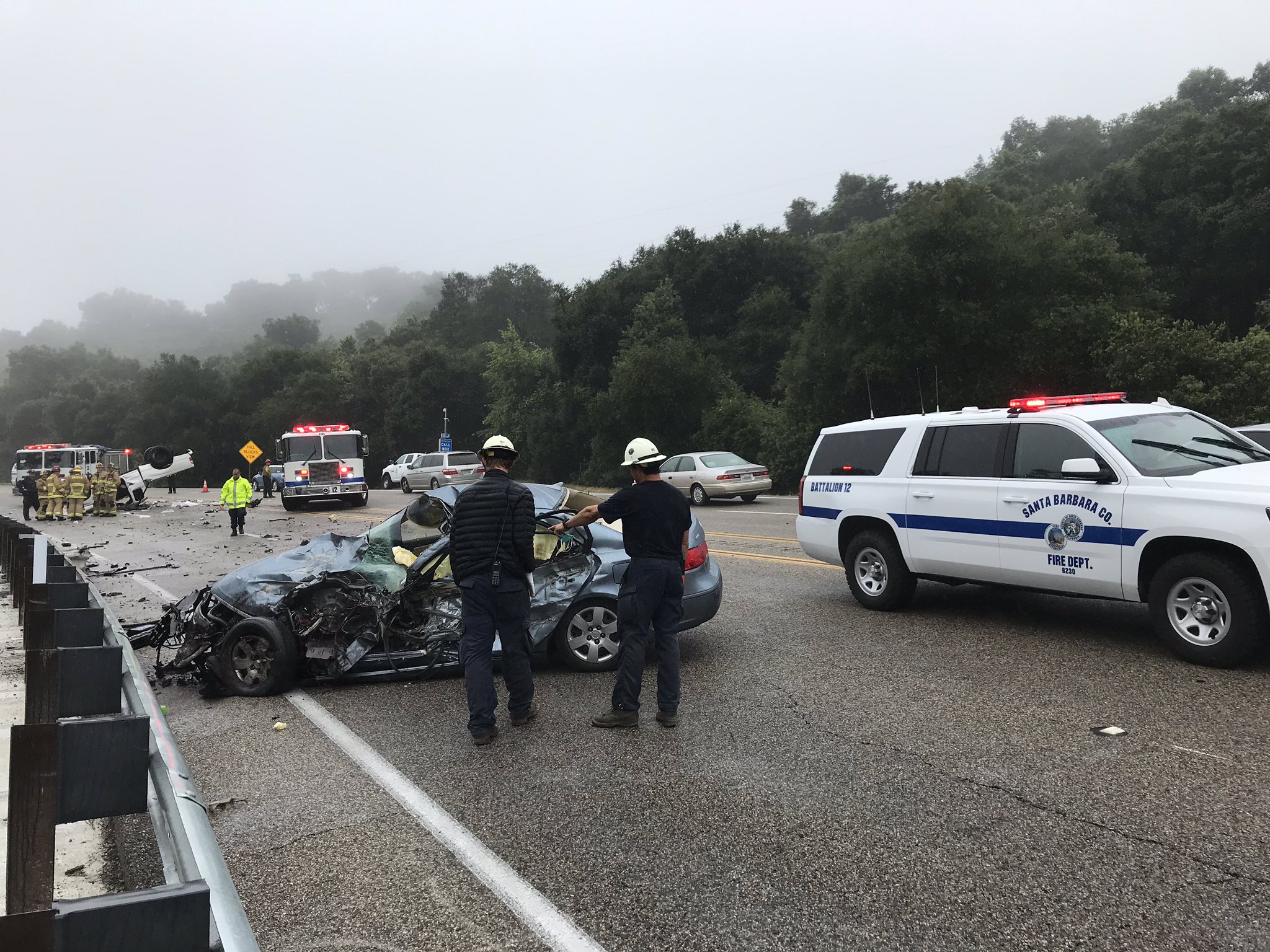 ---
Reported by an edhat reader
10:22 a.m., June 5, 2020
Motorcycle crash on Highway 154 just past Painted Cave.